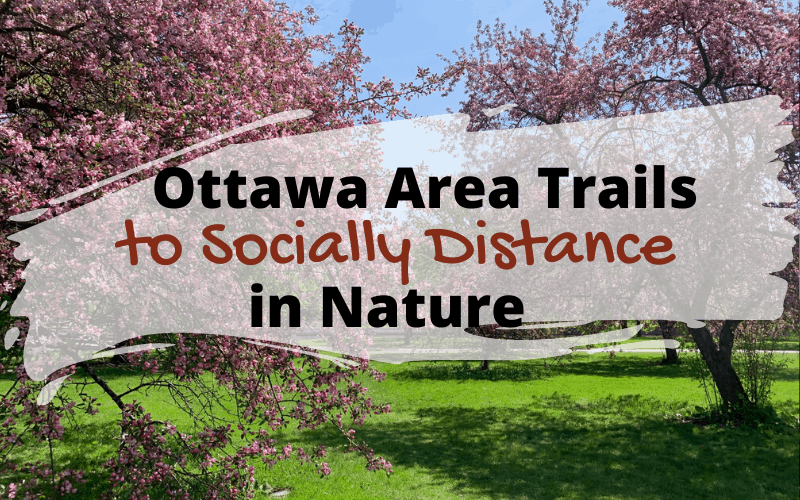 Ontario has finally opened up to Phase 1 of lock down restrictions, right as the weather is starting to turn nice. Whether the government truly feels it is safe for us to venture outside or like any parent of rebellious teenagers, they know that enough people will enter the parks regardless of their closure status, it is unknown.
For now, we are taking this as a win but not looking a gift horse in the mouth. Armed with PPE and hand sanitizer, these are the trails and parks open to the general public in Ottawa in order to Socially Distance in Nature.
Don't forget to join our Facebook group. We are all in this together.
Best Trails and Parks in Ottawa
Looking for a great trail near Ottawa, Ontario?
Ottawa's Greenbelt
One of the most ecologically diverse areas in Eastern Ontario is the National Capital Greenbelt, a 20,000-hectare protected natural area surrounding the city of Ottawa. More than 150 kilometres (93 miles) of hiking trails take you through unexpected landscapes and ecological sites
Mer Bleue Bog trail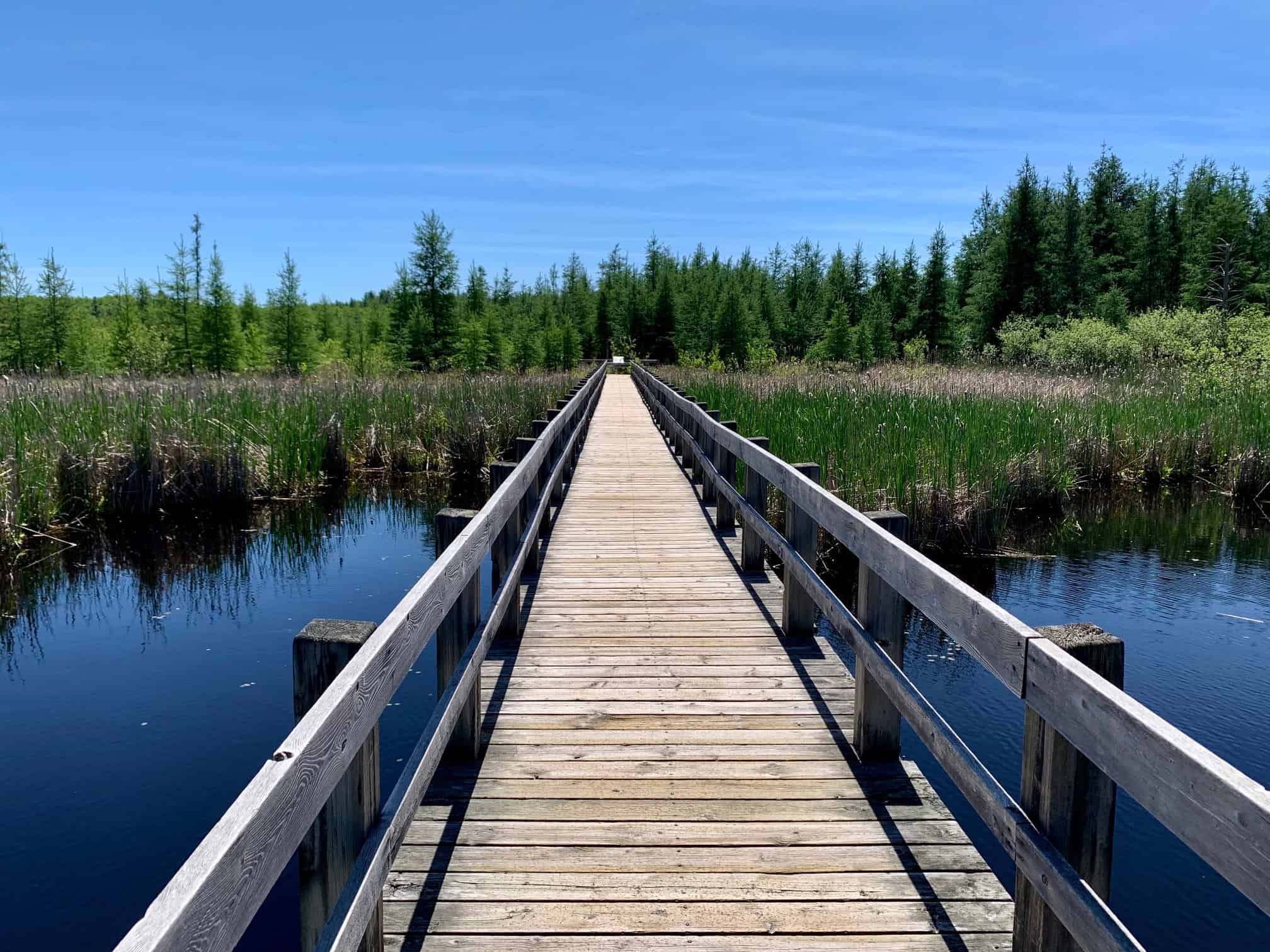 This 7,700-year-old bog provides habitat for many species of regionally rare and significant plants, birds and other wildlife. It is one of the most studied bogs in the world. A permanent research station at the centre of the bog measures the amount of carbon dioxide and methane that is released by the wetland.
---
Related: Discovering Mer Bleue Bog Trail
---
Stony Swamp
The swamp's bedrock dates back to Precambrian times, the earliest geological era. The area has more than 700 species of plants, which is the highest number counted in any part of Canada's Capital Region. Stony Swamp is home to 63 species of regionally rare plants, 11 of which exist nowhere else in the Greenbelt. Trails within the Stony Swap sector include Jack Pine Trail, Lime Kiln Trail, Old Quarry trail, and Sarsaparilla Trail
Green's creek
The Green's Creek Valley Conservation Area is 5.5 km long network of trails. It is named after Gordon Green who settled in the area in the 1830's and operated a sawmill close to the mouth of the creek.
Beaver Trail and Chipmunk Trail
Where: around the corner on Moodie Drive just south of West Hunt Club. The inner trail, called the Chipmunk Trail, passes through forest and a small wildflower meadow; the outer trail, called the Beaver Trail, passes through both as well, but also has two observation platforms overlooking the wetland, each of which features a beaver lodge. In addition, just inside the woods near the parking lot is a large building housing the Wild Bird Care Center. There is an informal feeding station on the east side of the building, which attracts its share of chipmunks, squirrels and birds.
While on the trail, check out the Lime Kiln Ruins. This is one of the few remaining examples of a 19th-century lime kiln in Canada. Park at P10 off Ottawa Regional Rd 11. Walk on the Lime trail for roughly 8 minutes until you see the ruins on your right.
Pine Grove trail
Where: Davidson Road
Pine Grove is the largest forest in the Greenbelt and is a mixture of tree plantations and natural forests.
Pinhey Forest
The vegetation in Pinhey Forest was established on old postglacial sand dunes. This unique ecosystem is home to a number of plant and animal species that can live only in well-drained, open areas with exposed, fine-grained sand
Related; Pinhey Forest Trail
---
Remic Rapids Park
Where: Sir John A. Macdonald Parkway
Remic Rapids Park is situated on the shore of the Ottawa River, about four kilometres from Parliament Hill. This site provides stunning views of the river and is home to countless species of plants and animals. It is a very significant zone for migratory birds.
Artist John Felice Ceprano has created balanced rock sculptures on the river's edge since 1986. The artist uses fossilized and colourful rocks found on the shore to build these sculptures by hand. They provide a free and exploratory public art experience that complements the park's natural setting.
Rideau Falls Park
Rideau Falls Park provides an impressive view of the waterfalls for which the park is named. Rideau Falls and Green Island mark the spot where the Rideau River flows into the Ottawa River. The 2.89-hectare park is the site of several commemorations, including the Mackenzie-Papineau Monument, the Commonwealth Air Force Memorial and the National Artillery Monument
Petrie Island
The Petrie Islands group on the Ottawa River was formed by sand deposited at the close of the last ice age, about 12,000 years ago. The 2 km by 500 m area, from the foot of Champlain St. to Trim Rd in Orleans, has a total shoreline length, including all channels and bays, of about 12 km.
Almonte Riverwalk
If Almonte is famous for just one thing, then it's that the inventor of basketball, James Naismith, was born and raised on a farm outside of town. Today, there is a statue of him at the corner of Mill Street and Little Bridge Street, definitely one of the things to do in Almonte
Related; Things to do in Almonte
Urban Parks
Majors Hill Park
Located behind Chateau Laurier, with incredible views of the National Gallery of Canada
This park features some of the best lookouts in Ottawa, offering stunning views of the Ottawa Locks on the Rideau Canal, the Ottawa River and the Parliament Buildings. Take a stroll through the park's stately trees, over its rolling lawns and winding pathways, and learn about its history through a series of interpretation panels.
Confederation Park
Between Elgin St and City Hall, Confederation Park features the Kwakiutl Totem, Lieutenant Colonel John By Fountain and is 2 short blocks away from The National War Memorial.
Located at the corner of Elgin Street and Laurier Avenue, Confederation Park occupies an area of 2.63 hectares. The park opened in 1967 as part of Canada's centennial celebrations, and today is a popular feature of Confederation Boulevard, the Capital's ceremonial and discovery route. Confederation Park hosts several sculptures and monuments, like the South African War Memorial, the National Aboriginal Veterans Monument, and the memorial fountain honouring Colonel By, which stood for nearly a century in Trafalgar Square in London, England.
Commissioners Park
Surrounding Dow Lake, around the corner from Dominion Arboretum, Commissioners Park is home to the Capital's most dazzling display of tulips. Follow the winding pathways and enjoy the explosion of colour in gardens filled with over 300,000 tulips.
---
Related: Dominion Arboretum
---
Nepean Point
High above the city, home to the Samuel de Champlain Statue, quietly behind the National Gallery of Canadian, Nepean Point is a hill with scenic lookout in Ottawa, overlooking the Ottawa River, Parliament, the Canadian Museum of History, and other features of downtown Ottawa and Gatineau.
Aylmer Marina
Aylmer Marina and it's surrounding park offers outdoor activities such as cycling on a bike path, volleyball, baseball and swimming for all ages. It also has a snack bar, a change room, showers, picnic tables, bike repair stations and a children's playground. Fun for everyone!
---
Related: Essentials for the Beach With Kids
---
Conroy Pit
Conroy Pit Loop is a 5.1 km heavily trafficked loop trail located near Ottawa, Ontario, Canada that features beautiful wild flowers and is good for all skill levels. The trail is primarily used for hiking, walking, trail running, and nature trips.
Capital pathway
This 31-kilometre pathway follows the Ottawa River and passes a number of Ottawa's attractions. Stop along the way at the Canadian War Museum, Parliament Hill and the Ottawa Locks at the northern entrance to the Rideau Canal, a UNESCO World Heritage Site.
Are you planning an outing by bike? The following paths will take you past some of the best scenery in Ottawa and Gatineau.
Experimental Farm Pathway
Greenbelt Pathway West
Leamy Lake Pathway
Ottawa River Pathway
Rideau Canal Western Pathway
Rideau River Eastern Pathway
Voyageurs Pathway
Gatineau Park
Open to the public all year round, Gatineau Park has 3 major trails; Lauriault Trail Loop, King mountain and Pink lake. The easy trails, which are much more child friendly include Dunlop, Lac des Fées, Pioneers, and Sugarbush. Champlain, Pink Lake, and Waterfall and Lauriault are considered Intermediate trails, while King Mountain, Luskville Falls, Skyline, Wolf, and Lusk Cave are categorized as difficult.
Know that there are 7 beaches in Gatineau park, but Quebec law forbids beach access without a lifeguard on duty. Lifeguards will be on duty from 10 am to 6 pm from June 12 to September 7, 2020
---
Related: Gatineau Park in the Fall
---
Carbide Willson ruins
THOMAS "CARBIDE" WILLSON MADE A name (and a terrific nickname) for himself in 1892 when he essentially created the process by which we create calcium carbide, an important industrial chemical.
Follow the directions to Meech Lake in Gatineau Park. Just before reaching the lake, there is a parking lot ( O'Brien Beach Parking Lot (P11))on the right hand side. Park there and take the trail leaving the parking lot. From there it's about a 30 minute walk to the ruins.
Related; Carbide Willson Hiking trail
---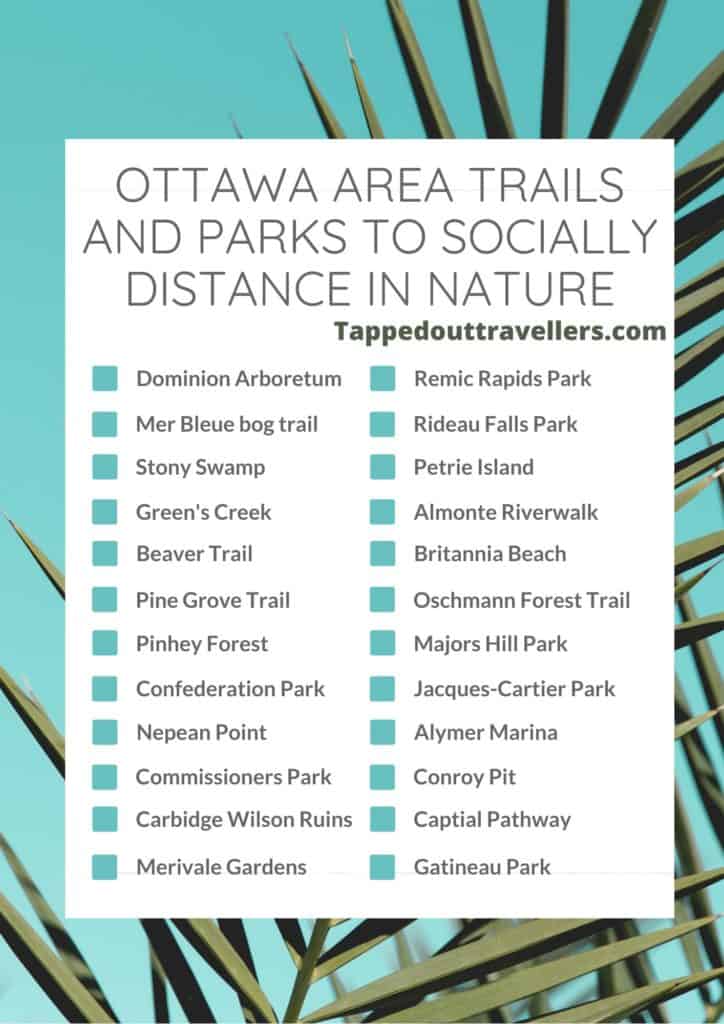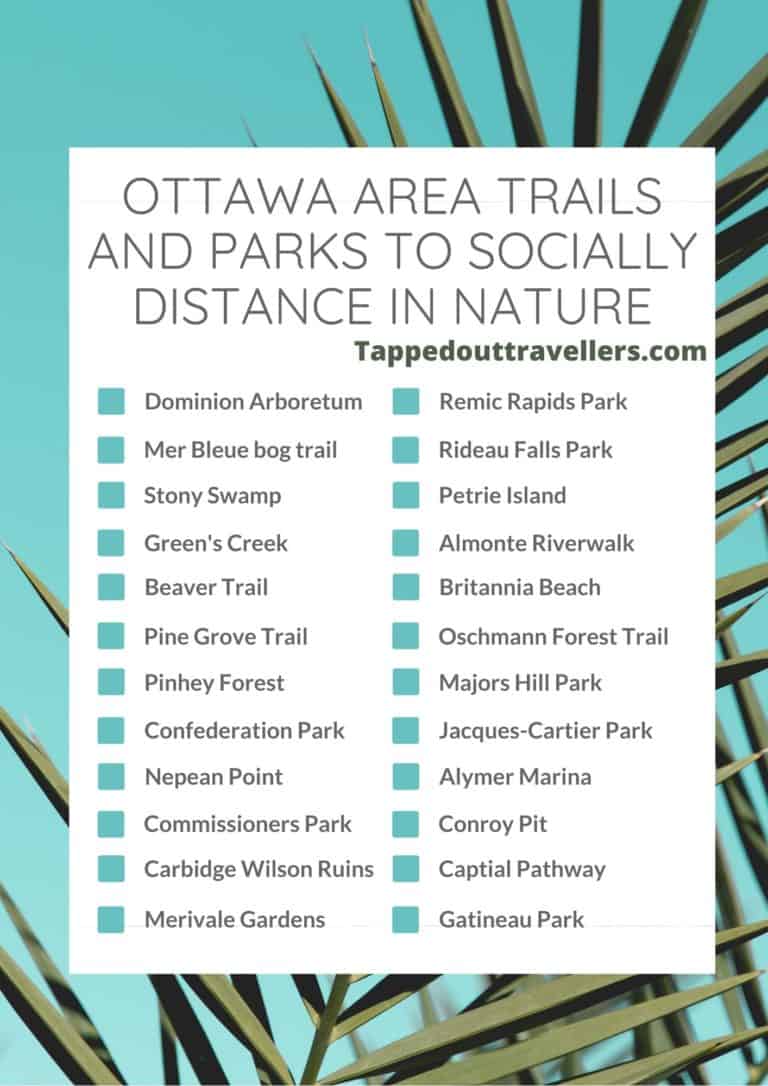 You May Also Like…