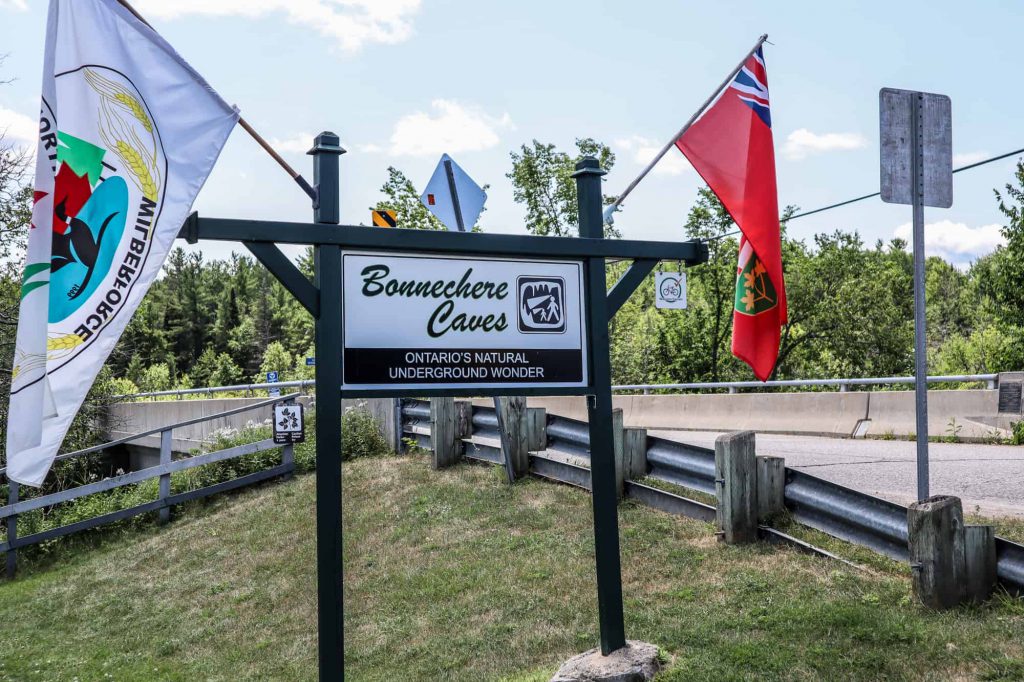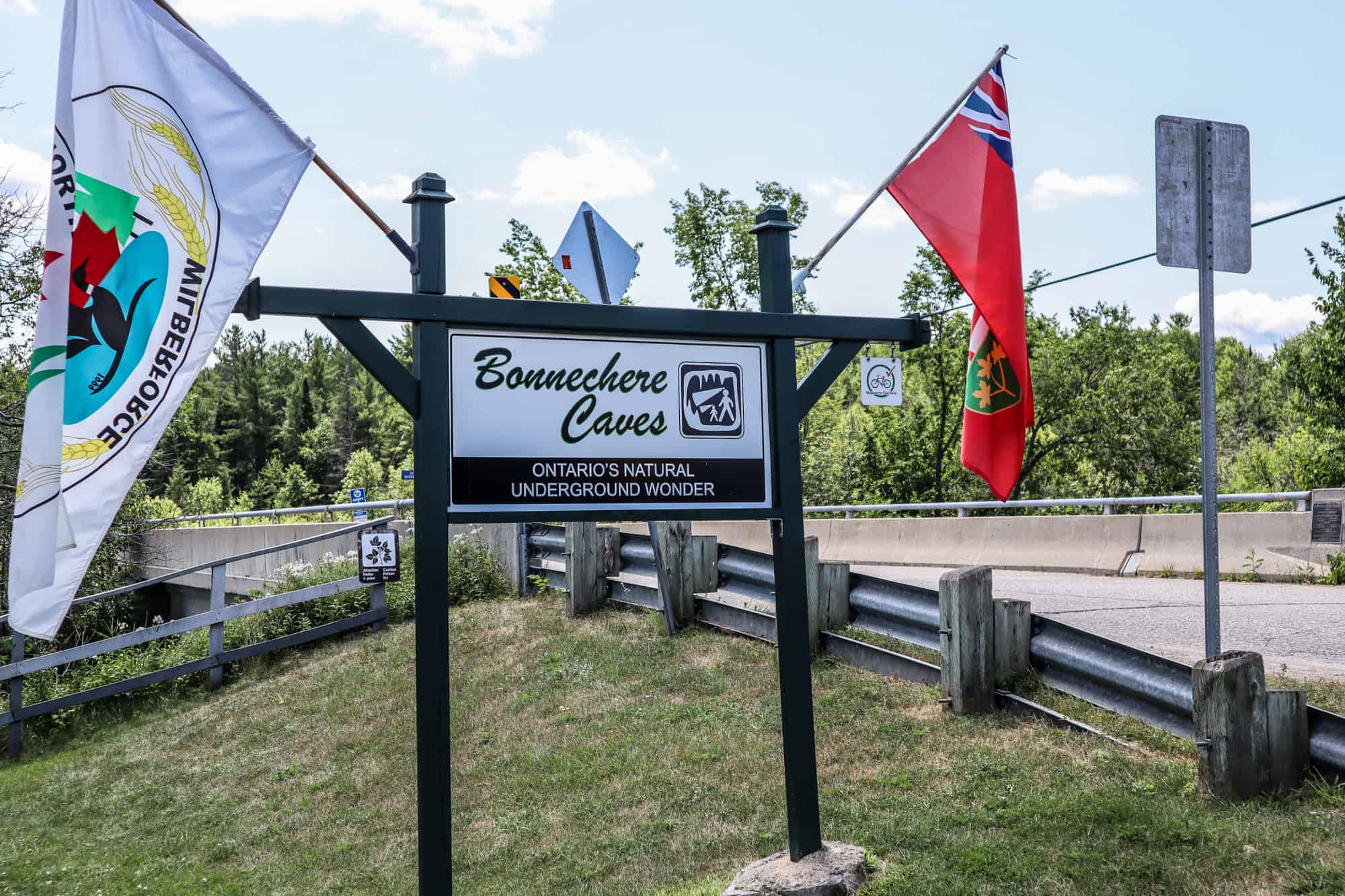 Only 80 minutes from Ottawa, the Bonnechere Caves have been welcoming people from all over the world for over 55 years.
Don't forget to join our Ottawa with Kids Facebook group. We are all in this together.
This post may contain affiliate links.
To which I earn a small commission, at zero cost to you!
Find more info in our
Privacy Policy
.
What are The Bonnechere Caves?
Under a hill of limestone, said by geologists to have been the bottom of a tropical sea 500 million years ago, the Caves present a weird and wonderful sight. Take in a guided tour and see natures' handwork in the stalactites, rock icicles and many fossils that can be found in the cave network. The Bonnechere Caves are a not-to-be-missed experience.
These Ontario caves were first discovered and explored by Tom Woodward in 1955. Since then, Bonnechere Caves have become one of the most popular accessible caves in Canada.
In June, July & August, guided tours leave every twenty to thirty minutes and last approximately one hour. In September tours are at 11 am, 1 pm and 3 pm. On the hottest summer days, the Caves are cool. For your comfort, take a light sweater.
Bonnechere River
Explore the grounds, including the picturesque views of Fourth Chute on the Bonnechere River. During the 19th century, the river was used to transport white pine logs from the forested areas surrounding the river.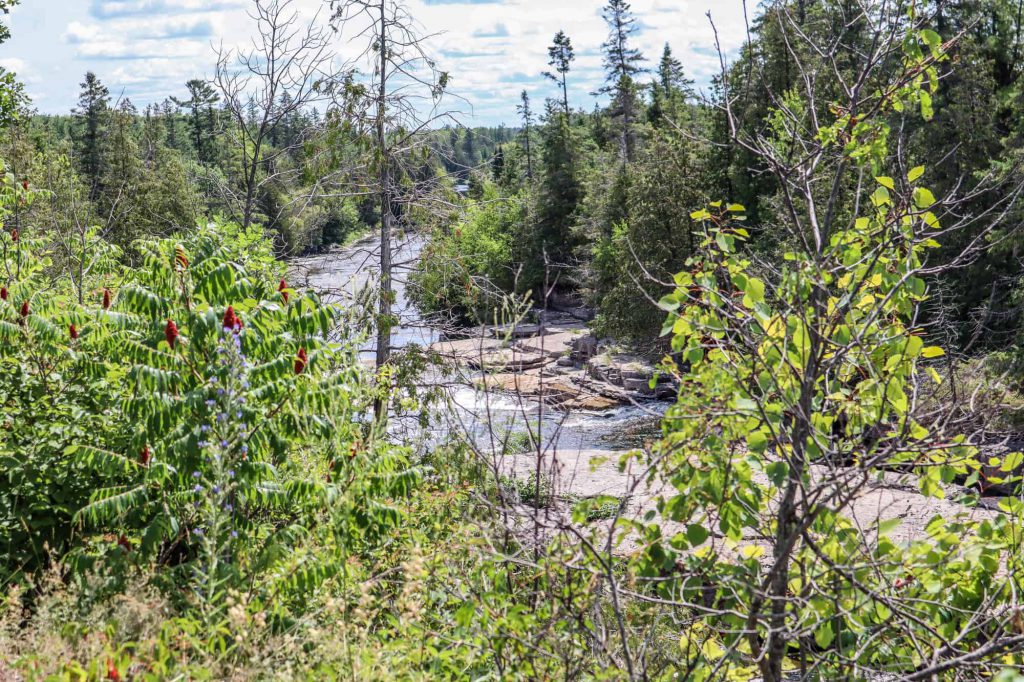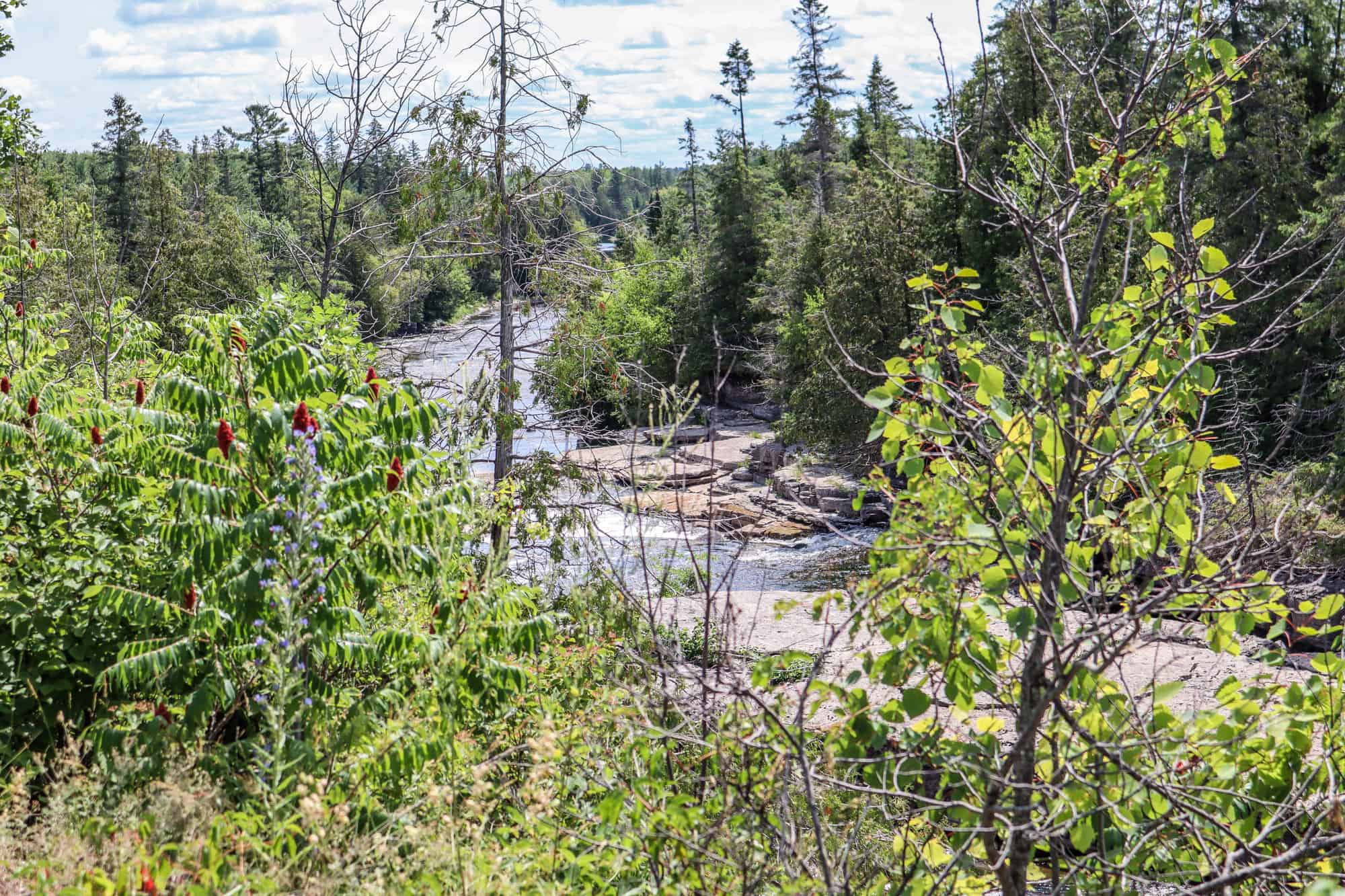 The Incredible Fossils Of Bonnechere Caves
Bonnechere Cave tours begin at a covered area filled with fossils and posters showing the regions ancient history. All the Bonnechere Cave fossils date back to the Ordovician time, about 400-500 million years ago!
Our tour guide passed around many of the fossil pieces and explained to us how they were discovered, as well as how they came to discover what they were.
After we learned about the fossils, it was finally time to descend into the cave itself!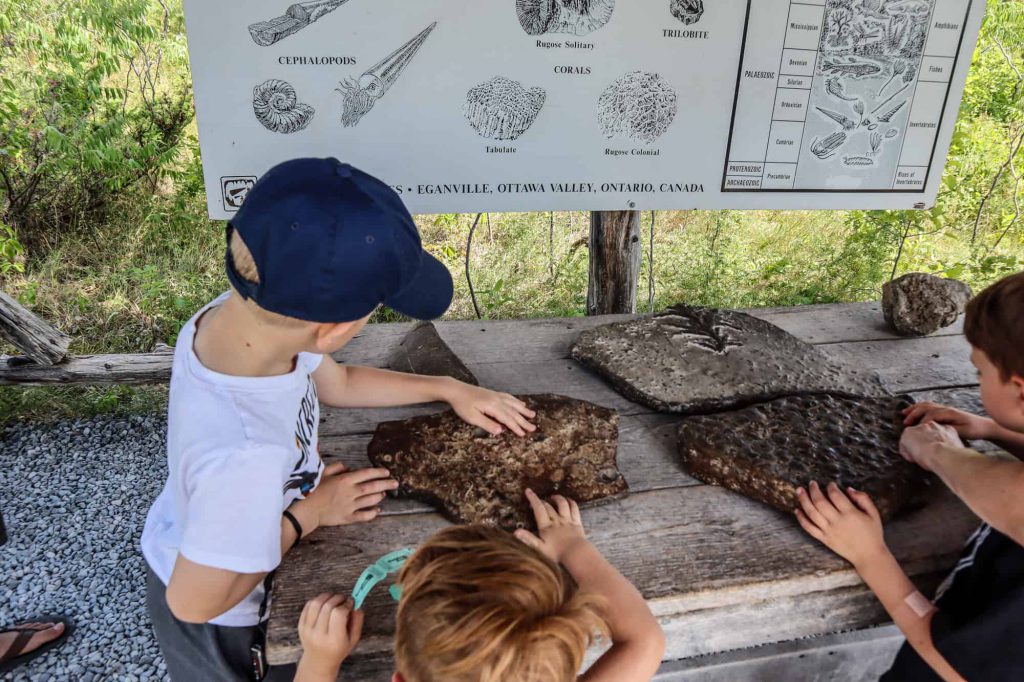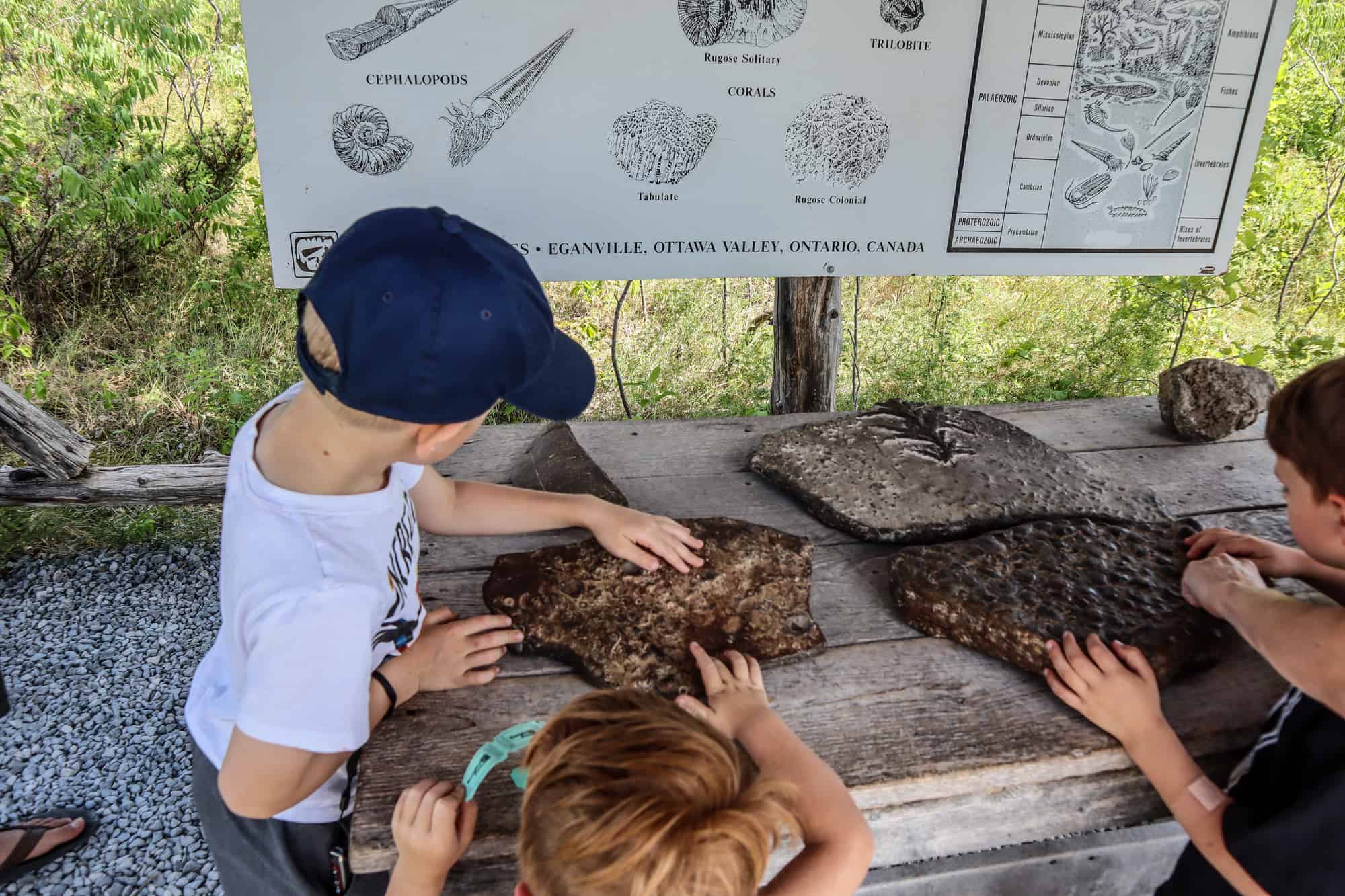 We were warned fairly early on that there is Poison Ivy in the brush. The trails and picnic area have been sprayed but we are not to wander off the clearly marked trail.
Experiencing Bonnechere Caves with Kids
As we entered and descended a narrow staircase towards the floor of the cave we could feel the temperature around us begin to drop. On a hot summer day, they said the caves averaged 10c, which is a dramatic difference from the air above ground.
The cave was very well lit. While our guide had a flashlight, there were lamps set up along the path that illuminated the rock formations.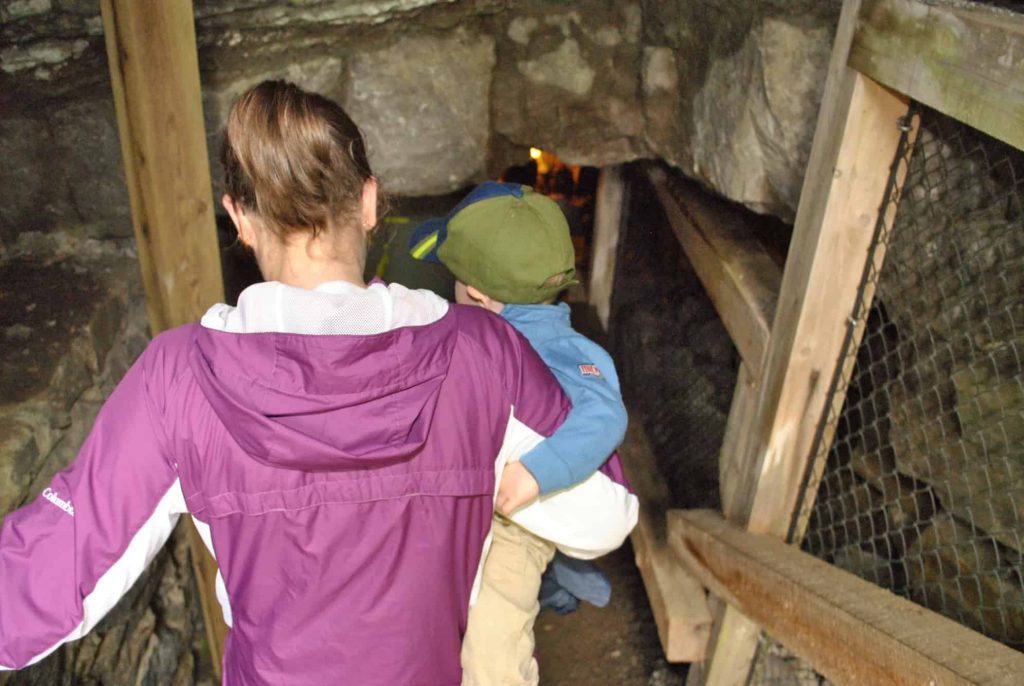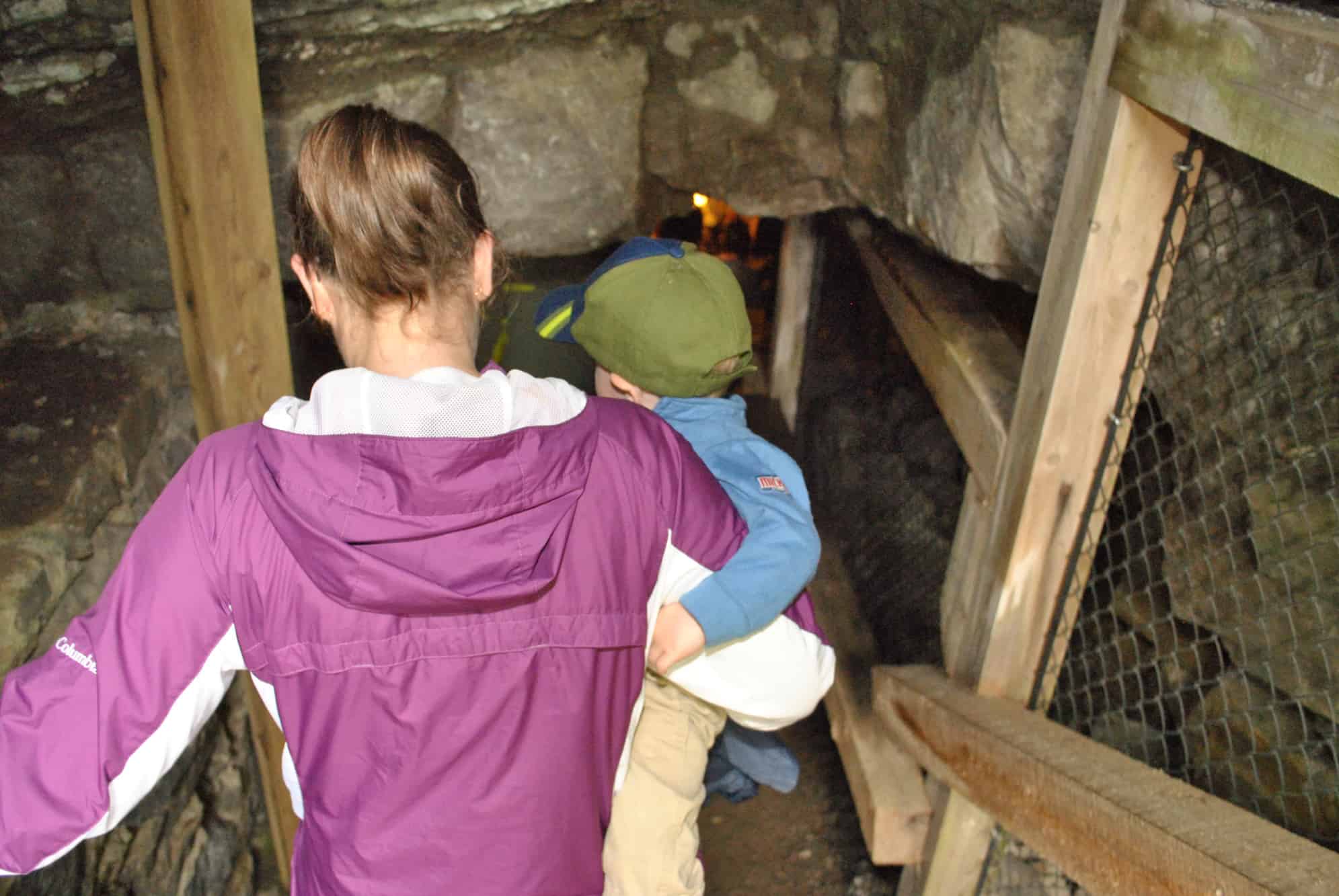 As you can imagine, the caves are not stroller friendly. Little ones are welcome to join in the experience but they must be carried or walk on their own.
There was a gentleman that wore his child in a hiking carrier, on his back. He seemed to fair well in the caves and didn't have much trouble with the height of the ceiling rocks, however, his child's head was significantly lower than his own.
The floors are damp, at times wet, and the path can be narrow at points so it is best to come prepared.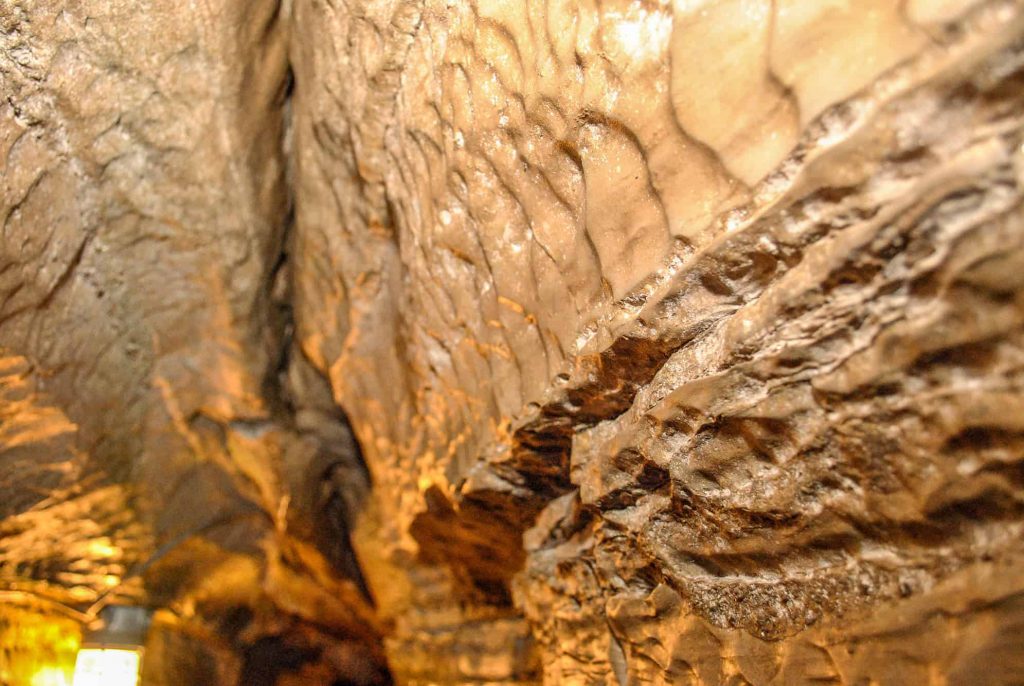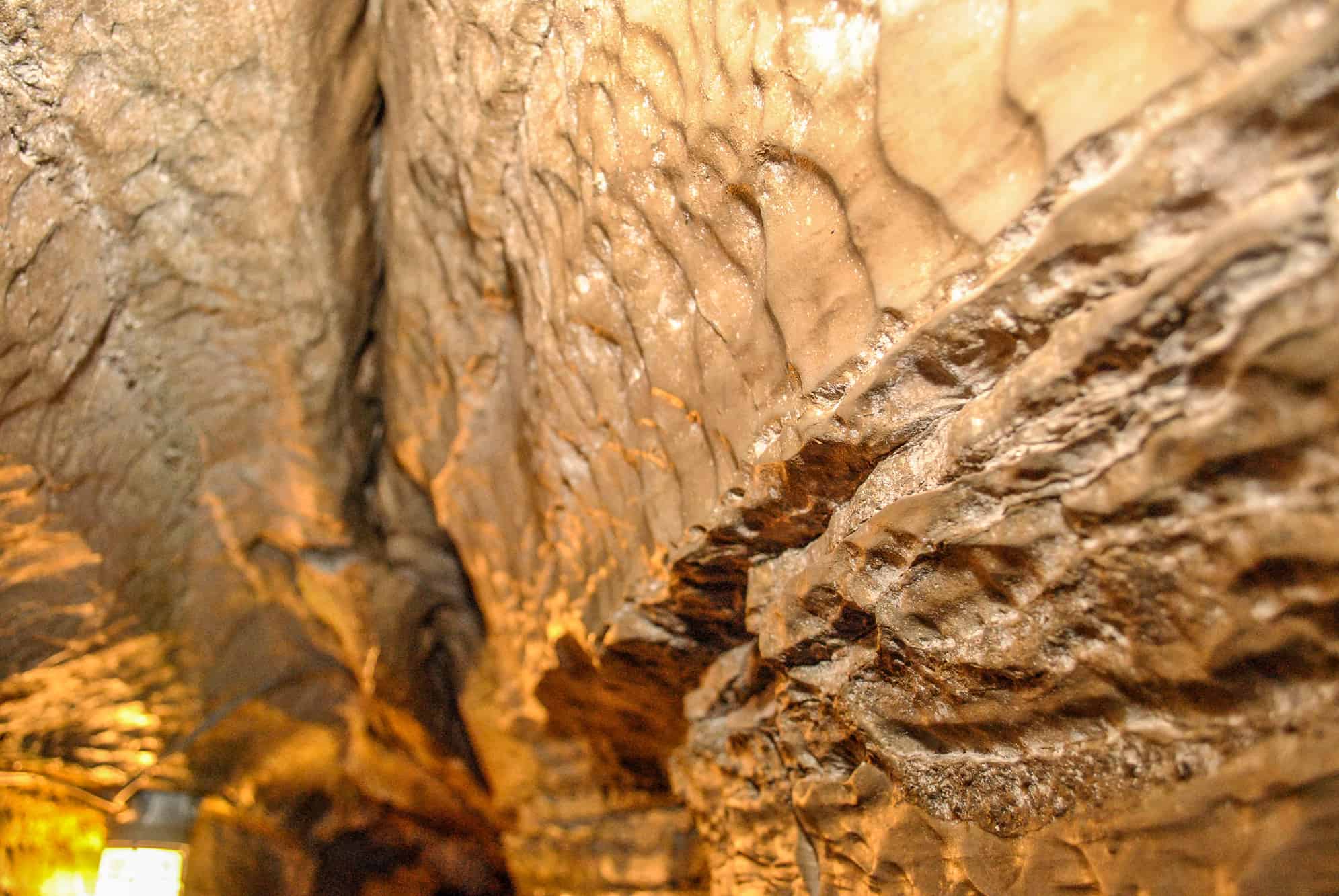 Stalactites hung like icicles from the ceilings above. They grow very slowly at a rate of about one cubic inch every 150 years.
We learned all about the history of the cave itself and how it was discovered by the owner.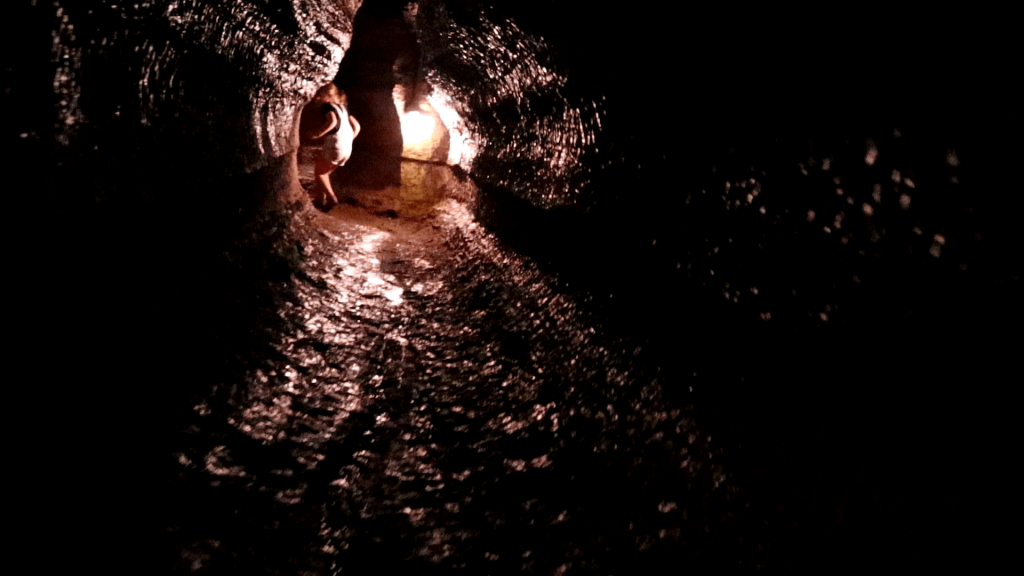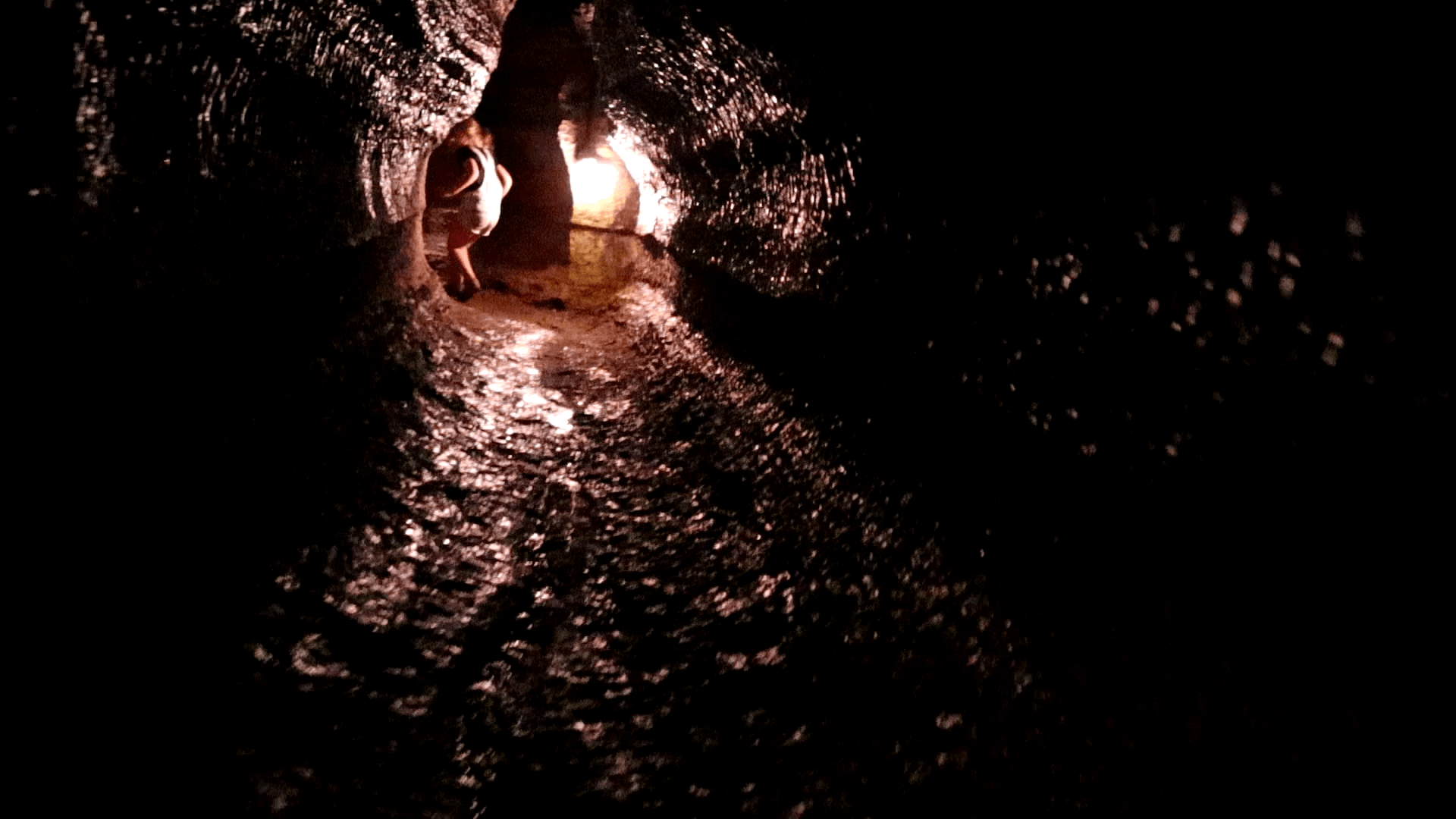 At one point, we were asked if we wanted to explore a separate, small tunnel within the cave that looped back around towards the entrance, as pictured above.
Our shoes got a little bit wet, and I had to duck down quite a bit to make my way through, but it was really fun.
During one portion of the tour, our guide turned off all of the lights in a section so we could see just how dark it was inside the cave. It was pitch black. We couldn't see anything at all! This is when you will want to have a tight grip on the children and make sure they are aware of what is about to happen. Even with a warning, our 7-year-old was not fond of the idea of absolute darkness.

Other Things To Do at Bonnechere Caves
Once we came out of the caves, we were told there were two options; head straight back to the parking lot/ picnic area, or take a small detour to the sinkhole that Tom Woodward used to access the caves all those years ago.
Sinkhole
Of course, we choose the latter and went off to see the giant sinkhole near the cave.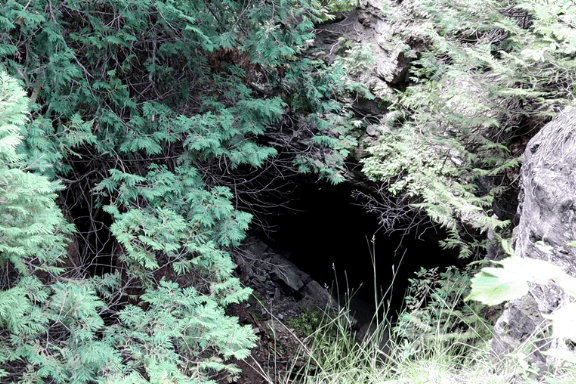 Things To Do Near Bonnechere Caves
Since we were driving from Ottawa and wanted to make the most of this 2-hour drive, we found a few things to do on the way there and back. If we had left the house earlier, we could have accomplished this whole list in a single day. Next time.
5 Span Bridge in Pakenham, Ontario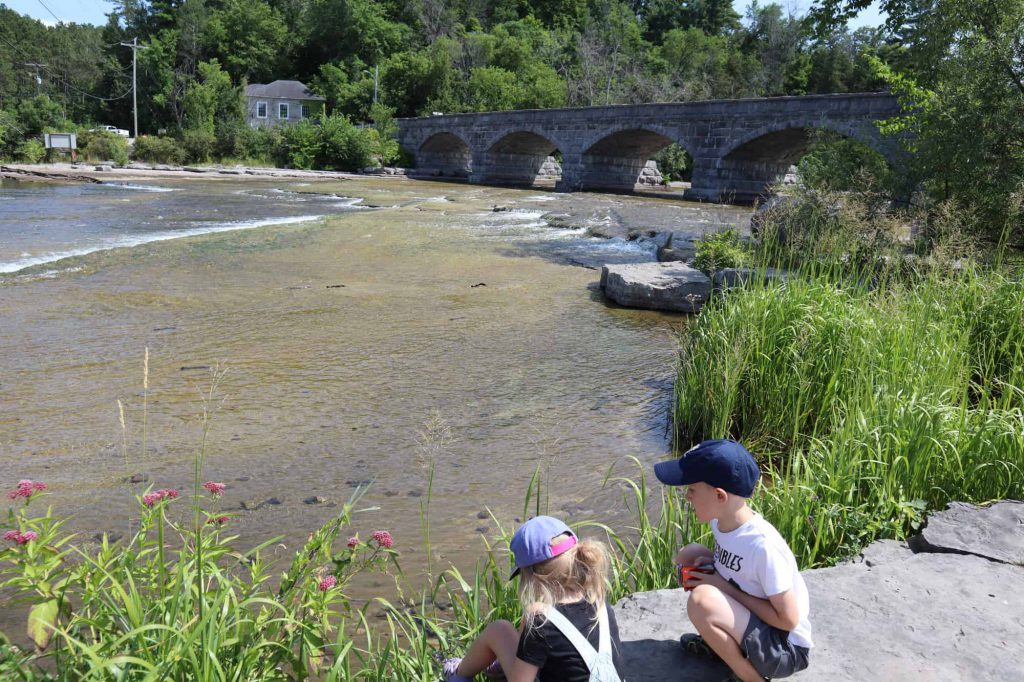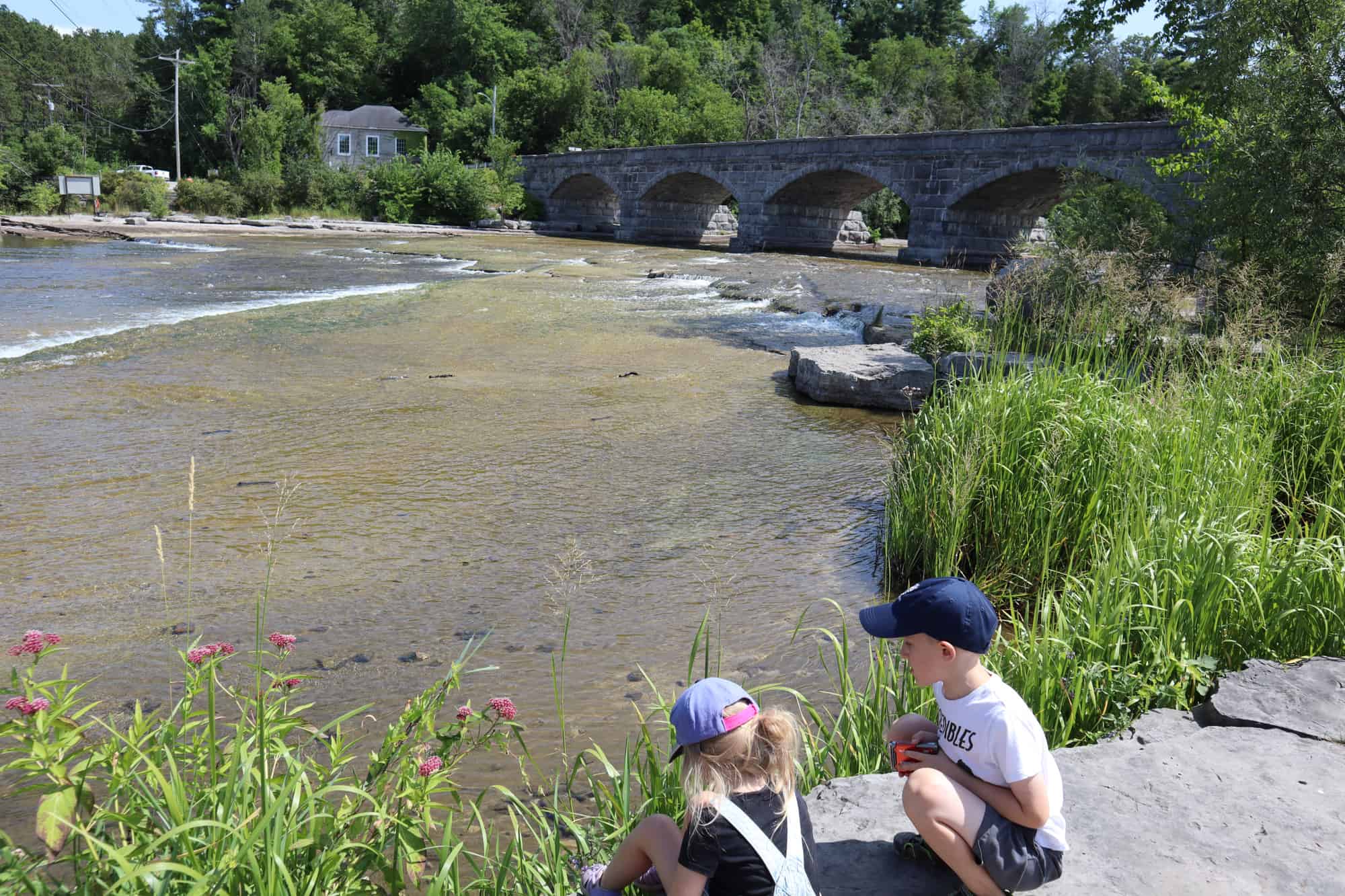 We saw a sign for a Five Arch Stone Bridge just outside of Arnprior, we made the short 2-km detour off of Highway 417 to County Rd. 29. We weren't disappointed by the views. Dating back to 1903, this is the only bridge of its type in North America.
There is a parking space and picnic area nearby.
Chutes Coulonge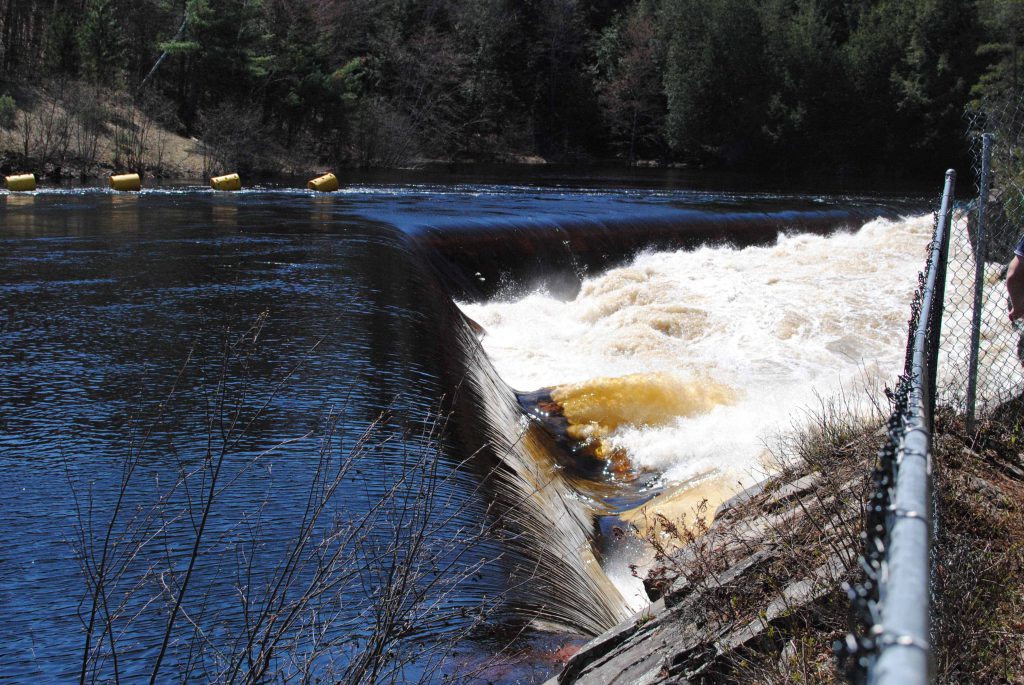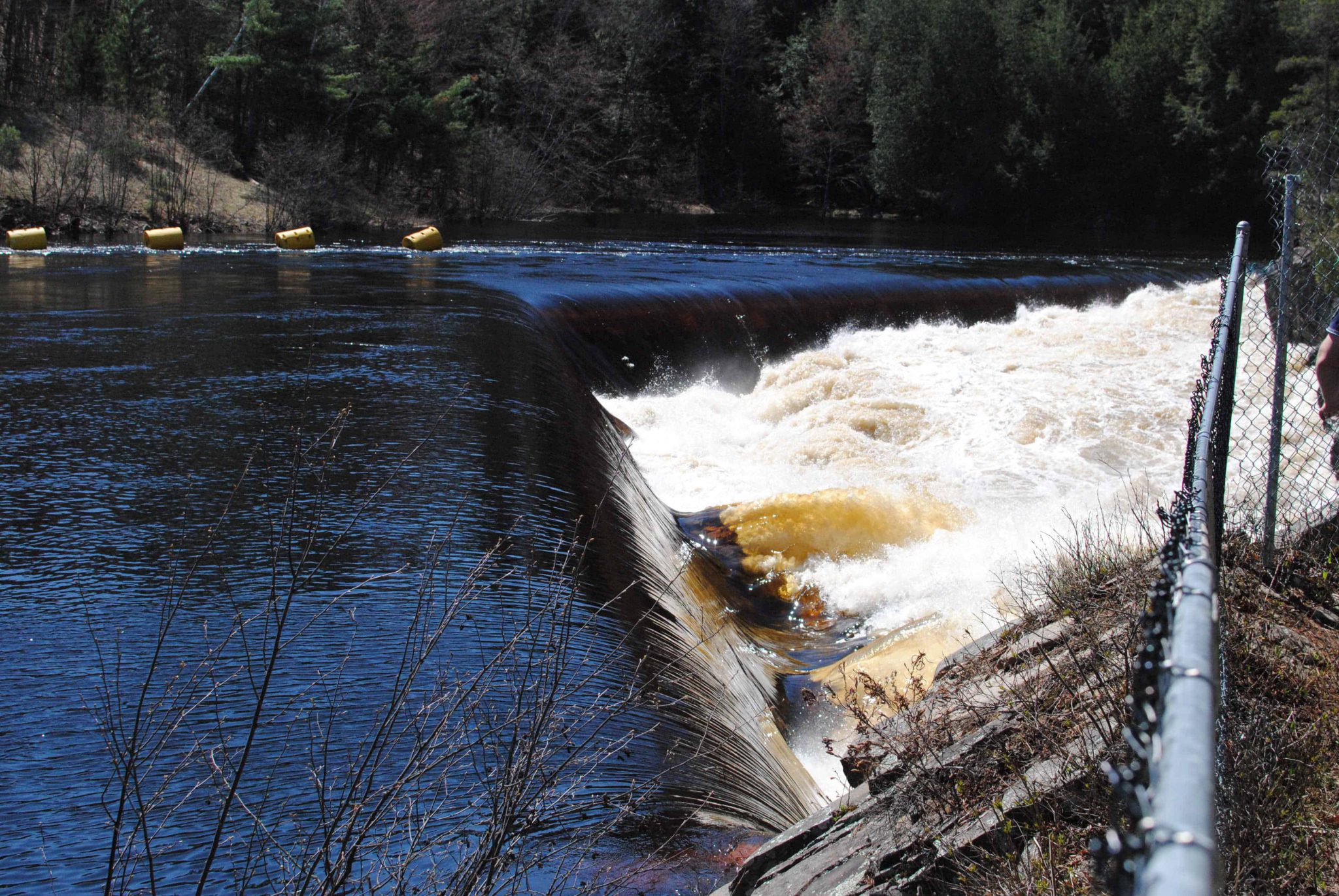 Stroll along the hiking trails, where you'll find displays of artifacts and information about the log drive. Chutes Coulonge also offers an aerial obstacle course (for adults and children) and a giant zip line leading to the Via Ferrata.
Log driving is a means of moving logs from the forest to sawmills and pulp mills downstream using the current of a river.
For more pictures and details, check out Chutes Coulonge; Adventure and Historical Park
Hugli's Blueberry Ranch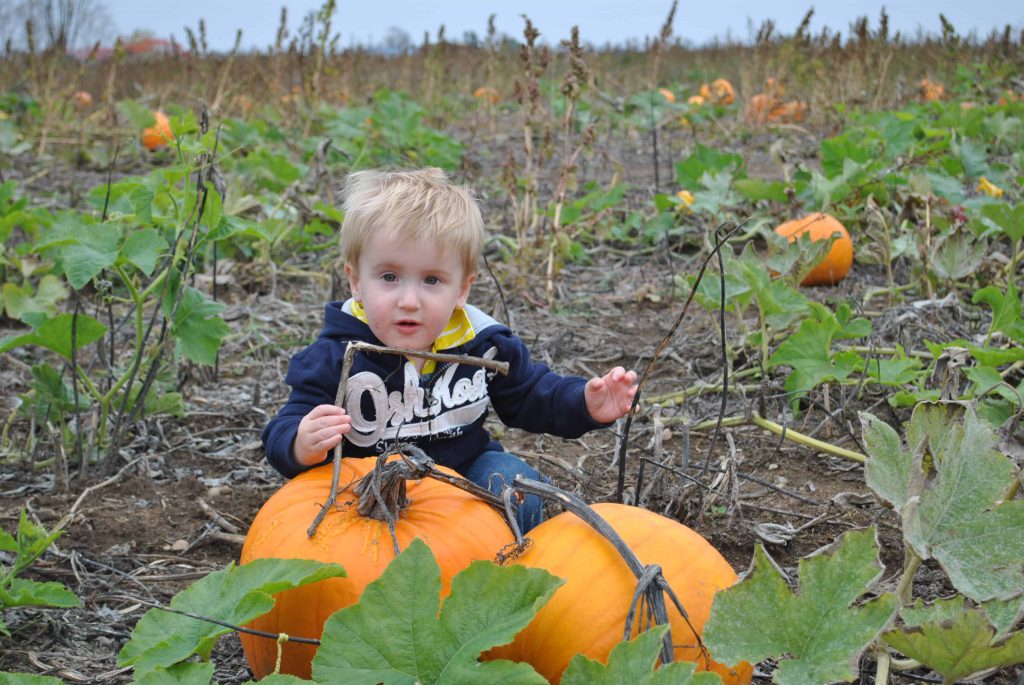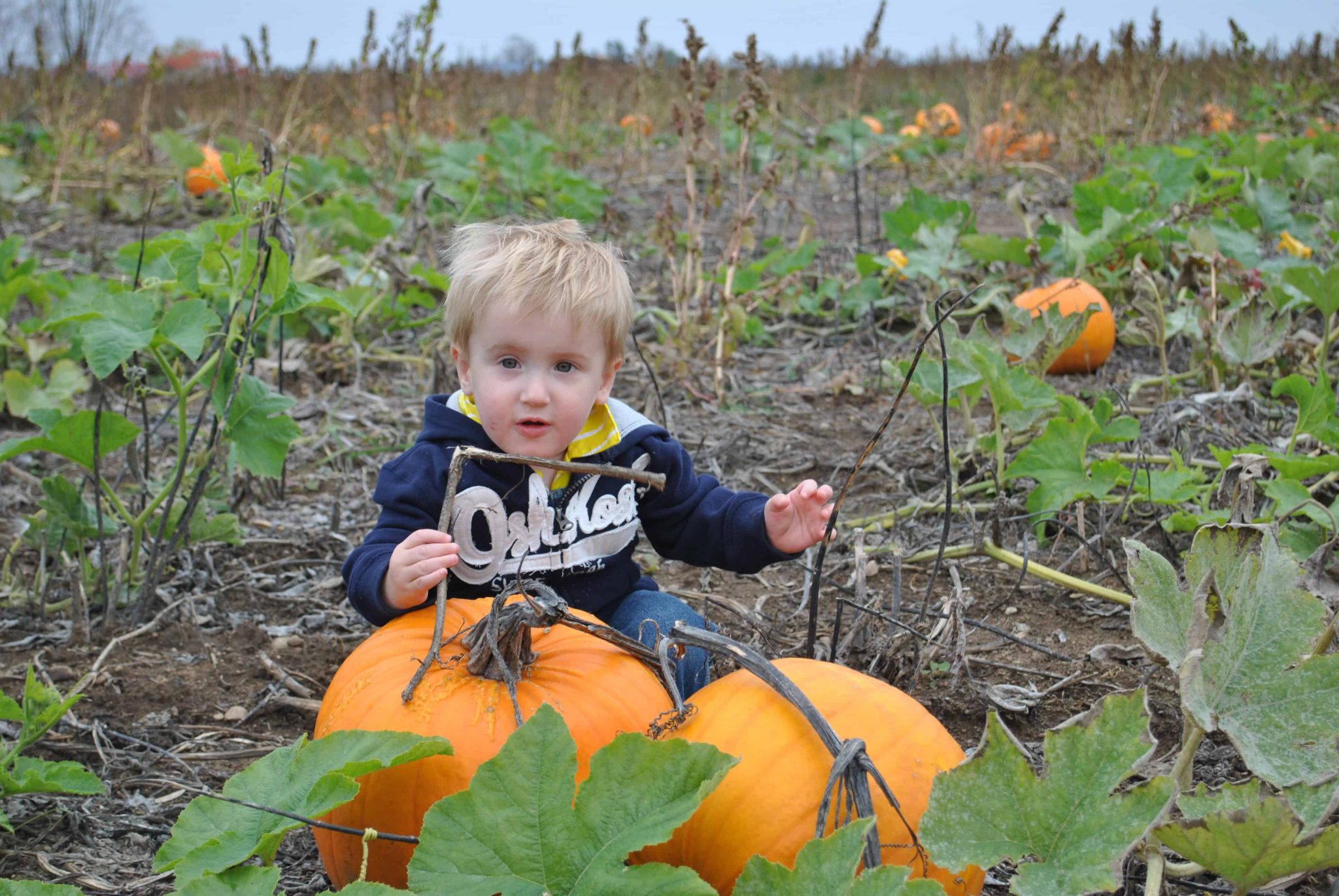 More than just a blueberry field, Hugli's sells ice cream, caramels and fudge along with other country trinkets in their main shop. Once you have paid for an entrance ticket, because it's just that amazing, and come to the fields themselves, you will see why families spend all day here.
There is a giant playground for kids of all ages, including a pirate ship and a small petting zoo. The Hugli family grows high-bush blueberries, pumpkins, and Christmas trees from May to Dec 31st, as well as having a generous U-Pick schedule.
Irving truck stop
Not your standard tourist-attracting; the Pembroke Irving truck stop is the only one of it's kind outside of Atlantic Canada. Sure, Irving has plenty of gas stations around, but as a truck stop, nothing.
Their food is amazing, service is quick and the staff always have a smile on their faces. Did I mention all-day breakfast? Amazing. When we lived in Pembroke, we had to stop ourselves from visiting too often. It's just that good.
Petawawa Military Museum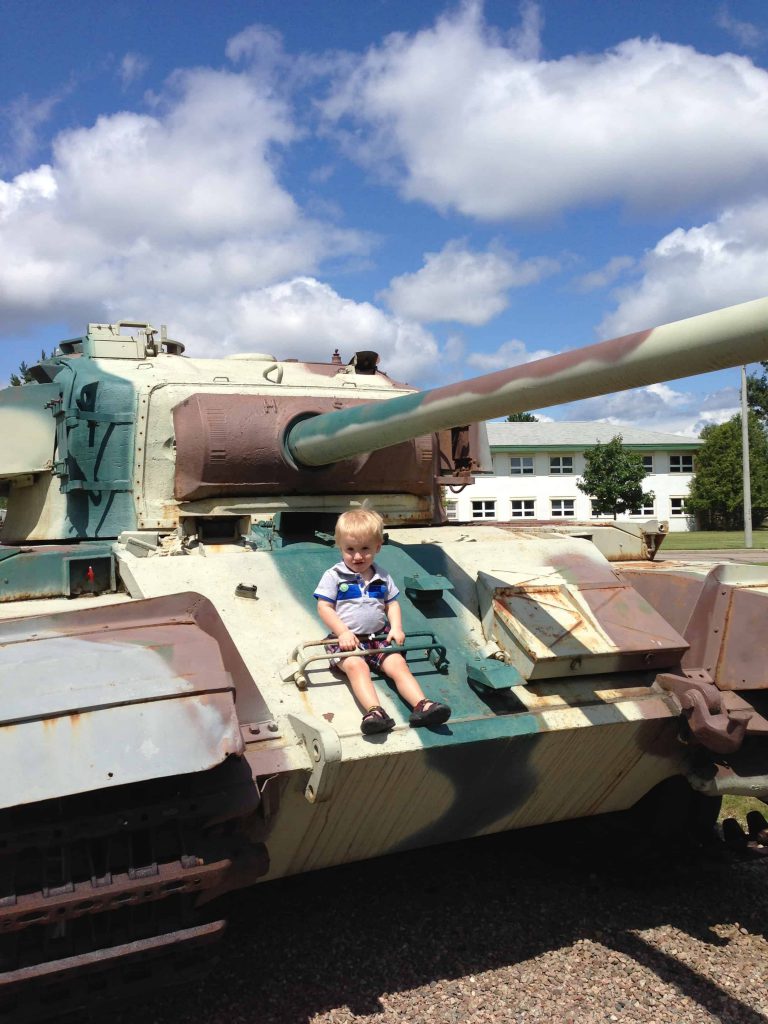 From here, discover the history of Garrison Petawawa. From the early settlers to the military might of Canada's Armed Forces. Explore the history of the First Special Service Force (FSSF), the First Canadian Parachute Battalion (1CanPara) and the Canadian Airborne Regiment (CAR).
Visitors will discover the amazing and heroic stories of the 1st Canadian Parachute Battalion and the famous "Devil's Brigade" – the First Special Service Force, Cold War Units and the Canadian Airborne Regiment through dioramas, historical artifacts, videos, and a large screen mini-theatre.
During the summer months, Garrison Petawawa Museum is only open Monday to Friday, 11 a.m. to 4 p.m. closed on the weekends.
While you are there, don't forget to check out Black Bear Beach Campground, Petawawa Heritage Society/Village, Champlain Trail Museum and Pioneer Village, Petawawa Centennial Park, and Petawawa Point.
You May Also Like…
Top 10 Things to do in Kingston, Ontario
An Insider's Guide to things to do in Toronto
Ottawa with kids; The Ultimate Guide
Canada's National Museums Passport