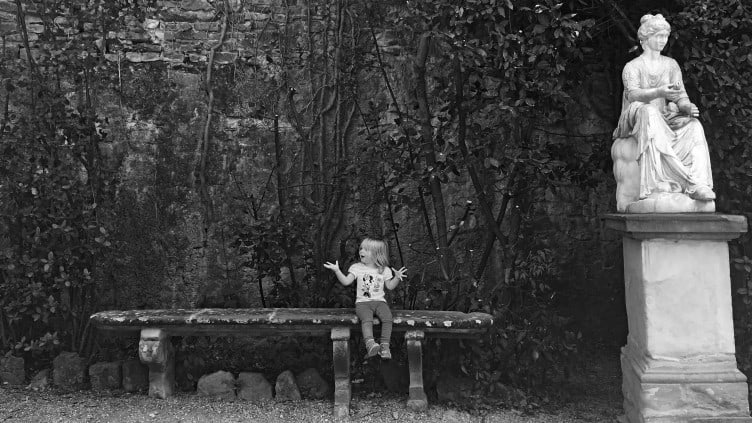 Florence with Kids: Things to Do.
Florence with kids
After spending 5 days in Rome, it was time to pack up and move on over to Florence. We decided to split our stay between checking out the local gardens, museums, and architecture, as well as a day trip to Pisa, all while stuffing our faces with Pizza and Gelato.
This post may contain affiliate links.
To which I earn a small commission, at zero cost to you!
Find more info in our
Privacy Policy
.
Getting to Florence from Rome
Going back to the Roma Termini railway station that we had arrived from, we boarded an Italo train and hunkered down for 1.5 hours. A few things happened before and during the journey that I need to mention.
First. I forgot to buy the Florence to Rome tickets when I purchased our Germany to Rome tickets, which would have been the smarter thing to do. Buying on day of, or even a week before, especially during a busy week like Easter, meant that a lot of the seats were already full. Hubby had taken this journey before with work and suggested we would not be happy in the SMART level seats. The only other option available for us was the Club Salatto. We were lucky that this was cheaper than the Prima seats (not sure why, but I didn't have time to ask questions) and it was also a cabin. Remember when I mentioned the importance of family cabins, see here if you don't, well I thoroughly enjoyed this cabin. It wasn't soundproof but we were able to contain the visual noise from other passengers and spread our mess around to have a comfortable time distracting the kids.
Second. There isn't much storage room on this train. I am glad that we only had two packs and a suitcase (my wine suitcase was definitely coming to Italy with us, no question. You can read my review by clicking here) but the stroller was a little hard to store. It folded flat enough but taking it through the aisle in order to reach the storage area was a little tricky.
Day trips from Florence
We decided to take the first full day of our time in Florence to spend it in Pisa. The weather was favorable and if we were going to spend all day away from our hotel, we wanted to make sure we were planning for success. You can find all of our adventures in Pisa as well as great restaurant and hotel suggestions should you choose to stay longer, here at Pisa with kids.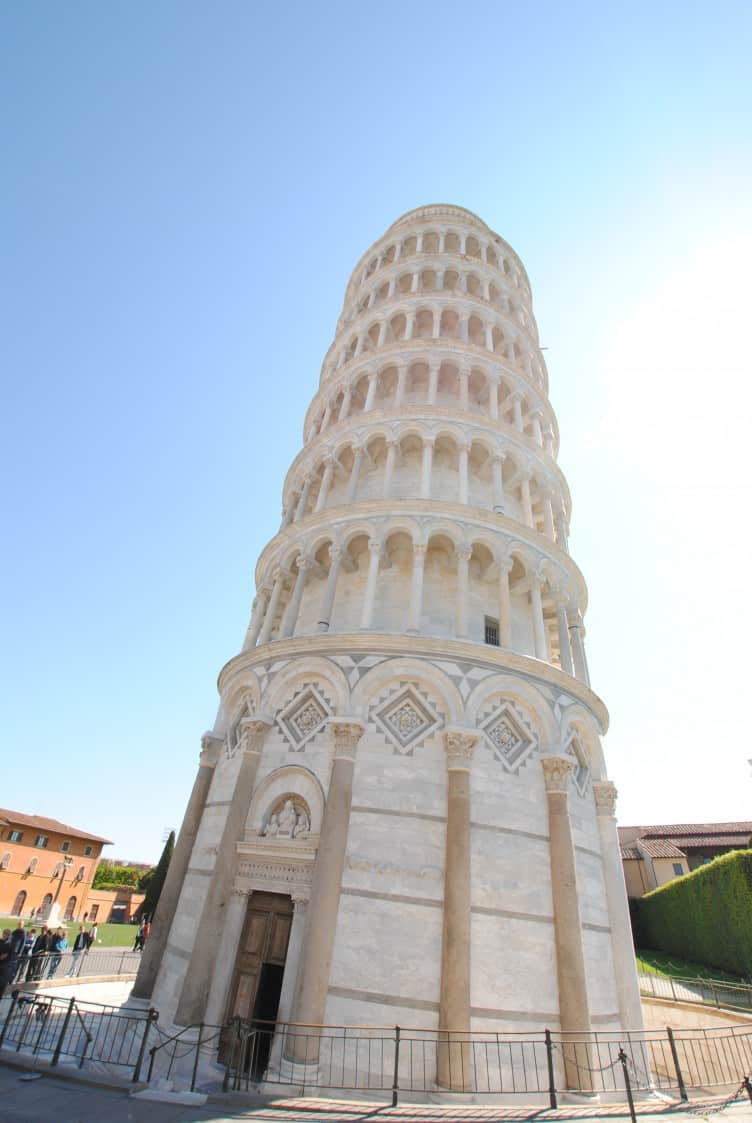 Things to do in Florence with kids
Piazza della Signoria and Palazza Vecchio
Our apartment, The Magic Signoria, was located in the heart of Florence, within the Piazza della Signoria. It didn't take long to walk from the train station to the piazza, as the thought of taking an Uber or public transit through these narrow streets was enough to make my anxiety flare up. Hubby has been to Florence once before with his friend during a work trip and he was eager to take me to a few of the highlights from his trip.
Whether staying near the piazza or not, it will end up being the centre of any tour taken within Florence. Francesca from FantasticFlorence took us on a tour of the city centre and she was able to give us a few hidden city secrets during our time together. She even met us at our hotel since the piazza is the start and stop of her tour – amazing coincidence, I assure you, as hubby was in charge of the hotels this time.
magic-signoria-apartment
The Palazza Vecchio is the Florentine town hall, previous occupied by the Medici family. A copy of the statue of David is in the front entrance and a statue of Cosimo I de Medici on horseback is to the left of the building. The fountain of Neptune was being cleaned and therefore covered in scaffolding.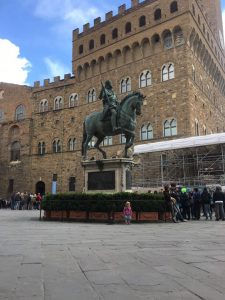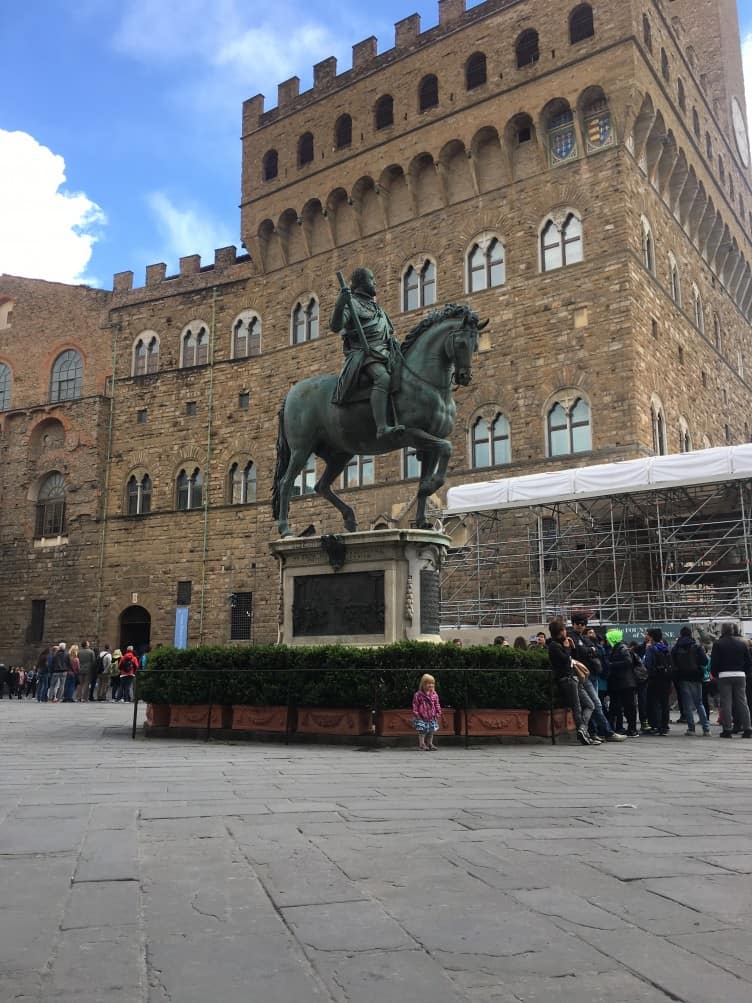 There are several things to be done within the Palazza Vecchio; the museum, archeological site, or climb the tower. We had a little incident that I feel compelled to warn you about, however; the line here is crazy long without a Firenze pass, but that is only good for 72 museums in 72 hours – so either you miss a few or go REALLY fast. Either way, we didn't buy one so we waited in line. I had a sleeping baby on my back, as was normal for this vacation, and bought tickets.
The rules stated that kids needed to be 8+ in order to climb the tower or visit the site. So I bit my lip and bought tickets for the museum – seeing as we weren't allowed to climb the Tower of Pisa, I assumed this was a general Italian policy – and went to baggage storage to put hubby's day pack away. They kept telling me "backpacks aren't allowed upstairs" and I'm like "no shit, that's why we are turning his in".
They kept pointing me too… finally, I asked, "are you implying that my baby is a backpack?" I had several words with the storage ticket agent, the security guard at the entrance to the museum and the issuing ticket agent. All of them insisted on calling my daughter a "backpack" so I became furious. It's not like I am going to back into something fragile, I know she is there and I know where my distances are.
They insisted she needed to be on my front or walk. Umm… are you implying that a walking 2 year old or a 2 year old at adult height and arms length to the museum pieces was safer or a better idea than a sleeping baby on my back. Sufficed to say, I stormed to the front of the busy line and demanded a refund.
My parents toured this Museum a few years ago when they visited Florence and they loved it; I was just being sour and didn't come back.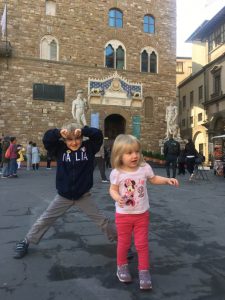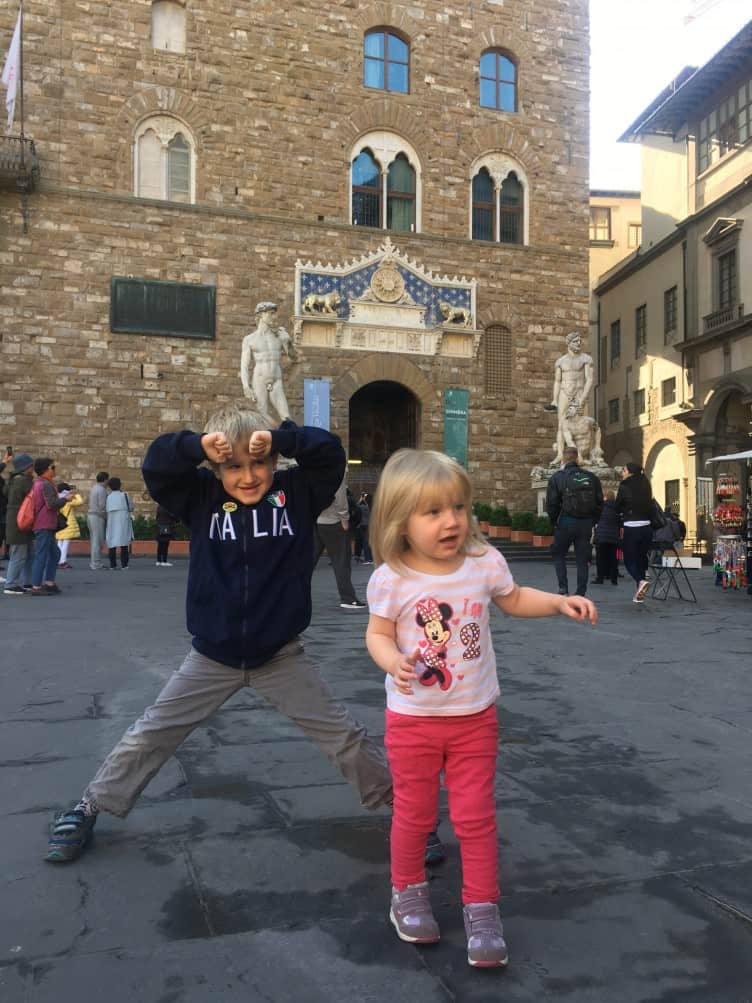 Next to the Loggia Dei Lanzi
Next to the Palazza Vecchio is Loggia Dei Lanzi and joins with the Uffizi Gallery, seen below. The Loggia Dei Lanzi is a series of arches, open to the street, where a number of statues are on display, including Perseus, The Medici Lion, and Hercules.
The temperature in Florence fluctuated so much, we didn't know what to bring with us. Being Easter time, I knew it wouldn't be HOT, but we did manage to get a sun burns while in Rome so we figured it would be similar in Florence. Nope. That was just dumb luck. The mornings in Florence were chilly and the afternoons were not cold.
We packed our light jackets and made sure we had somewhere to put them for the afternoon. This picture was taken around 2 pm and we were still in our jackets from the morning since most of the tour was in shady parts of part (literal shade, not shifty shade… you know what I mean). They came off before the end of the tour, though, but still. Not what I had imagined April in Florence would be like.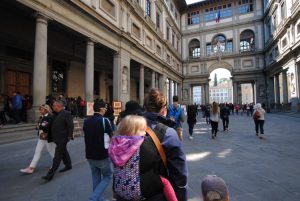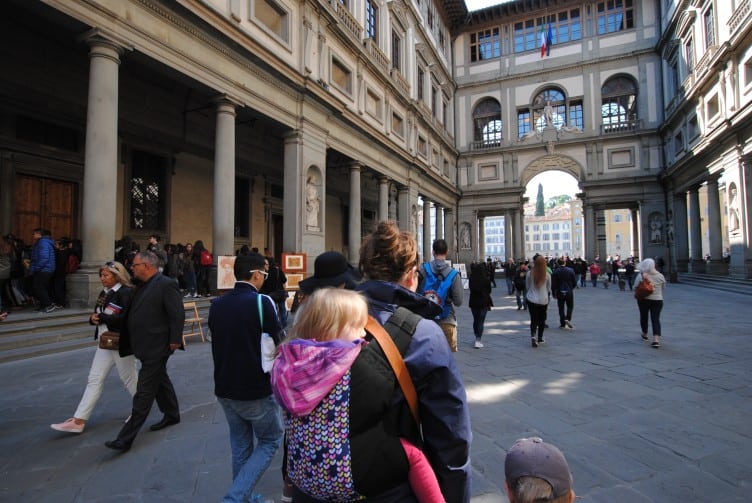 Piazza della Repubblica
Further down the tour, and heading towards most others sites in Florence, we passed through Piazza della Repubblica. Several times during our daily walks through the Piazza della Republica, we found live entertainment. A few dancers, an opera singer and a live band.
They were amazing and the acoustics were incredible. The balloon ladies were a little bit of a pain, however. Whenever we turned them down, they would approach the children and ask them if they wanted a balloon. Not cool!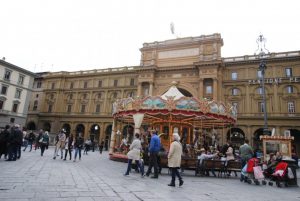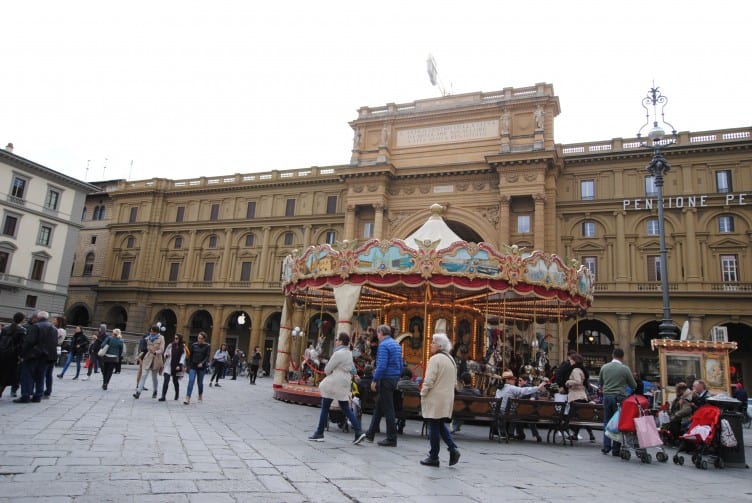 Ponte Vecchio
This was one of hubby's highlights that we needed to see. We ended up here almost every day, at different times, just for the view. The Ponte Vecchio is a medieval stone closed-spandrel segmental arch bridge with many shops built along it – as was customary back in the day.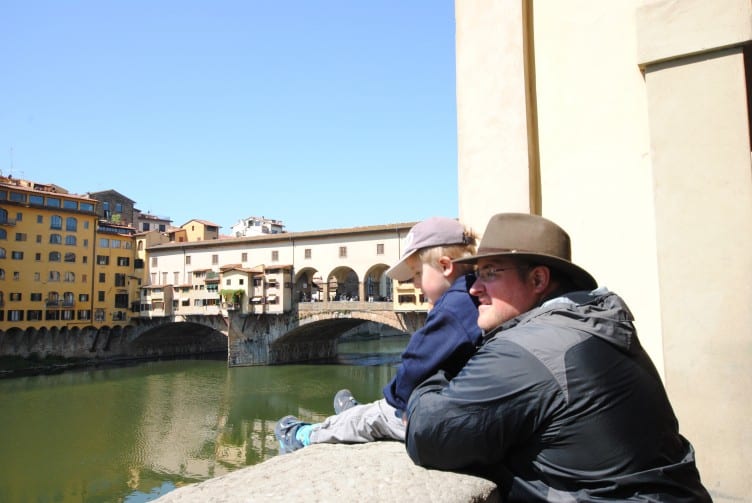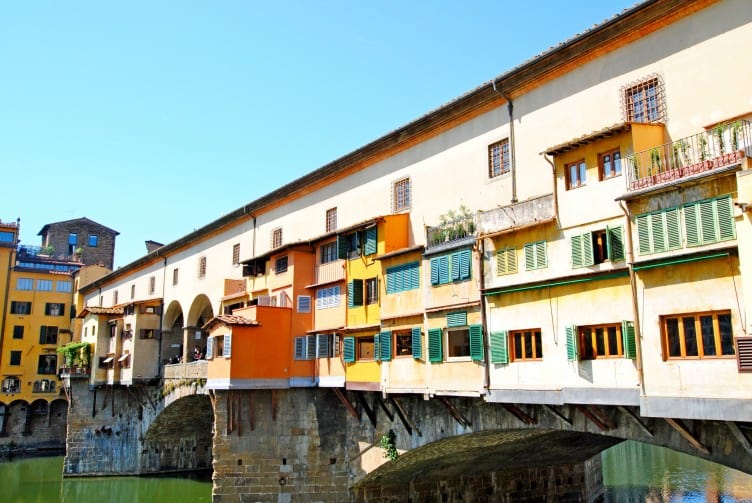 Florence Cathedral- Duomo
While it goes without saying, I am going to say it anyways… we weren't allowed to climb the Duomo.
Francesca and her tour guide powers got us to the head of the line and we were able to visit inside the Cathedral. We learned about the Baptistery ahead of us and a few other old Catholic traditions (that I really should be aware of – my Sunday School graduate husband knew this, of course). It was a little crowded but that is to be expected of high-season.
You may also like:
Not far from the square is a tourism office and many ticket machines. This is where you will need to purchase your tickets, with a return time, to enter the Duomo. This is also where you can find the public toilets. 1 euro each and the ladies toilets have a family/handi room.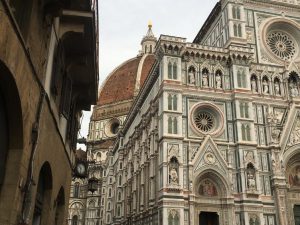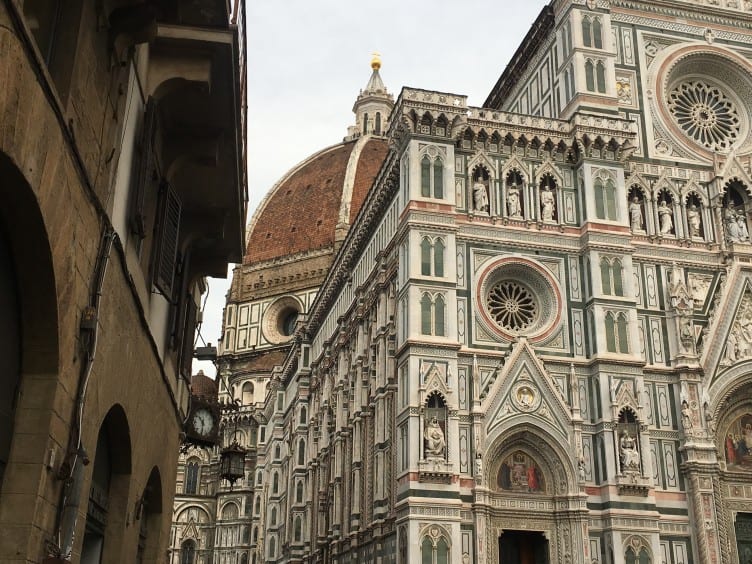 Pitti Palace
Francesca didn't take us here but she did mention it so we could go on our own afterwards. The Pitti Palace is a great area with and without kids. The gardens were massive and burned a ton of energy, there were hills and fountains they could play around, and the view from the top was amazing. We managed to find a couple taking professional photos around the gardens, so we quietly followed them and took a few of the kids once they had left. Some turned out great, some did not. There is only so much you can expect from a 5 year old.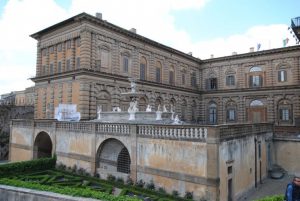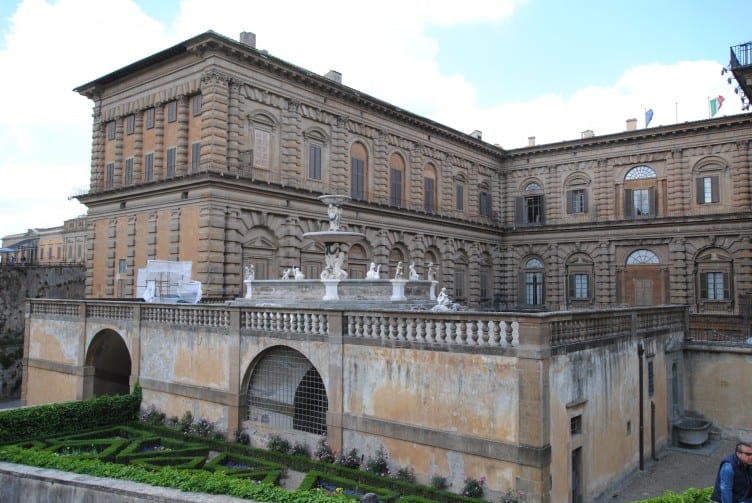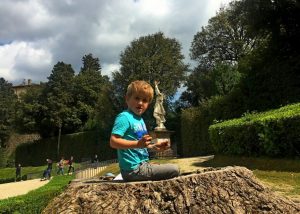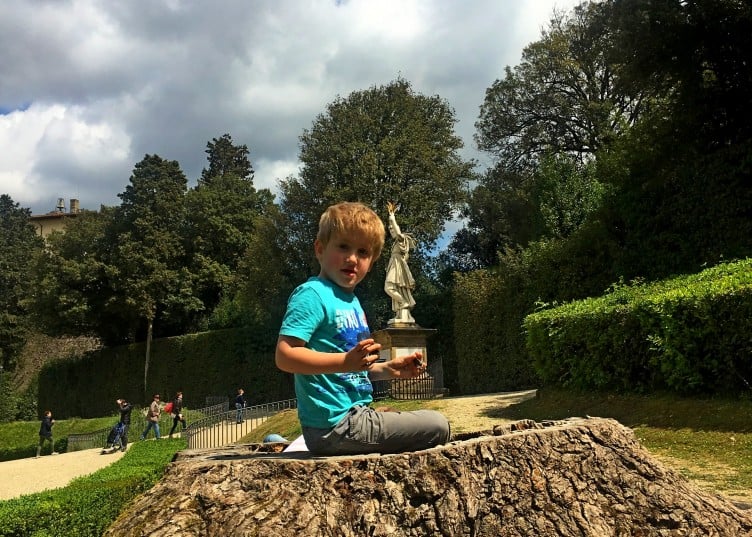 Porta Romana
Porta Romana is the southern most gate to the city, as part of the walls that were built in the 13th century. There has been a lot of construction in this area since hubby was here last summer and the buildings are continuing to be cleaned and refurbished. We took a few minutes to play around in the grass before heading to our dinner reservations at Ristorante Perseus. Walking was a little far for Munchkins little legs but there was lots to see, and I brought the carrier so he could sit on the way back to the hotel.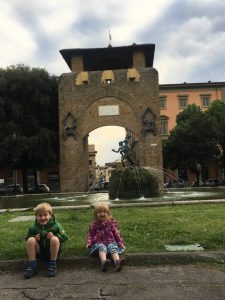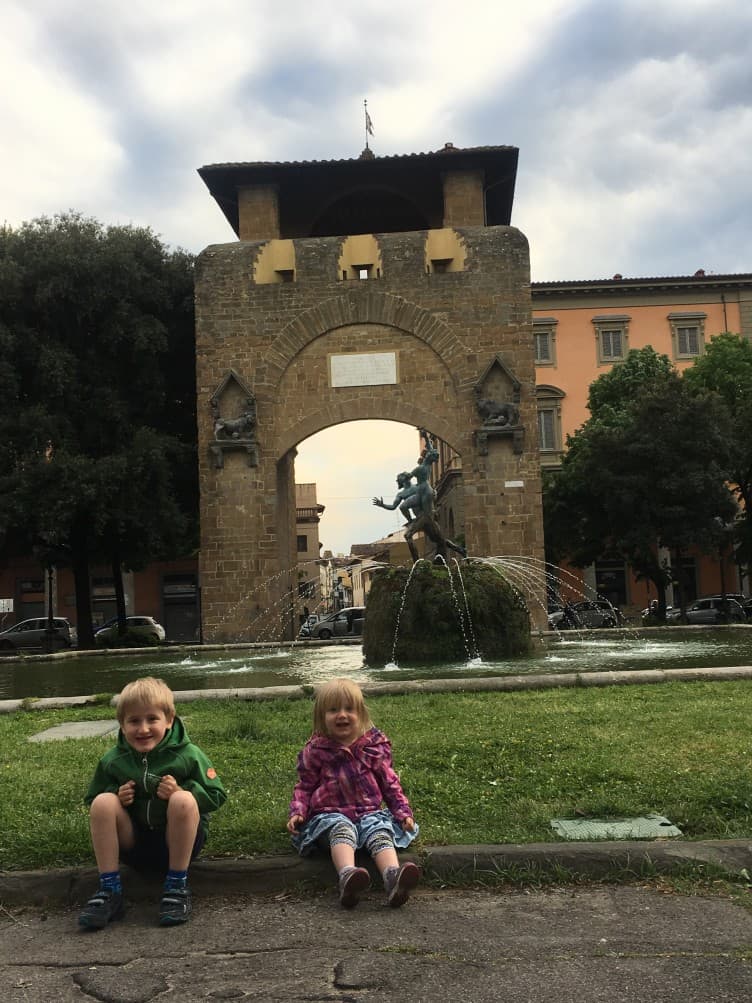 Giardino Bardini
Only opened recently to the public, Giardino Bardini is a Renaissance Garden with an amazing view of the city. We didn't stay as long as we had hoped, but it was still pretty great.
If you can, I suggest walking from the Ponte Vecchio to the Gardens. Using Google Maps will take you into some pretty amazing looking side streets. It is quite a climb though so the carrier was perfect for this hike – I can't imagine pushing the stroller up those hills.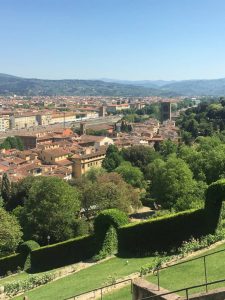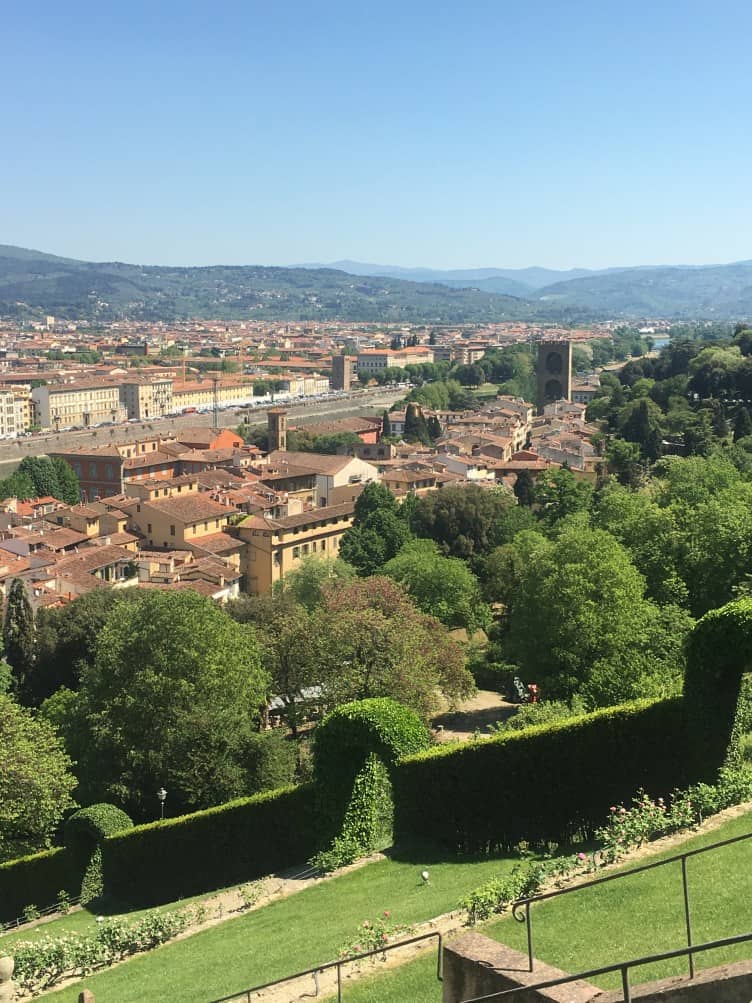 Off the Beaten Path
Interesting Street Signs
Francesca mentioned the signs to us while we were walking and I couldn't stop seeing them since then. Various classic paintings were also recreated as street art, in various styles, throughout the city and they were incredible. I was too busy looking for them to snap any photos, sorry.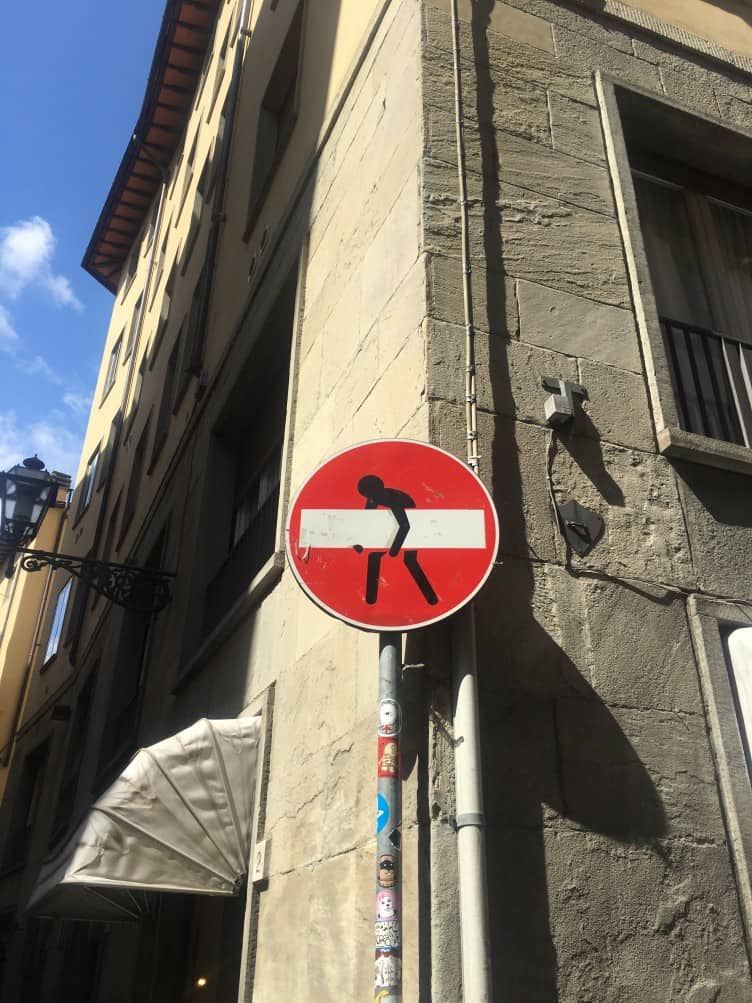 Ristorante Perseus
This was the best Steak Florentine that I have ever had! It was a fair hike from the hotel but it was a nice walk and we enjoyed the scenery. The price was pretty amazing too; we shared a double, and ordered potatoes on the side. The veggie centre piece was already waiting for us when we arrived, and we made sure to make reservations for opening time. The house wine was also already sitting at the table. They charge per how much you have taken from the bottle and it tasted pretty amazing so we didn't bother ordering another. The table next to us, however, order a very expensive bottle of red with their meal. I'm on a budget and have plans to visit a wine bar later in the week – today is not the day to splurge on wine.
If you are going to splurge at all during your time in Florence, this needs to be it. The meal was amazing and the staff are hilarious. Warning, the bathrooms are not exactly PG. The photos that line the walls …. leave little to the imagination. Munchkin didn't even notice, but I did.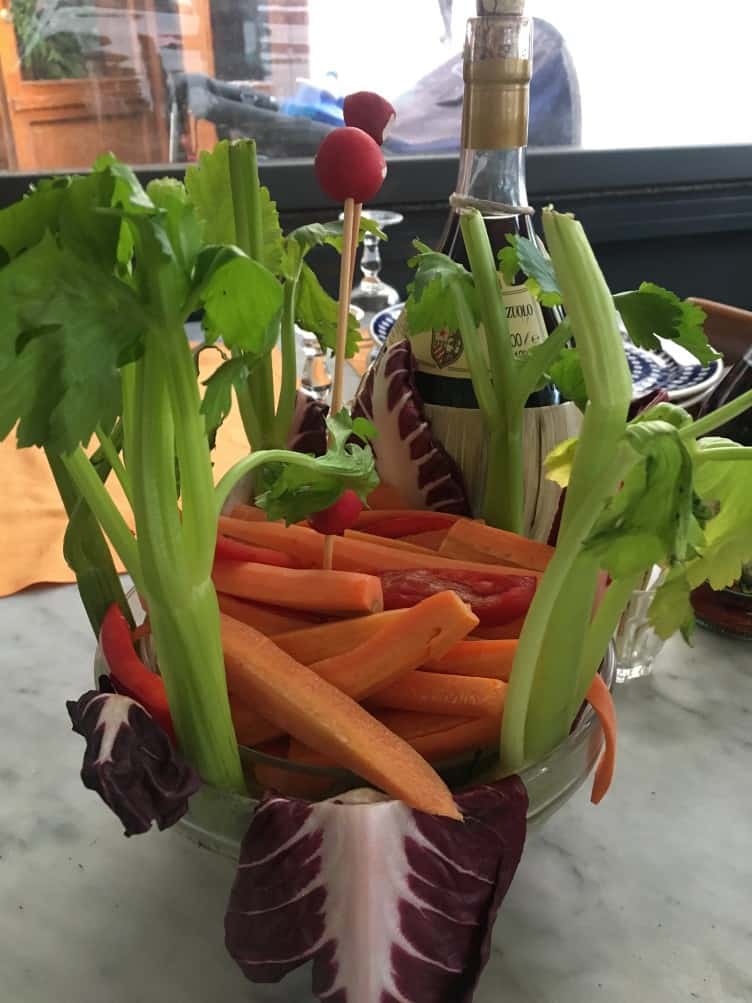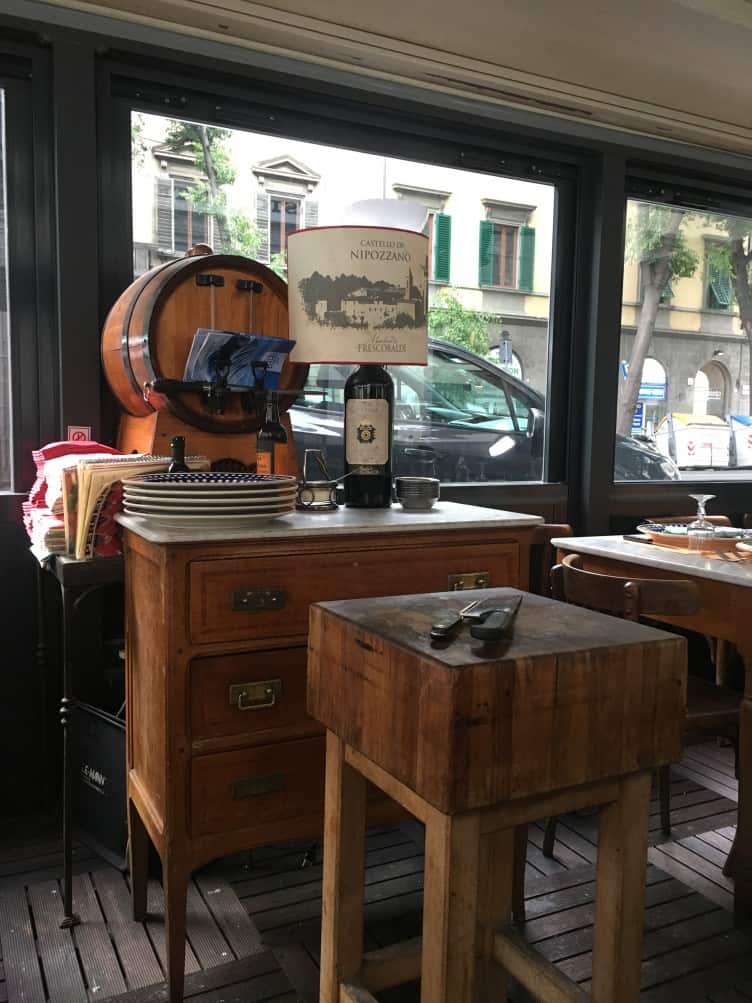 il Papiro
During our tour with Francesca, she showed us how to make marbled paper. There are a handful of stores with the same name, considering it means "Paper", the one you want is on Via dei Tavolini. This is why I love tours centered around the kids; who else would take you here. And the gentleman insisted that we were not obliged to purchase anything in the store afterwards. Normally he just keeps the pages that the kids make because they need to dry over night but since we were in town for a few more days, he said we could stop by the next day and pick it up.
Perché no! Gelato
Along the same street is a great little cafe that sold the most amazing bread and pizza to go. The kids were a little hungry at this point and it was just easier to give them a snack so we could keep touring. Also, this is where you will find one of the best Gelato cafes in the city, Perché no! The Gelateria's closer to the city centre are not the same quality, and are about 6-10 euro per cone. This place had them for 2-4 euro per cone, and even gave the baby a tiny cone with half a scoop for free since I didn't want to spoil her dinner.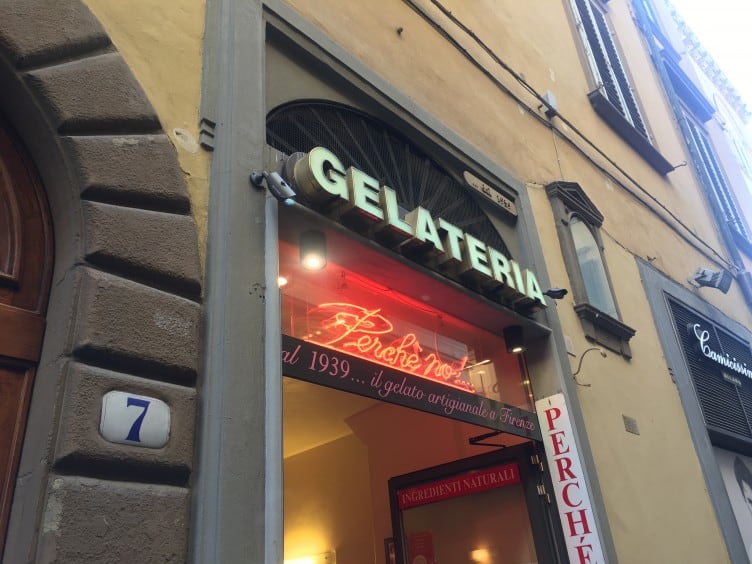 If it looks like this; avoid it! It makes for a very expensive photo.
Bronze Boar
The Bronze boar just outside of the Mercato Nuovo, the resident Leather market. He supposedly brings good luck when visitors rub his snout and put a coin in his mouth. If the water washes the coin from the pig's mouth and falls into the grate below, you will have good luck and you will be sure to return to Florence. If not, try again. The coins are used to support an orphanage.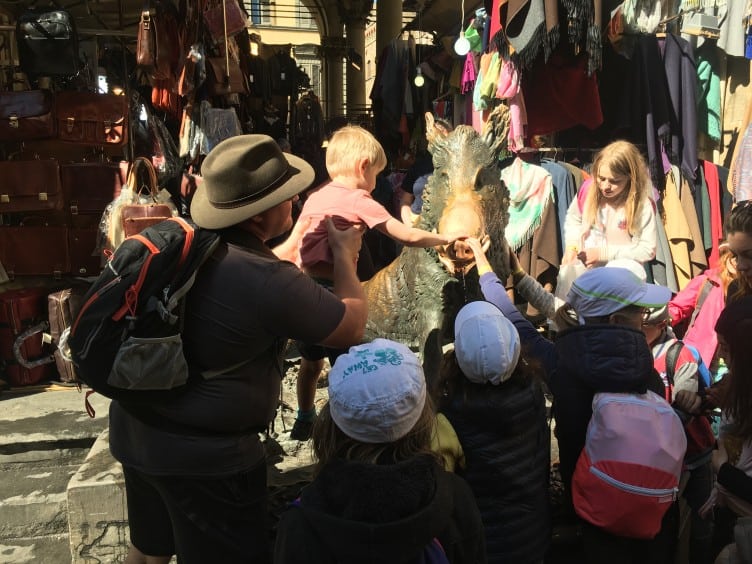 Visit Bartolucci
With Pinocchio being Florentine, what better place to pick up a Pinocchio souvenir than Florence. This particular shop, however, had a wood working shop in the back and the store front was amazingly huge. The quality and sheer quantity of Pinocchio items available was incredible. I had seen a few shops around town while we were walking and I asked a few if they carried an item and they all told me to come here, so we went on our last shopping day before leaving.
My parents had purchased two Pinocchio door name plaques for the kids when they went a few years ago, one for my son and one for my sisters son. A few years and two kids later, I went back to that store and purchased two more name plaques; for my daughter and my sisters second son. If we have more kids, it is not my sisters turn to make the journey.
Enoteca Alessi
This is where things get crazy. I came into contact, via twitter, with Fly with Wine – they sell wine suitcases by VinGardeValise and heard we were taking a trip to Italy in the near future. They graciously offered me a suitcase to test on our trip. While we didn't fly, we did take it for a ride – between rolling down the streets, and shoving it in tight spaces on every train we took (being within 5 feet of our children sort of simulates the baggage handling process… I jest… a little). In the end, we brought that suitcase to the wine bar. She LOVED the idea of being able to safely transport your own wine. Enoteca Alessi does ship wine, for a fee. To Germany, a case of 12 was about 60 euro, but to Canada – let's just say the suitcase was cheaper, and you get to keep the suitcase afterward.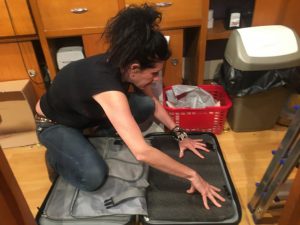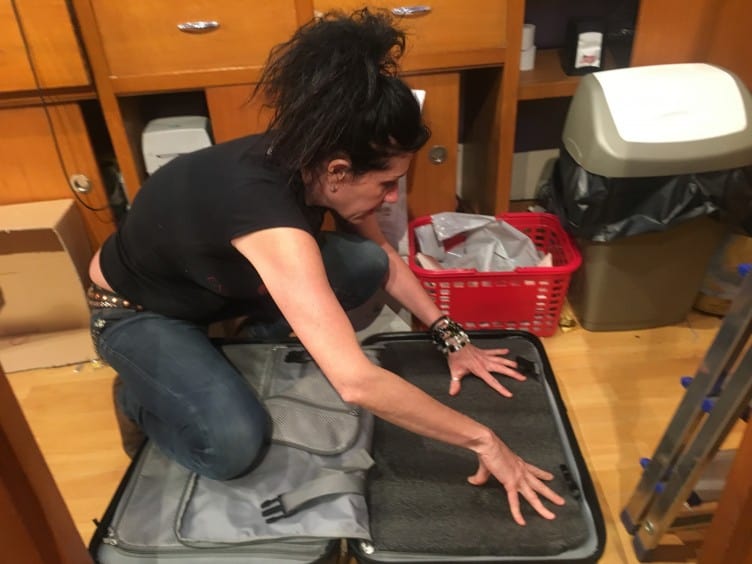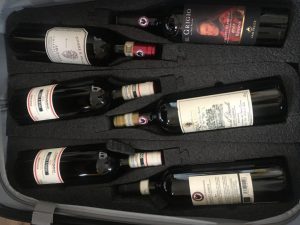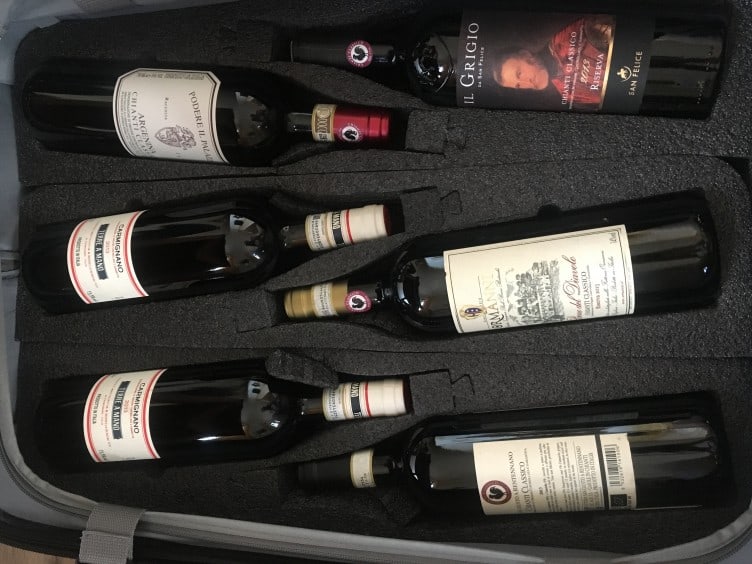 The wine bar is a comfortable oasis with an extensive wine cellar downstairs. The staff a have a detailed knowledge of their wine offerings and have an entire room dedicated Tuscany. The character of the store and staff kept my daughter well entertained, thanks for that Giorgio. He doesn't speak a word of English but he spent the whole time talking to the kids and offering them, sweeties. The front of the store is candy/confectionery heaven, it was the first department store in the city when it opened in 1952.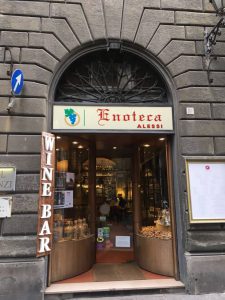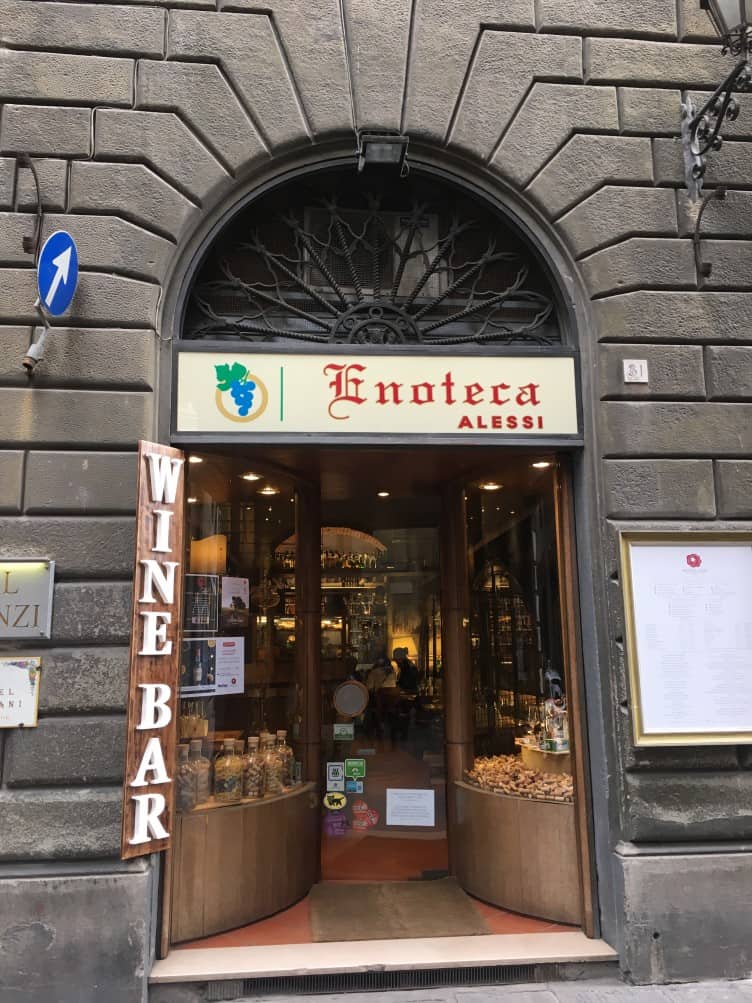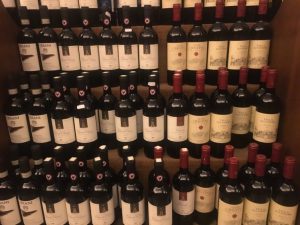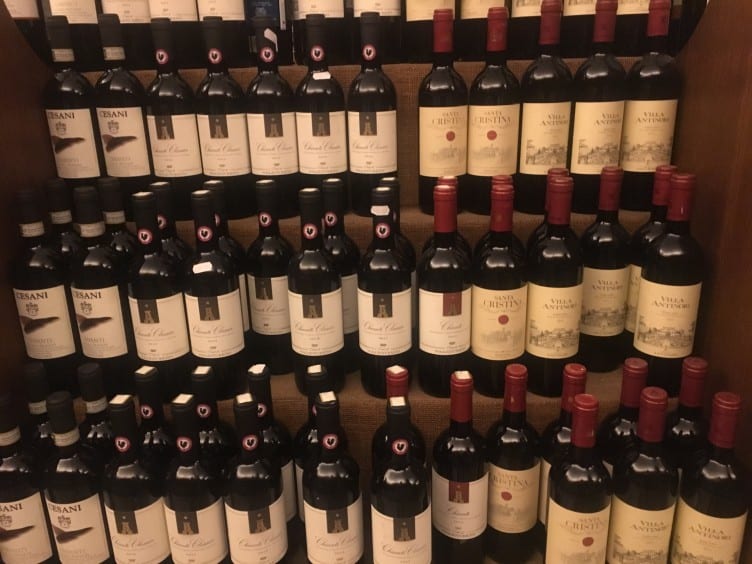 Disney Store
After 8 days of mummy/daddy adventures and no parks for the kids to play in, they asked nicely if we can buy them a toy. And I can't resist a Disney Store, so we went to the Disney Store and grabbed them both a little something.
I had actually ordered Baby Girl a special birthday shirt with her name, age and Peppa Pig on it, to be delivered to our house a week before leaving on vacation. We have ordered from her before and it was never a problem. Well, because we were on a dead line, it got lost in the mail. It didn't show up for 2 months. I was devastated. But what do we find at the Disney Store – Minnie mouse t-shirt, "I'm 2" written in giant letters, in size 3T , and this was the only one. We grabbed it and took a few pictures on her actual birthday with a birthday shirt.
Florence Museums for kids
There are tons of museums in Florence for kids.
Exploring the city on our last day was a little different than most days. We decided to spend the time exploring the various museums that Florence had to offer.
THE LEONARDO DA VINCI MUSEUM
This was his favorite museum. He loved being able to touch and manipulate the various inventions. Munchkin also has a thing with inventions since discovering Sid the Science Kid and other science-based children's tv shows. He wanted to know what everything did and how they worked. He was a little short to reach all of the parts but that's what dad is for. Baby Girl was sleeping soundly in the stroller – probably for the best – the museum is a little bit of a tight squeeze with all of the guests. While my stroller did fit around the corners safely, I would have preferred having her in the harness.
THE GALILEO MUSEUM
We half expected this to be interactive. Munchkin wanted to see the stars and a telescope, since he had been to the Planetarium on a school field trip. Sadly, it was not as child centred as Da Vinci but there were still a lot of great things to be seen here. They even had little lockers near the entrance so we didn't have to deal with a luggage storage agent. The stroller was allowed, and elevators are available.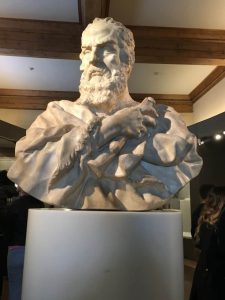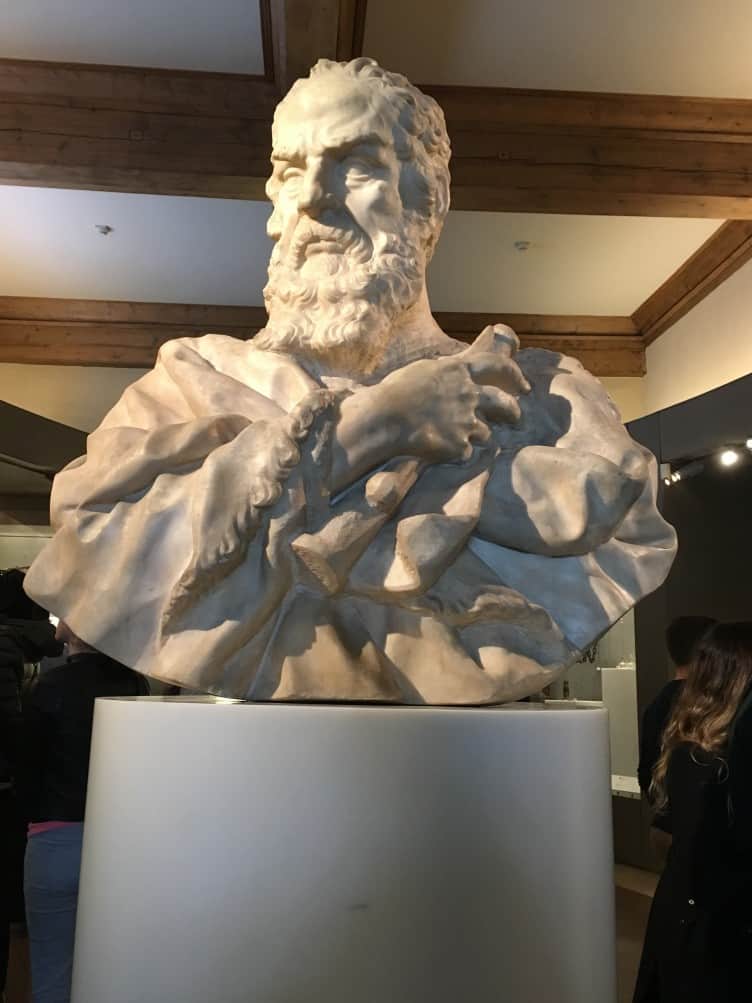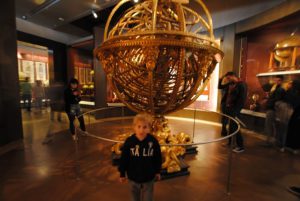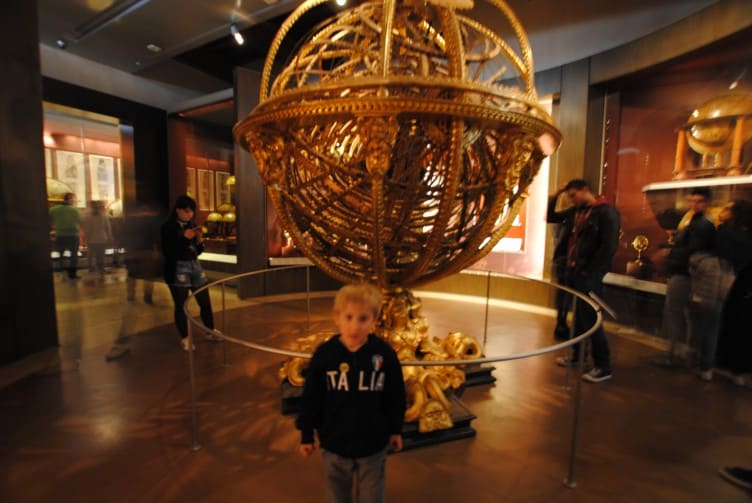 The end was the greatest part for Munchkin. No, not because it was finished, but because of the interactive portion to the museum. Finally! There were various Physics based apparatuses that he was able to play with and learn from. There weren't that many people hanging around here, as it was mostly geared towards the tweens, but Munchkin loves to learn and we love to teach him so we stuck around for a while.
The souvenir shop was also pretty amazing. I should probably call it a book shop since there weren't many trinkets available, save pens and key chains. They had a large English section and the age range within that section was incredible. We ended up buying something for everyone; even a Star Wars Adult colouring book for the hubby.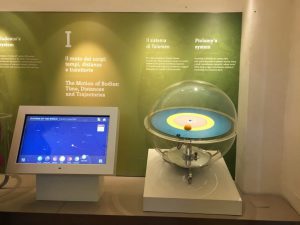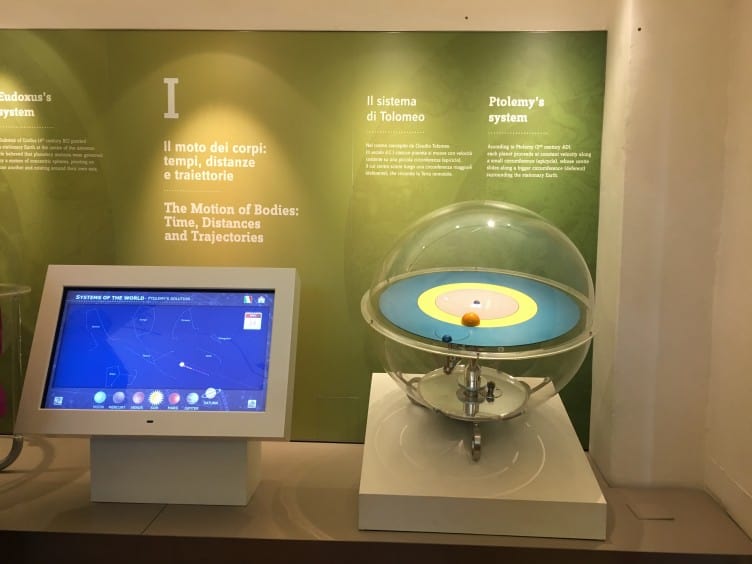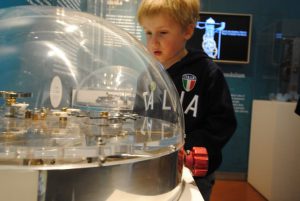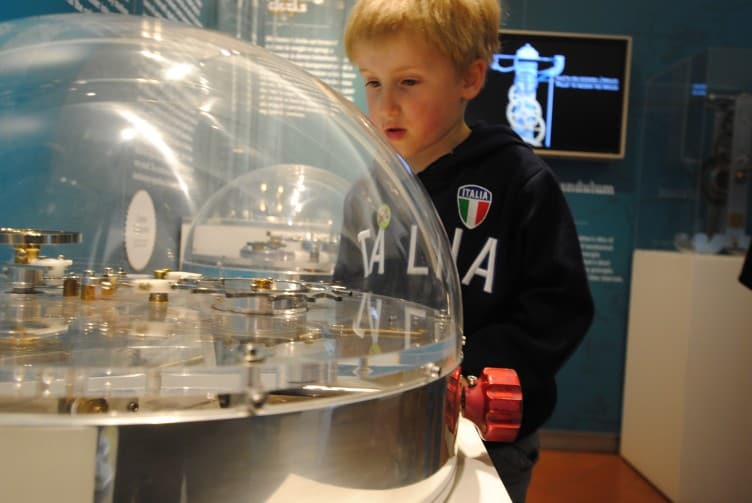 Dante House Museum
We spent the day checking out kids museums so when we walked by Dante House Museum, he insisted on checking it out. For 2€ I figured why not. He didn't understand any of it but he had a great time trying. Such a big boy. So proud
Luggage Storage in Florence
Since we had to be out of the apartment by 11 am and the train wasn't scheduled until 9 pm, we had to leave our luggage somewhere. Packing was a no brainer; all day requirements in our day pack, a specific packing cube for train PJ's and next morning clothes, as well as toiletry bag near the top. Dirty laundry in the cubes closer to the bottom and voila – smoothest bed time ever.
We used Luggage Storage Florence to care for our 2 packs, wine suitcase and now a new large bag of souvenirs. This replaced the snack back that we had brought with us, so we were even on the number of pieces we had brought to Italy. They closed at 8 pm and we are prone to paranoia so we grabbed our things shortly after 7 pm and headed towards the train station.
Piazza di Santa Maria Novella
As we waited patiently for our scheduled train, we all got a little hungry and decided to have one last pizza in Italy before heading back to Germany. I believe it was called Fiddlers Elbow Irish Pub. Good music, good food. The pigeons were a bit of a pain and the kids kept feeding them.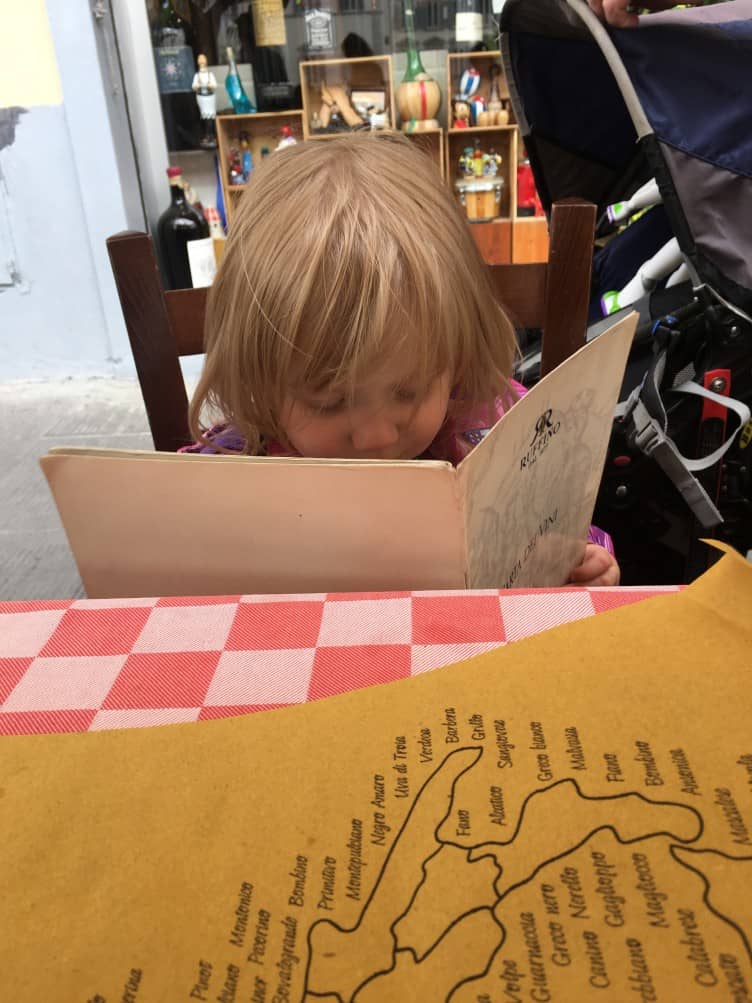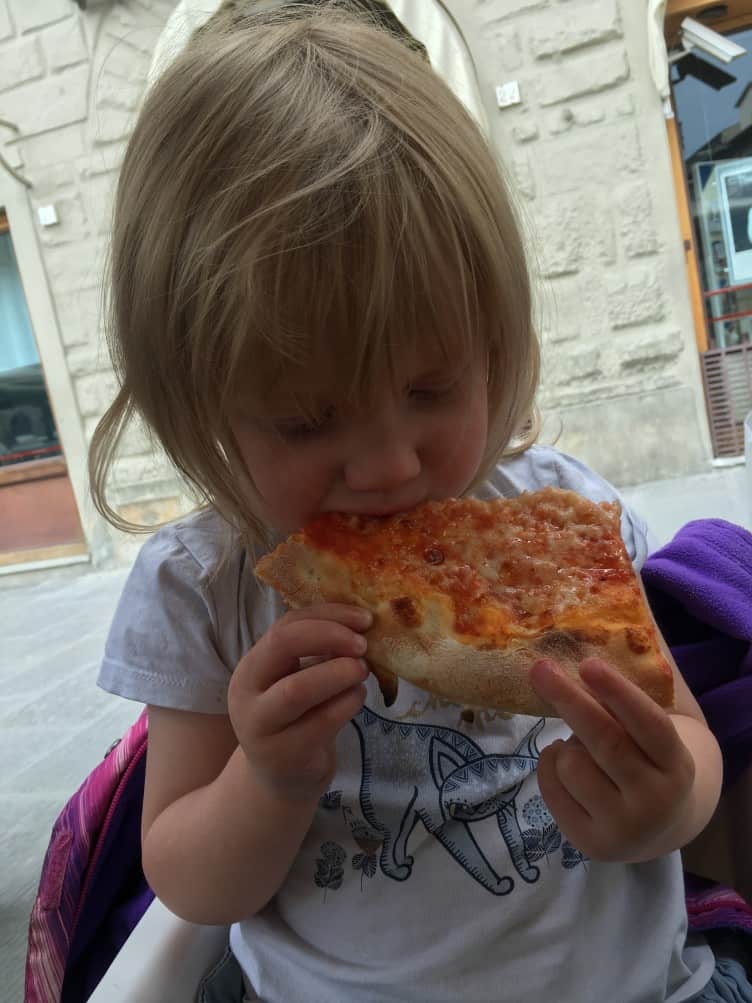 It's been a long week, the kids fell asleep not long after we boarded the train for home. Good thing too, because it was bedtime and we parents were equally exhausted.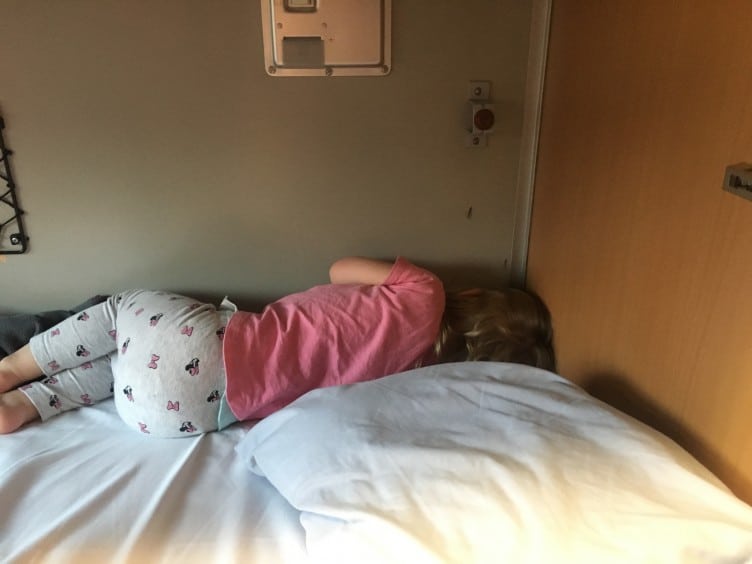 Where to stay in Florence with kids
We were in Florence for 4 days and wanted to have something with a kitchen and in the city. I had no idea this apartment was literally in the middle of the city. Magic Signoria was a wonderful apartment; it had a full kitchen, a double bed and a sofa bed. There wasn't much room for a baby bed, had we brought it, and there do not provide one, so I ended up co-sleeping with the baby, but that isn't anything new for me. The apartment was on the top floor and we had an amazing view of the Piazza della Signoria – the video on our home page is from this apartment.
At the bottom of the elevator, which is small and really only holds 2 bodies with packs or one body with a folded stroller, was a little hall way and stepped into the piazza. There are two great restaurants that serve breakfast at 9 am and a bakery that serves baked goods and cappuccino much earlier than that. Everyone here speaks English and were very welcoming.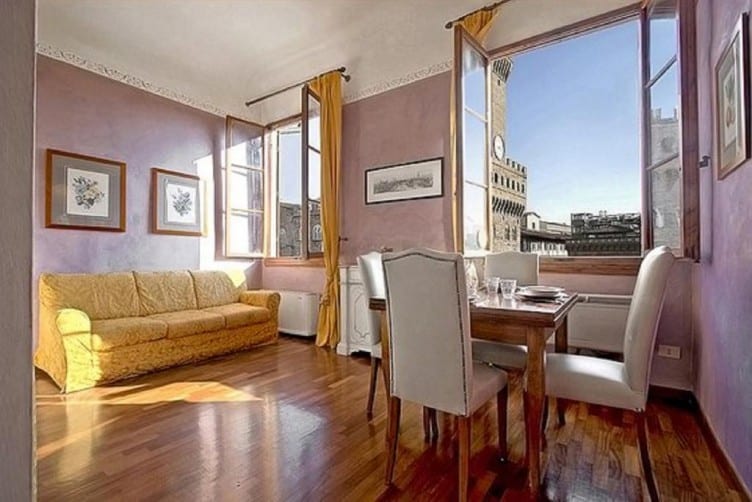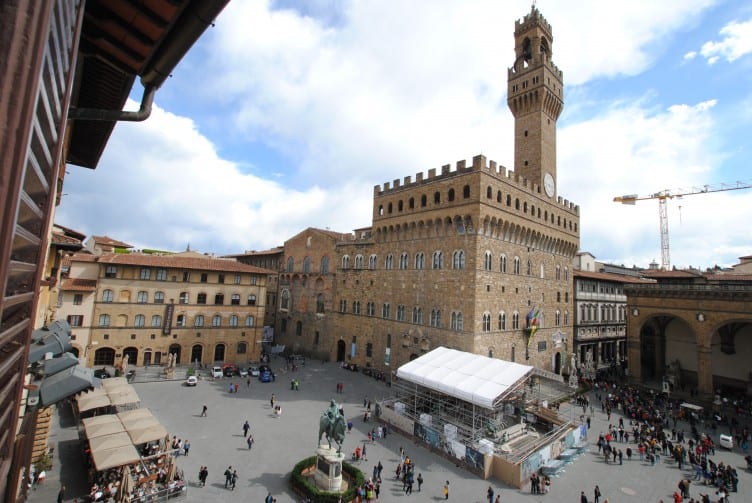 Where to stay in Florence
Best Budget Hotel: Casa Rebecca in Duomo
Best Mid-Range Hotel: Magic Signoria Apartment
Best Airport Hotel: Hotel Real
Your Thoughts...
Please share your thoughts in the comments or reach out on social media...We would love to hear from you.
You May Also Like:
Top 10 Things To do in Rome with kids
Munich Night Train to Rome with Kids
Travel with a Stroller | Should You Travel with a Stroller?