7 Days in Amsterdam with kids
When your time in Europe is limited, you want to find the perfect city as your hub and plan as many day trips as possible, while not burning out or missing anything. That's a lot to ask of a city. While many of the larger capitals in Europe would fail, Amsterdam is the perfect little city to both explore and day trip from in a short period of time. We spent a solid week in Amsterdam with kids and it was great.
My mom came to visit in early April; it was her only granddaughters 1st birthday! After the party, we had one week to explore before she went back home so we planned it out perfectly. She landed in Dusseldorf to visit my family, then left from Amsterdam so save time and money, therefore we are going to spend our week in Amsterdam with kids.
This post may contain affiliate links.
To which I earn a small commission, at zero cost to you!
Find more info in our
Privacy Policy
.
An excellent resource for planning all of Netherlands can we found with the Lonely Planet Netherlands Guide.
Getting there
Amsterdam is roughly 2-3 hours from Dusseldorf, plus traffic, by car, but hubby was working this week so I didn't have access to it. Therefore, we relied on the ICE train. 2.5 hours and 40 euro later (total, not each!! Amazing price), we landed at Amsterdam Central Station. Across the street was the local transit authority where I purchased a 4-day pass for us and 4 x day tickets for the toddler – there is no 4 day pass for kids. If I had done more research, I would have purchased 24 hour tickets when entering the train instead. At least this way I didn't have to remember to do anything.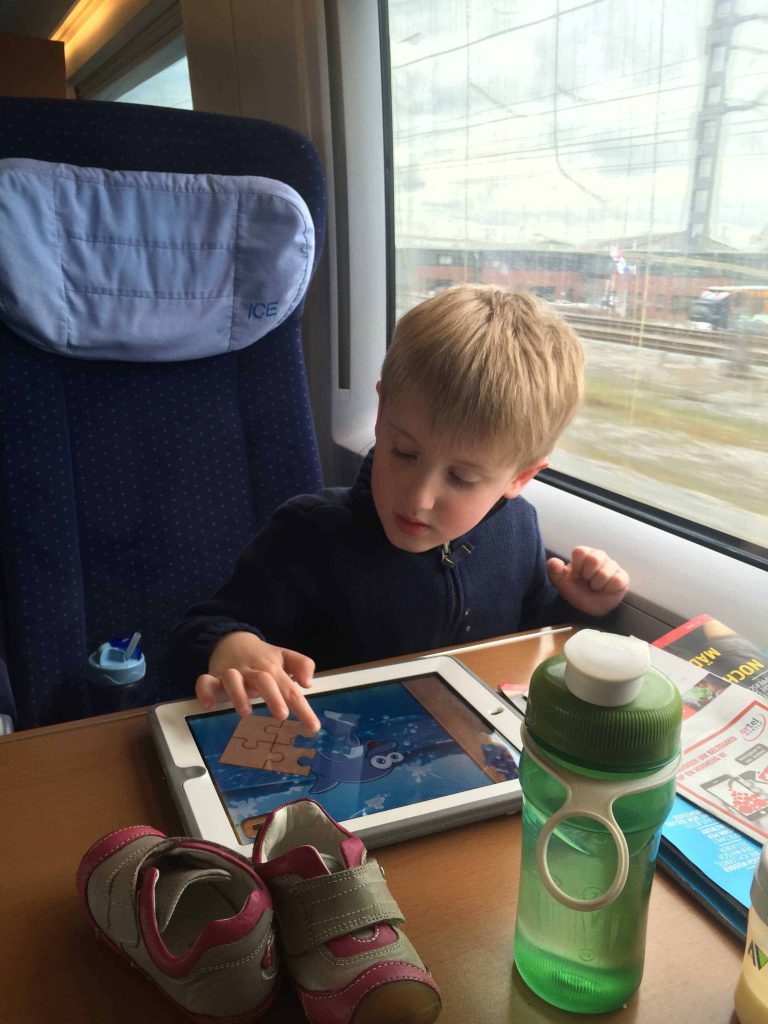 Train 8 took us across the street from our Air BNB; this was planned. I spend a week looking through hotels, BNB and booking.com to find the cheapest apartment available for the week, but also needed to be within the city centre and direct line to the central station since we would be using it so often. I was not thrilled with my choice of apartments so I will not be linking to it, but my basic criteria was met so I can't complain too much.
Day 1/ Landing Day
As a complete over-planner, we had everything decided and purchased weeks ago. Keukenhof, Zaanse Schans and 2 days in Amsterdam, plus the 2 travel days.
We off loaded our luggage, went out for late lunch and did some groceries. A canal cruise dock is directly across the bridge from our lunch, Hard Rock Cafe, so we spent an hour there. It was raining pretty good by this point so it was also a nice break from the rain. On the walk home, we walked passed the Rijksmuseum. While we didn't go inside the museum, we did stop by the IAmsterdam sign and surrounding gardens. For future reference, raining is the perfect time to visit these high traffic locations; it was 2 pm and I think I saw 2 other families out. Far cry from the few 100 or so last year on a nice summers day.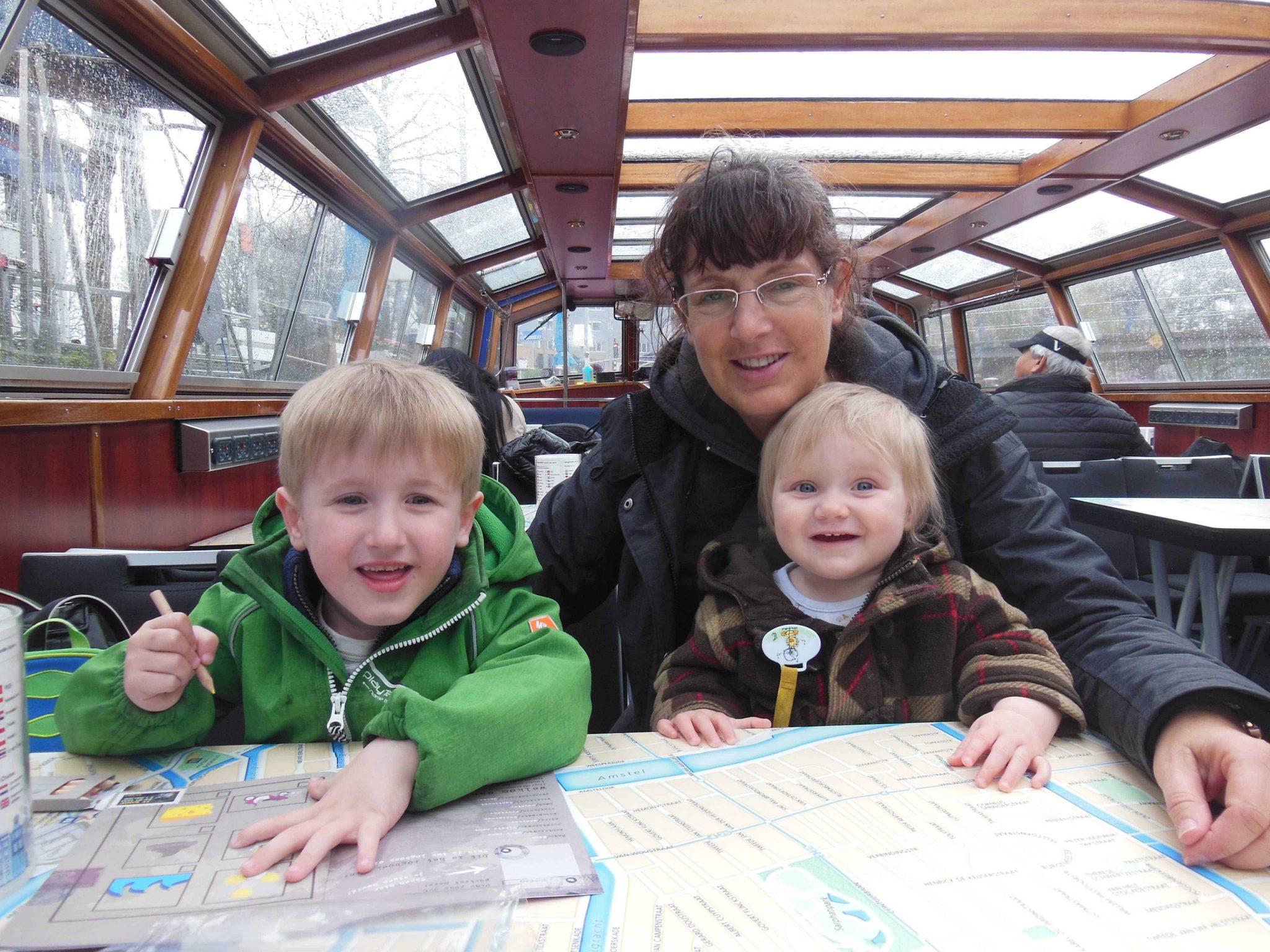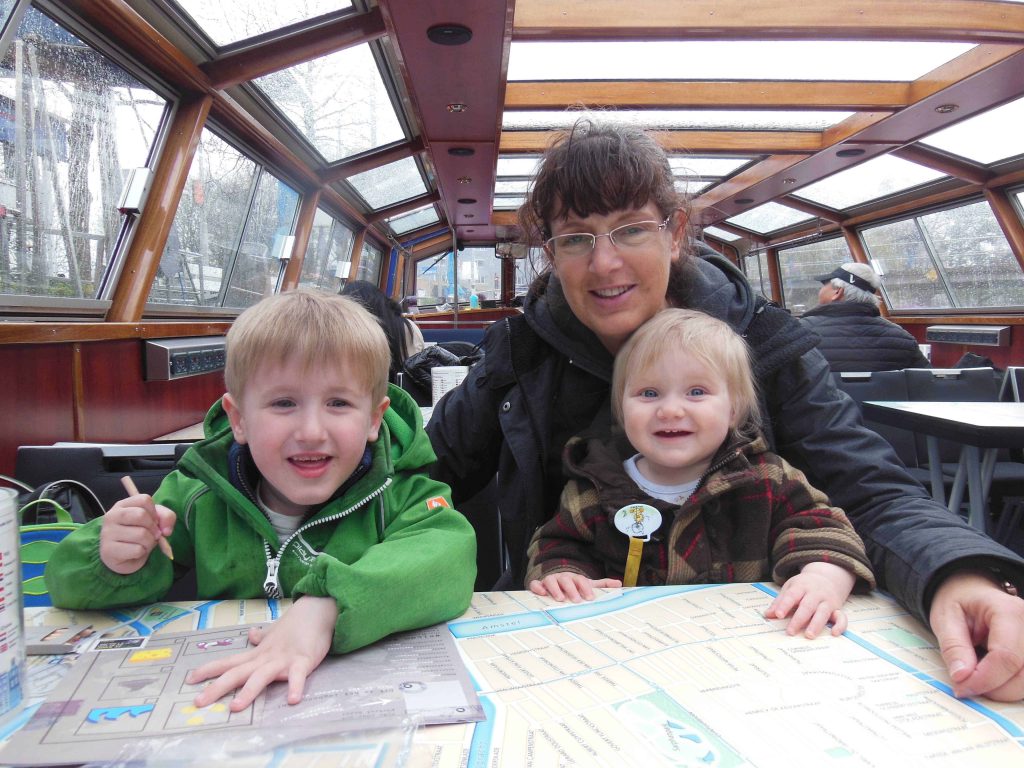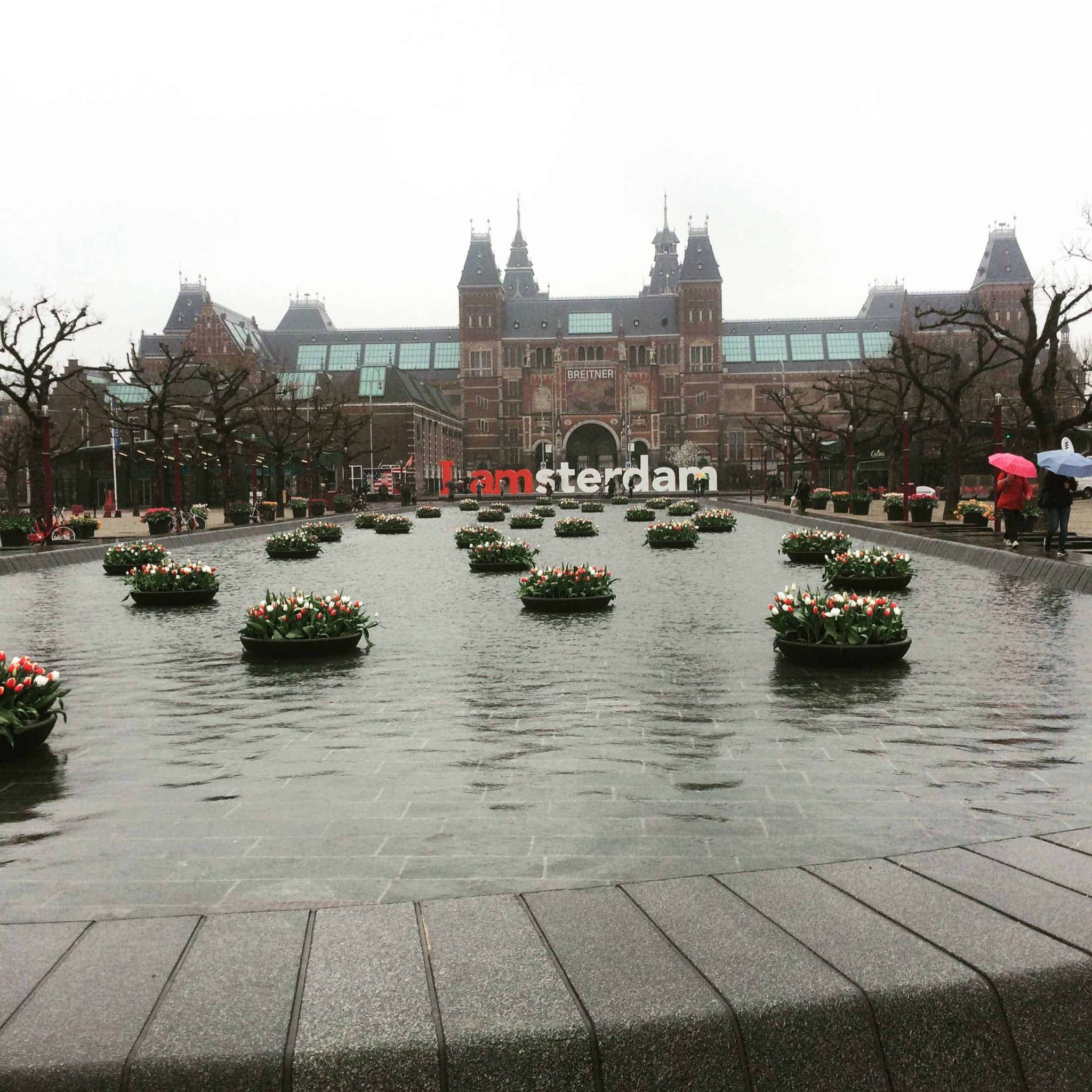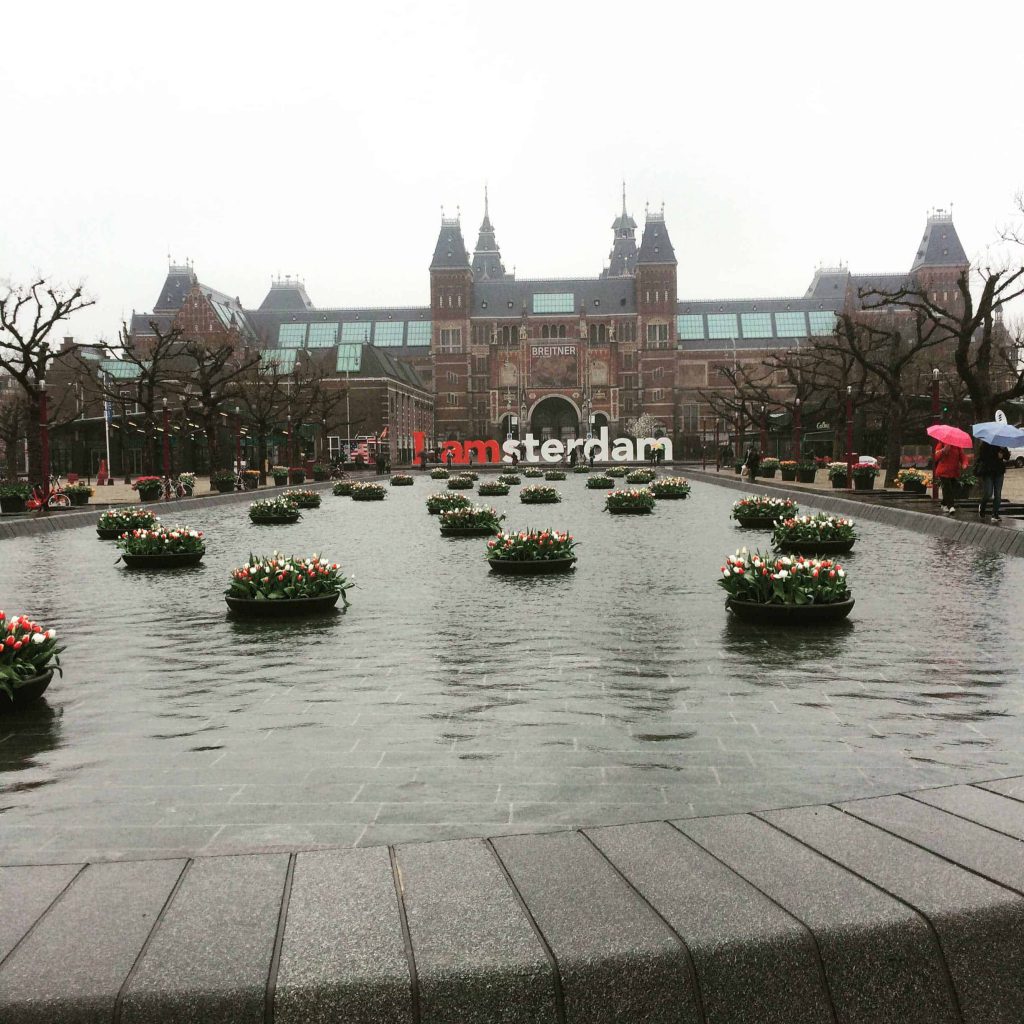 Day 2/ Play it by ear
As every European knows, you can't plan for the weather. Since we had 4 days to cover 2 out of town attractions, we were waiting until the morning to decide where to go. A windmill site was great in the wind, and potential overcast, but a tulip festival was best in sun and calm weather.
The next morning was fairly calm, lots of clouds and chance of rain in the afternoon so we decided to visit Zaanse Schans that day. A local train to the station, then a regional train for 2/3 stops and we were in the town of Zaanse. A short 10 min walk and across the bridge and we were there. It smelled like chocolate the whole time; it was amazing, I think I gained 10 lbs when I sniffed the air a little too hard.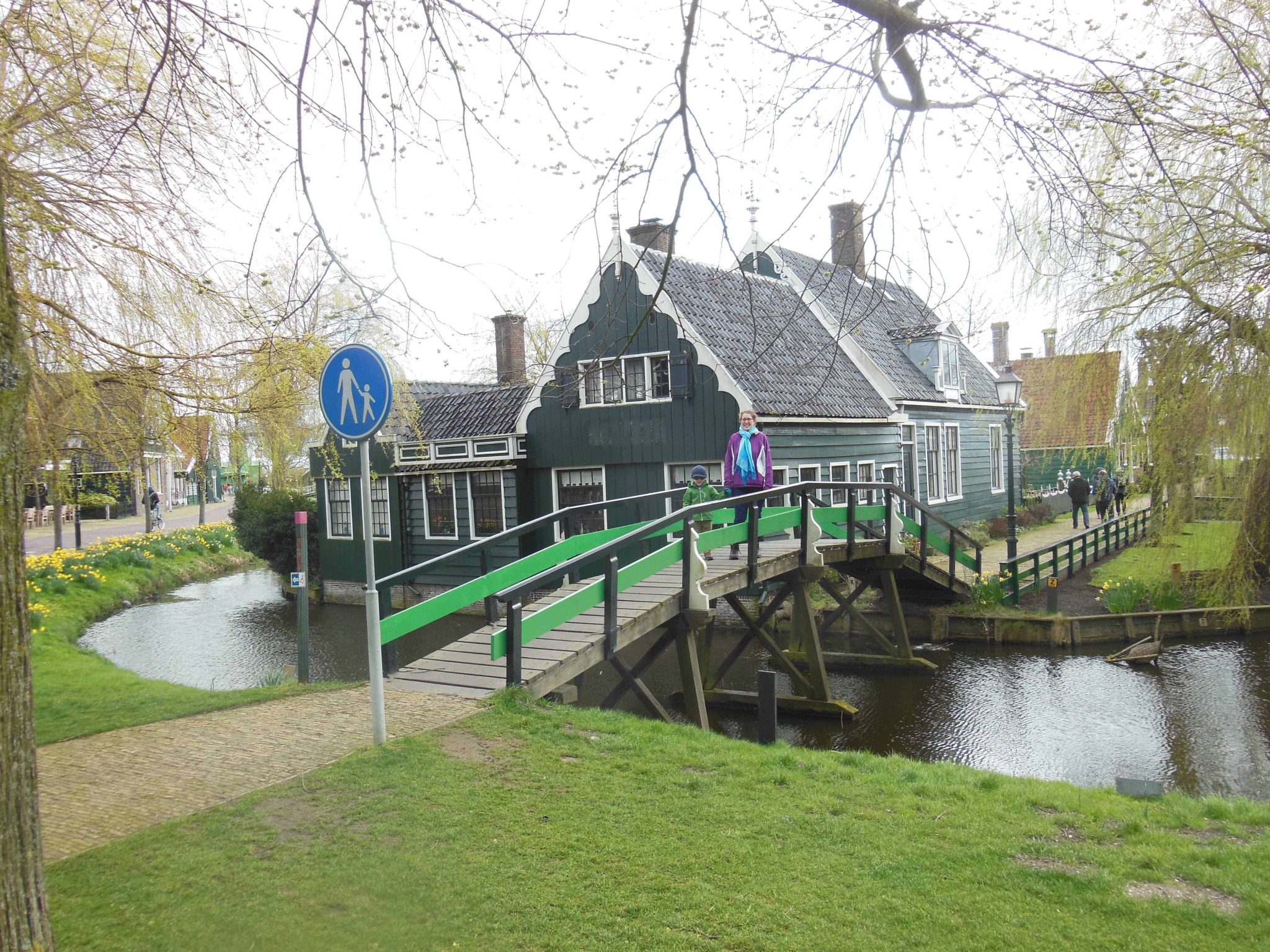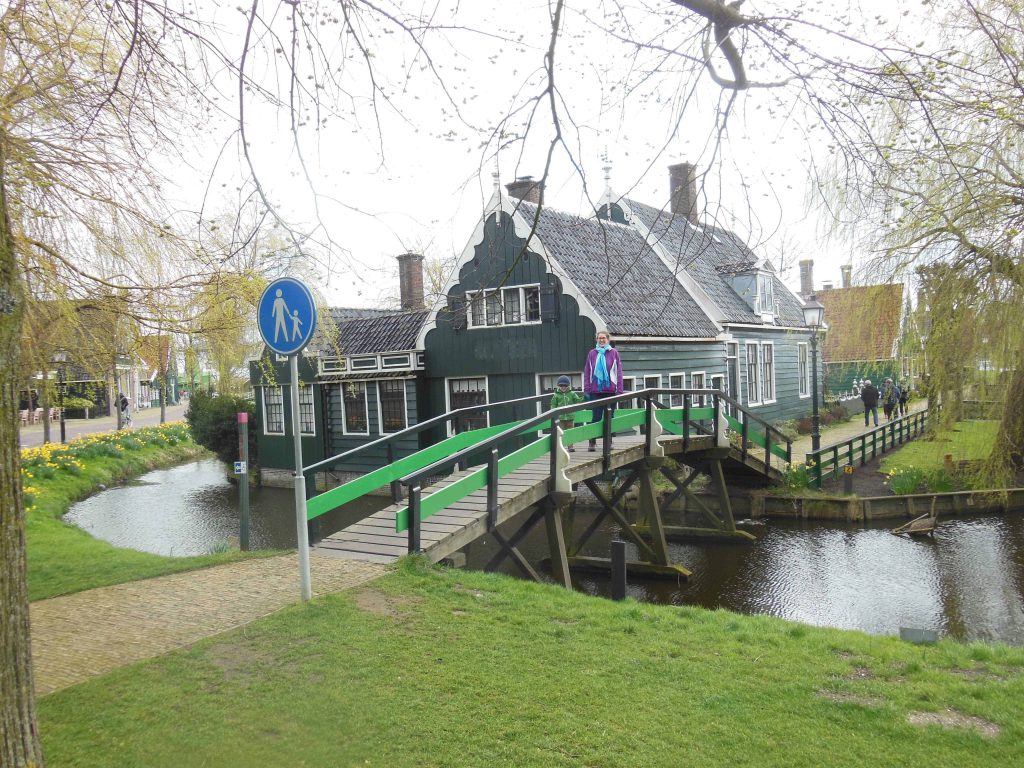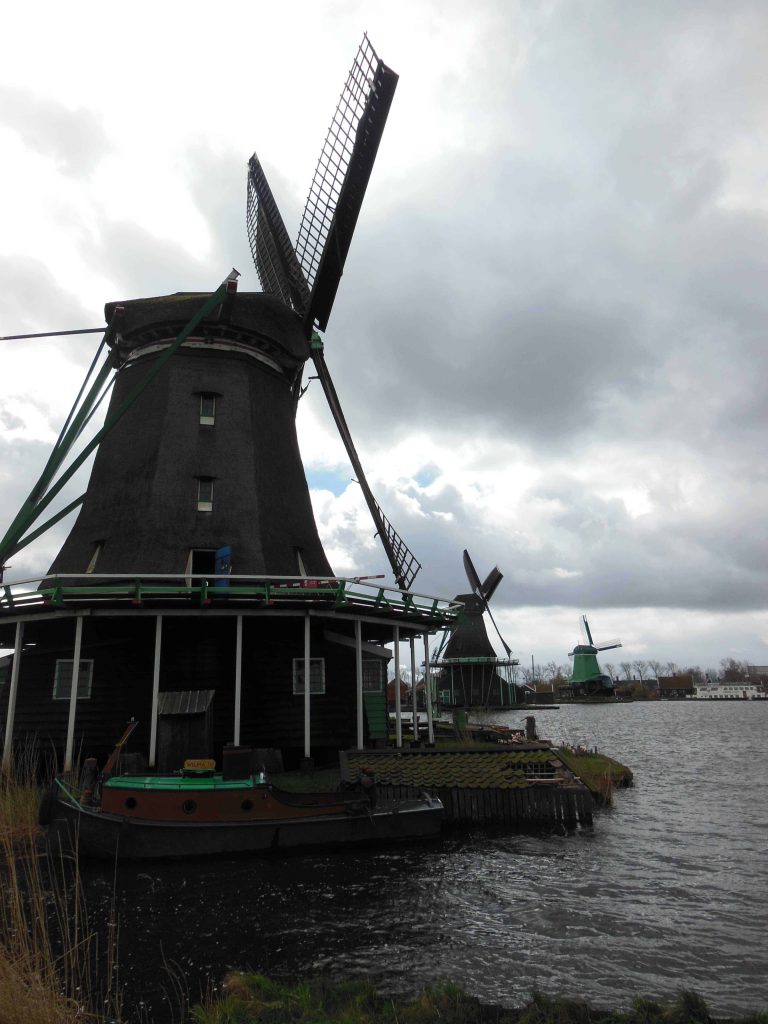 This took us most of the day, and we arrived back at our apartment right in time for dinner. I went to the market across the street for some fries, my mom made burgers and voila, home cooked meal for the family.
Day 3/ Bright and early
Like any group of kids, they thrive on the blood of their parents. Mine are no different, especially during vacations. I think they have a meeting while we are all sleeping, where they discuss who is going to wake the earliest and dare each other to get up even earlier. The apartment was loud so the baby ended up co-sleeping with me, and my mom's roll-out bed was smushed next to munchkin's so he wouldn't fall out of bed – since the mattress was attached to the frame, we couldn't separate it and place him on the floor like usual.
We were up nice and early and noticed not a cloud in the sky, and lack of wind, so we booked it for Keukenhof. After 2 hours in transit, we arrived shortly after opening and had a great few hours before the larger crowds arrived. Find more details regarding our Keukenhof day trip.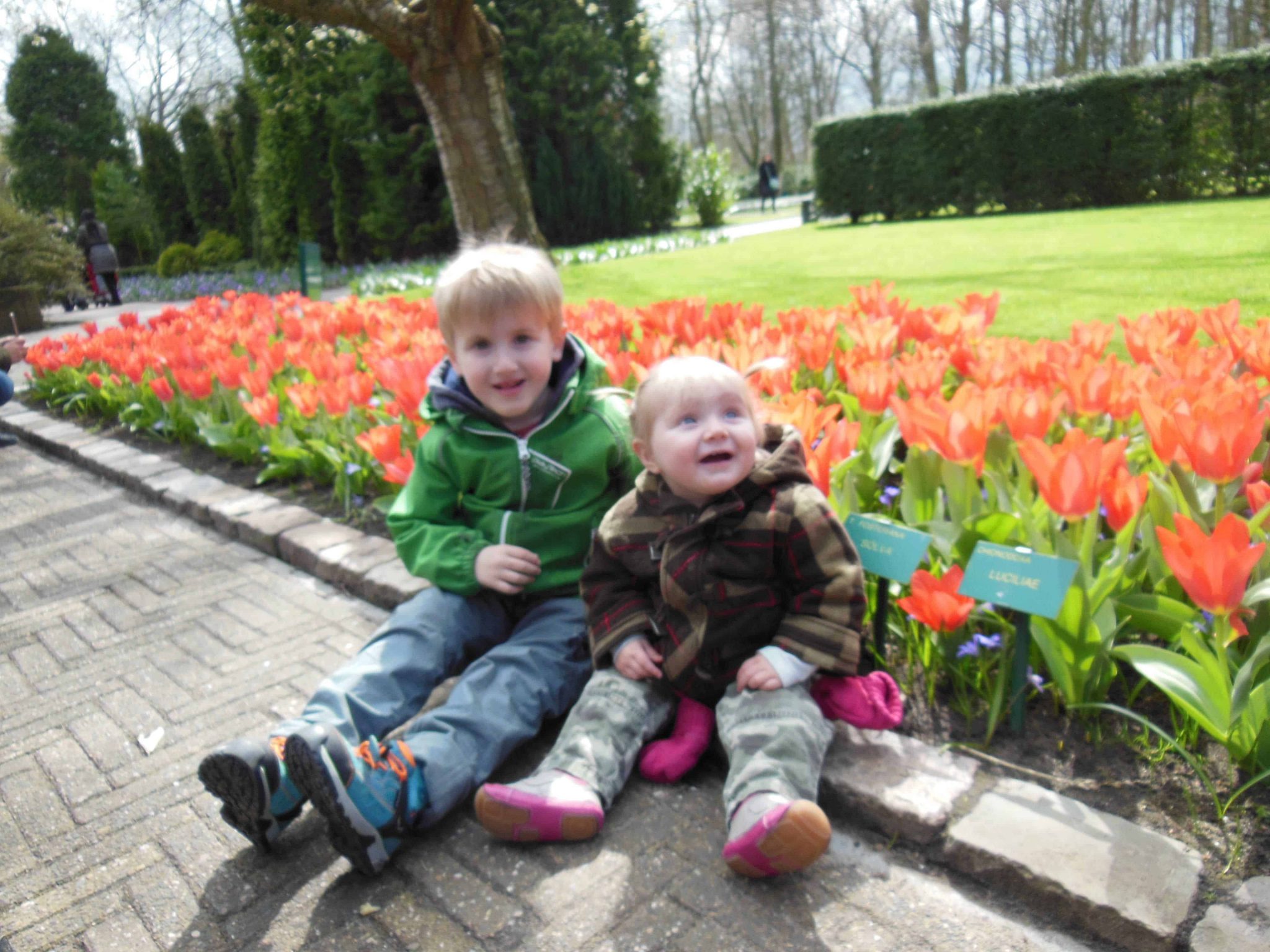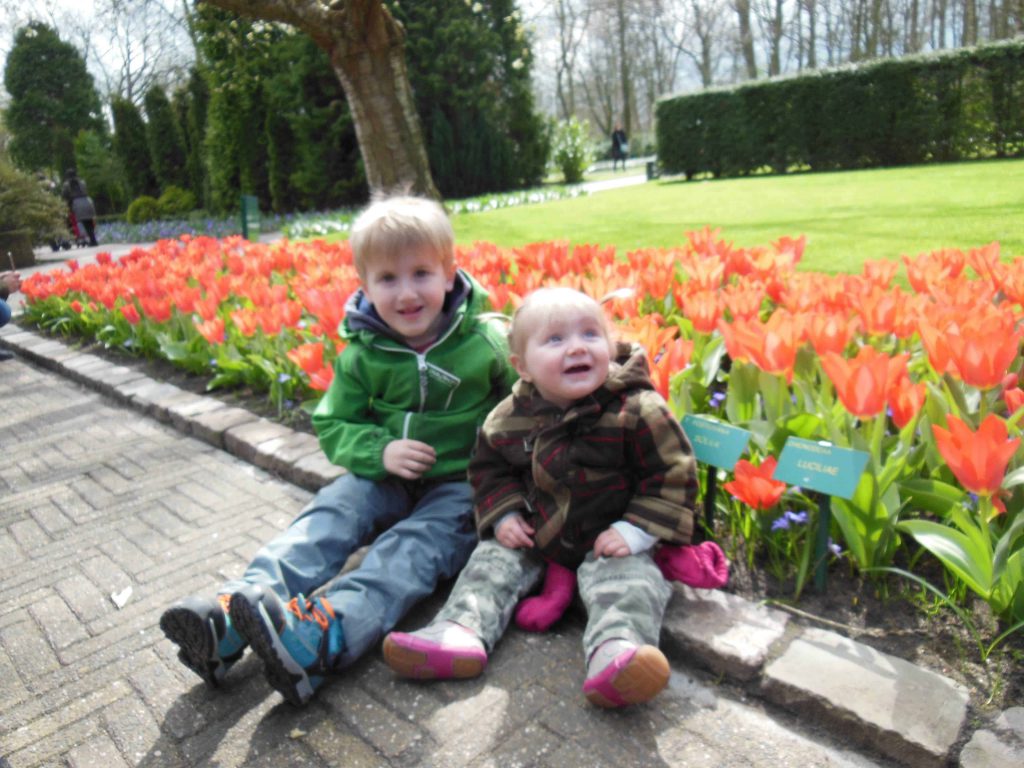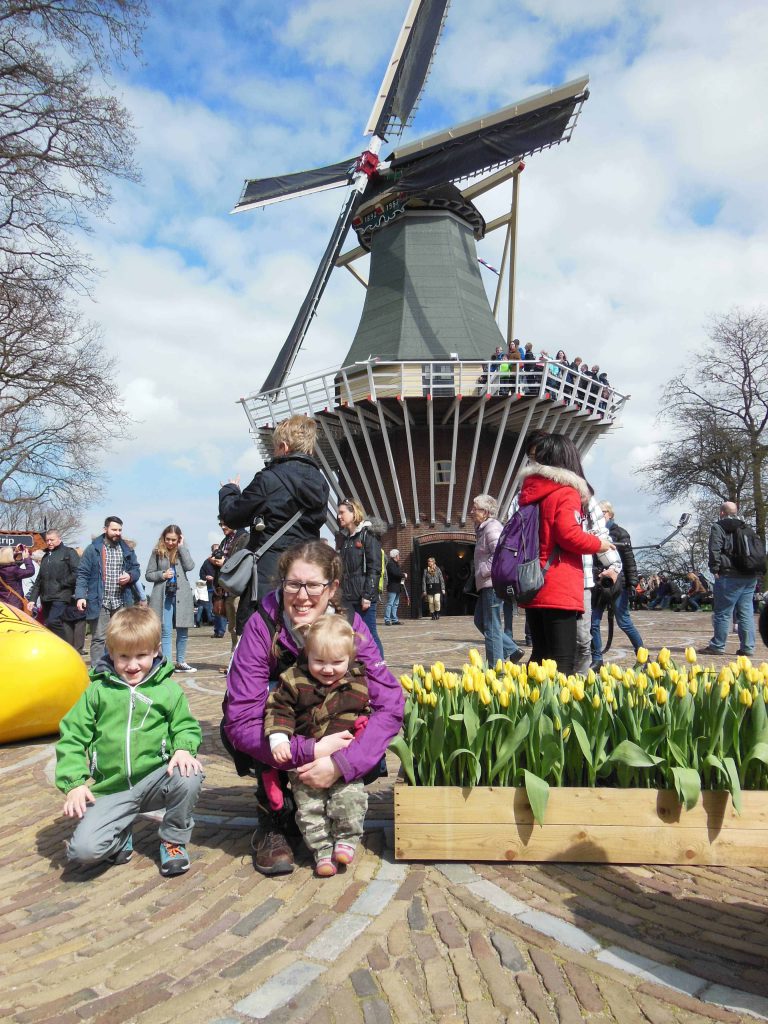 As you can see from our clothing, it was rather cold in early April; lots of layers. Short sleeve shirts, sweater, lined waterproof jacket, toque, waterproof shoes and our gloves are hiding inside the stroller. I always travel with my Columbia jacket because it's so versatile; a 3-in-1 jacket that comes apart when the weather gets warmer, or add a layer if the weather turns.
What you can't see is the stroller footmuff that the baby was also using when sitting idle. We wore her when she grew restless and the munchkin got cold; her harness fit inside our jackets and I rotated wearing her with my mom.
Day 4/ Exploring by foot
Now that our trips were out of the way, it was time to focus on Amsterdam itself. We took the transit up to the central station and made our way to Church of Saint Nicholas, passed the Oude Church where we grabbed some fries. We accidentally walked through the Red Light district. My mom and I smelled the distinct smell of Amsterdam, found a few ladies in the window and gentleman in the street considering their offers. It didn't take long for my son to ask for fries; he's always hungry, relax. Fries were on every street corner and there were amazing. From there, we crossed over to the National Monument, and explored the interior of the Royal Palace.
We walked passed Anne Frank house on the way to the Pancake factory for lunch. With all the stairs and the two kids, we decided not to go inside. We did, however, grab her Diary at the book store next door – no access to the souvenir shop from the outside. The Pancake factory was crowded on both levels and we didn't feel the love the same way we had for breakfast when I came with the hubby last year. There was a small market around the corner and we made it all the way to the train tracks and water feature in Jordaan before making our way back to the central station.
By this time, it was roughly 3 so we starting to go back to the apartment. We took a quick outside look at the NEMO centre, to be completed the next day, and went straight for the Bloemenmarkt. A few souvenirs later, we went back to the apartment for dinner and tv time before bed. It was a long day.
Day 5 / Nemo
The next day was just as much walking. We trained up to the Nemo Science Centre for a full morning of fun. There is an elevator to take the stroller around the centre and the top floor was anatomy and sex; not really appropriate for my little guy. My mom found my discomfort amusing.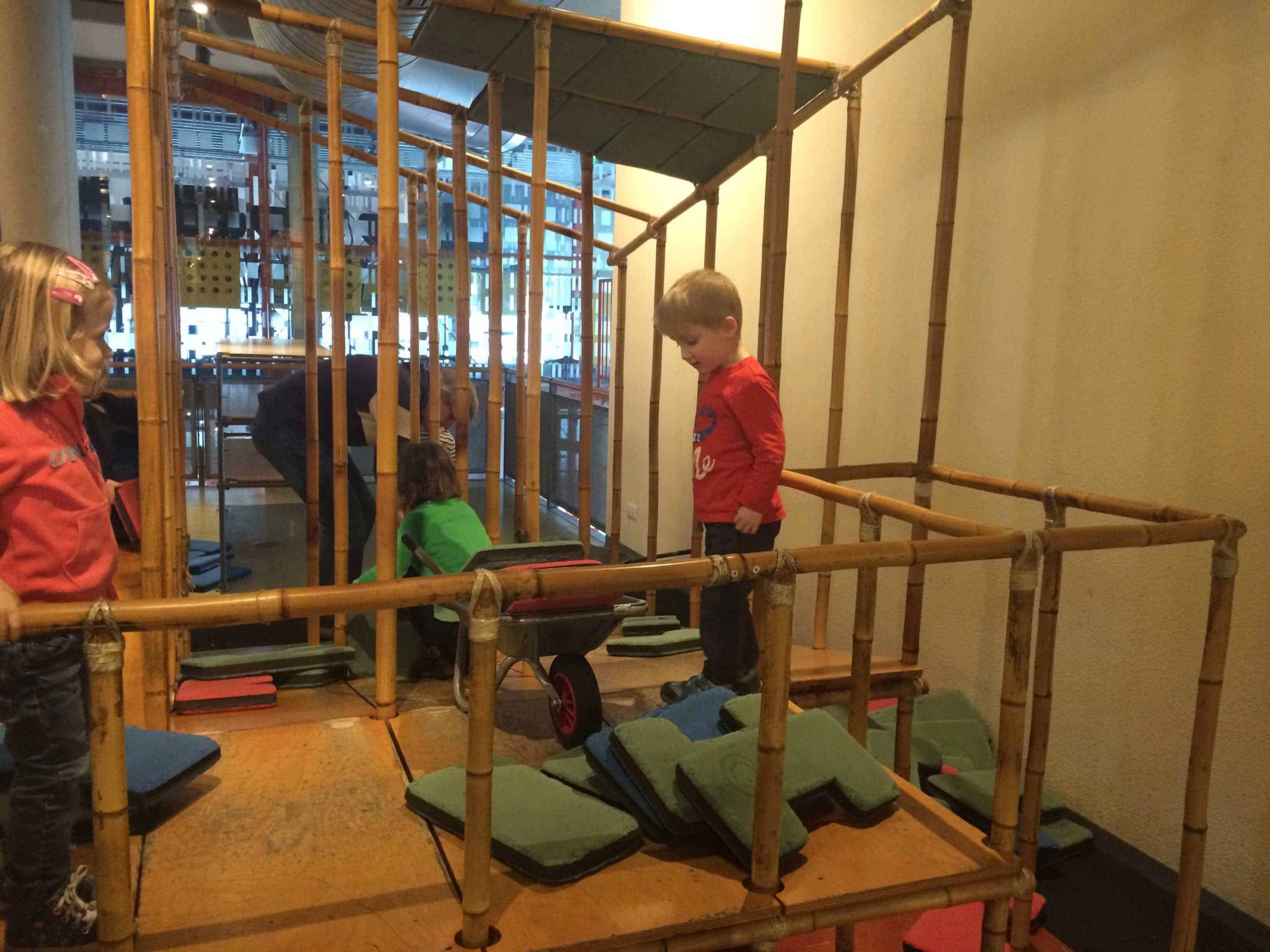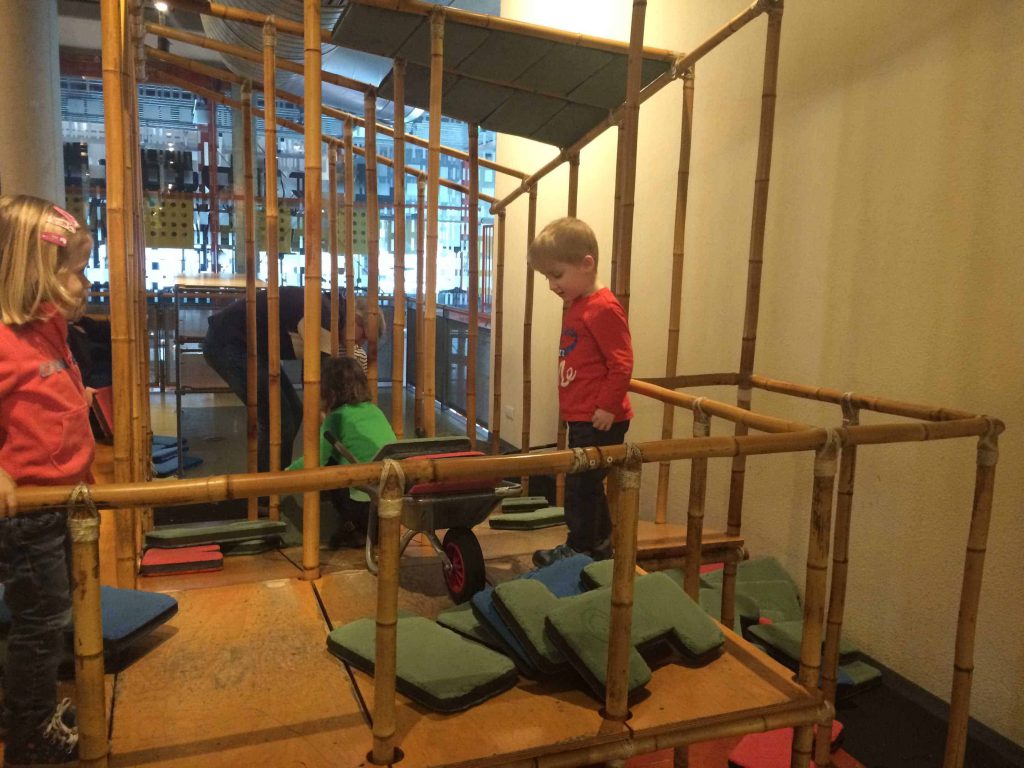 From Nemo, we walked down to the Begijnhof. I was determined to find it this time, after having tried and failed on our previous visit. We found an English book store, took a wrong turn and managed to walk right passed it (thank you Google Maps) until one of us had the bright idea of looking into this random alley that had a surprising amount of foot traffic. It was literally beside the book store, despite Googles directions to walk through someone's person home and exit through their back yard. We found the quietest little garden, church and public area.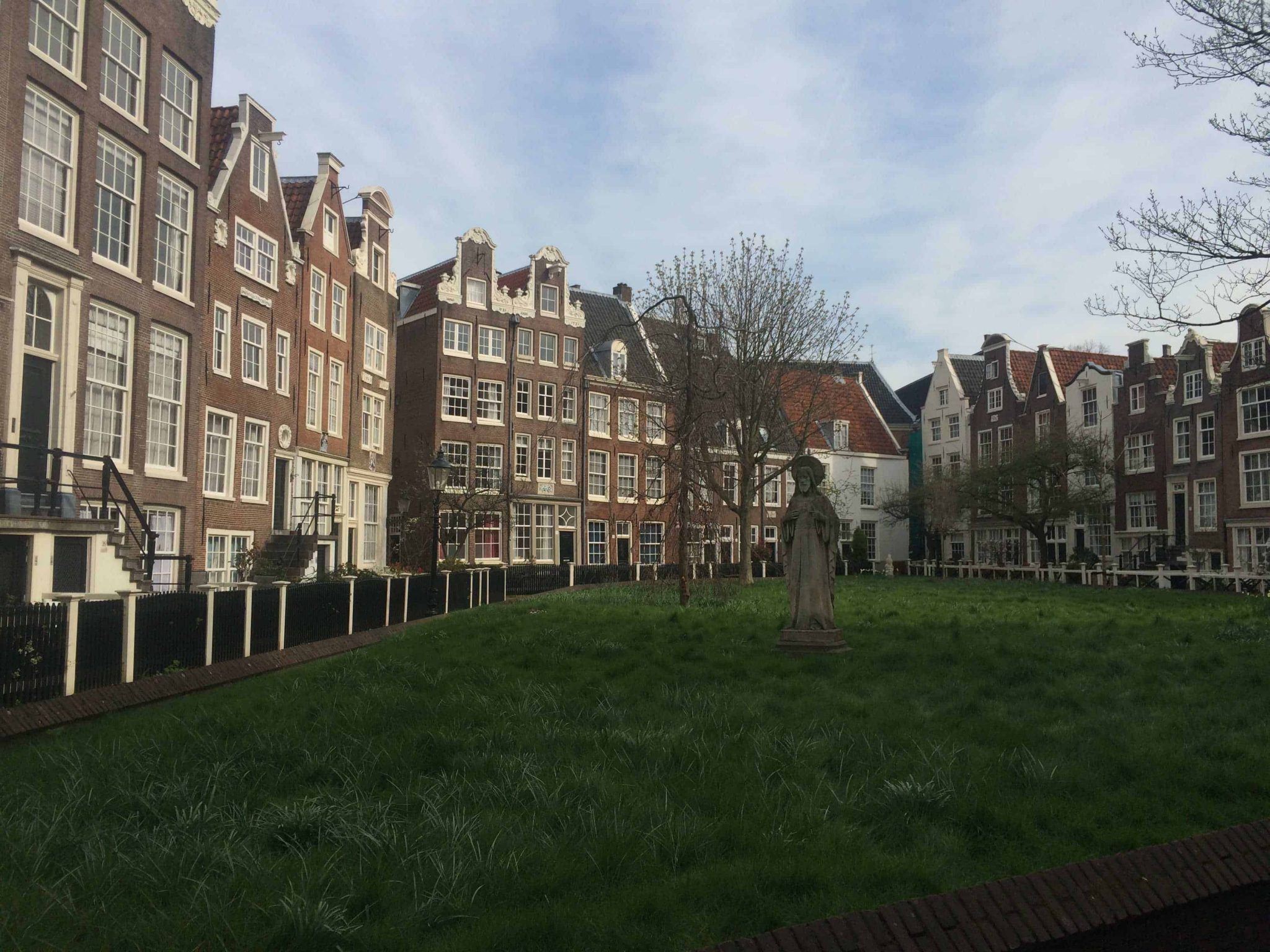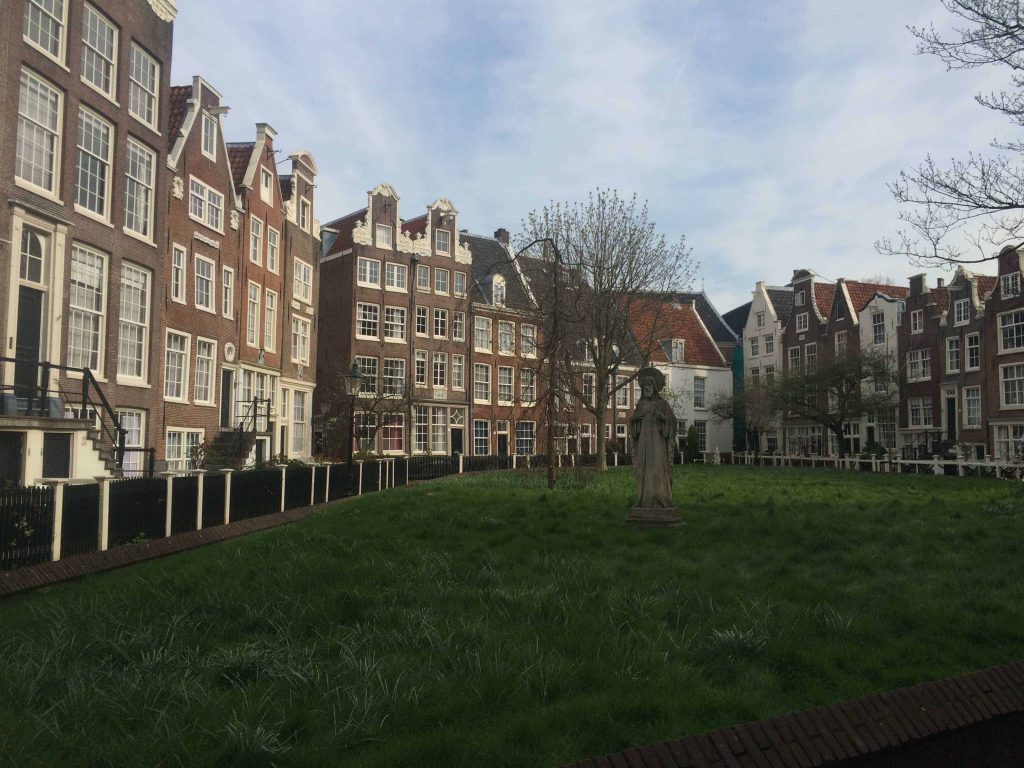 From there, it was another trip to the flower market, just because we can, and another round at the IAmsterdam sign, again because we can. All along the way to our apartment. We called it early since we all had an early morning ahead of us; my mom was flying out of Schipol airport and needed to leave the apartment at 6 am.
Day 6/ Travel day
I was fairly proud of myself for this one. My mom left bright and early in the morning, the kids had just woken up as the cab arrived so they had time to say goodbye properly, which was nice. We could have taken the train, but it was a train to the station, then another train to the airport, and I needed to get back to the apartment in time to gather our belongings to catch the train home at 1030. I felt goodbyes at the apartment were best. My mom, on the other hand, dislikes solo travel and would have preferred we saw her off; next time we know better.
What I am most proud of is my city navigation at 8 am while taking the two kids, and our kit on my own. Sure, I've done day trips where we can leave whenever we want with our open tickets, but this was different. It was a specific time, with a nonrefundable ticket, so if we missed it, too bad so sad. We arrived with an hour to spare because our apartment needed to be cleared out before 9 am. We also had breakfast at the Starbucks and baby girl needed her morning nap so why not rock her to sleep and travel at the same time.
If I haven't mentioned it already, I like to travel smart, not hard. Since I already knew it was only going to be me with the kids on the trek home, I packed the rucksack instead of the suitcase. Munchkin didn't get his rolling luggage this time either, he only had his backpack. This ultimately made the journey hands-free so I was better able to handle the stroller and hold his hand while navigating the train station and platform. When traveling solo, I wouldn't have it any other way, now that I know better.
There was a problem with the seat assignments on the train; I had asked for the family compartment and was not assigned the compartment. We placed our bags in and got settled, only to be displaced by the true owners of the space. I didn't even check my seat number since this is the only one on the train. Turns out I was in the middle of the cabin, without a table and a baby on my lap. I decided to leave the stroller intact in the handicap section and the kids played on the floor while I wrote a nasty letter to the train company. At the end of the day, the kids enjoyed themselves, they were rested and quiet, and played nicely. I received a 15 euro voucher for my troubles and we made it home in one piece.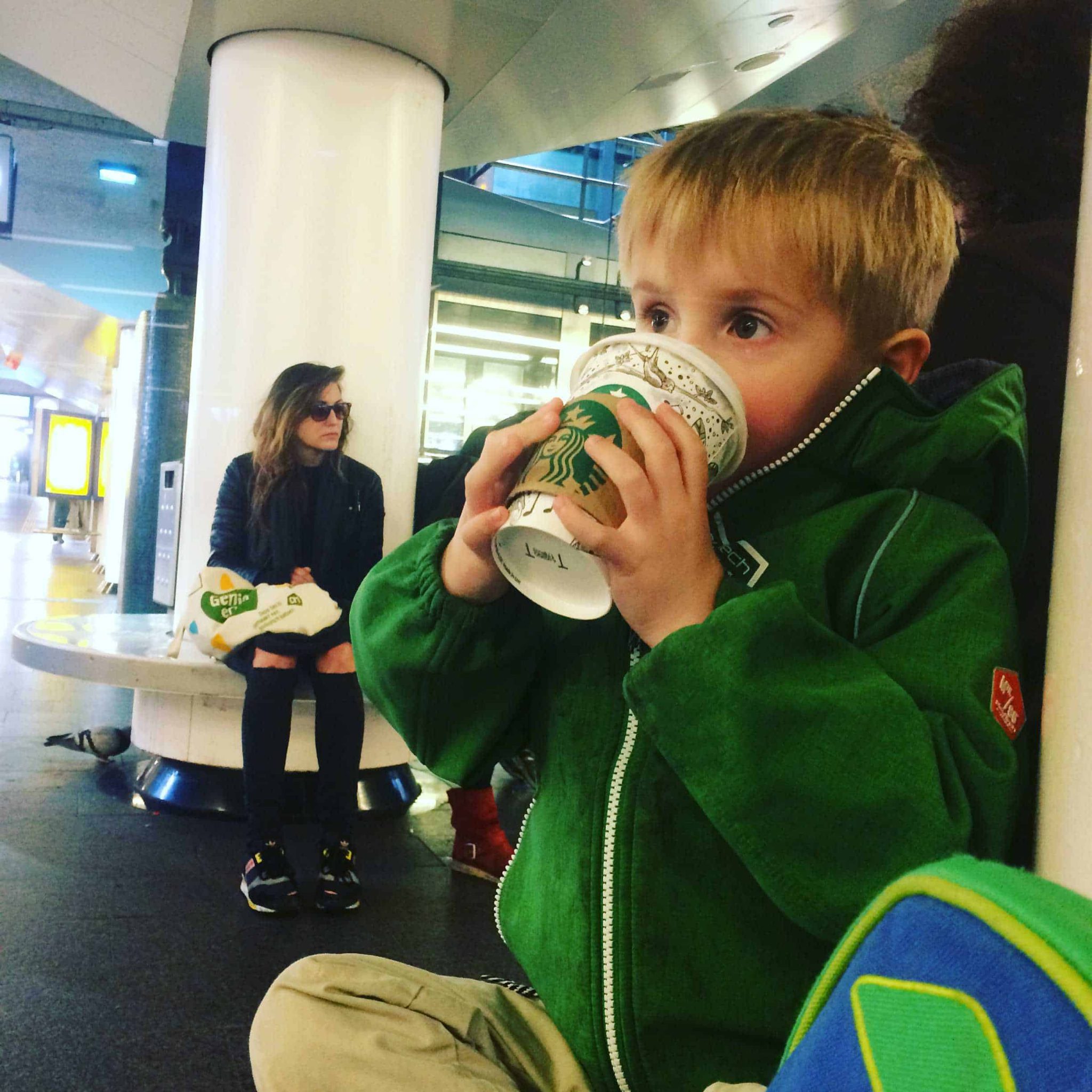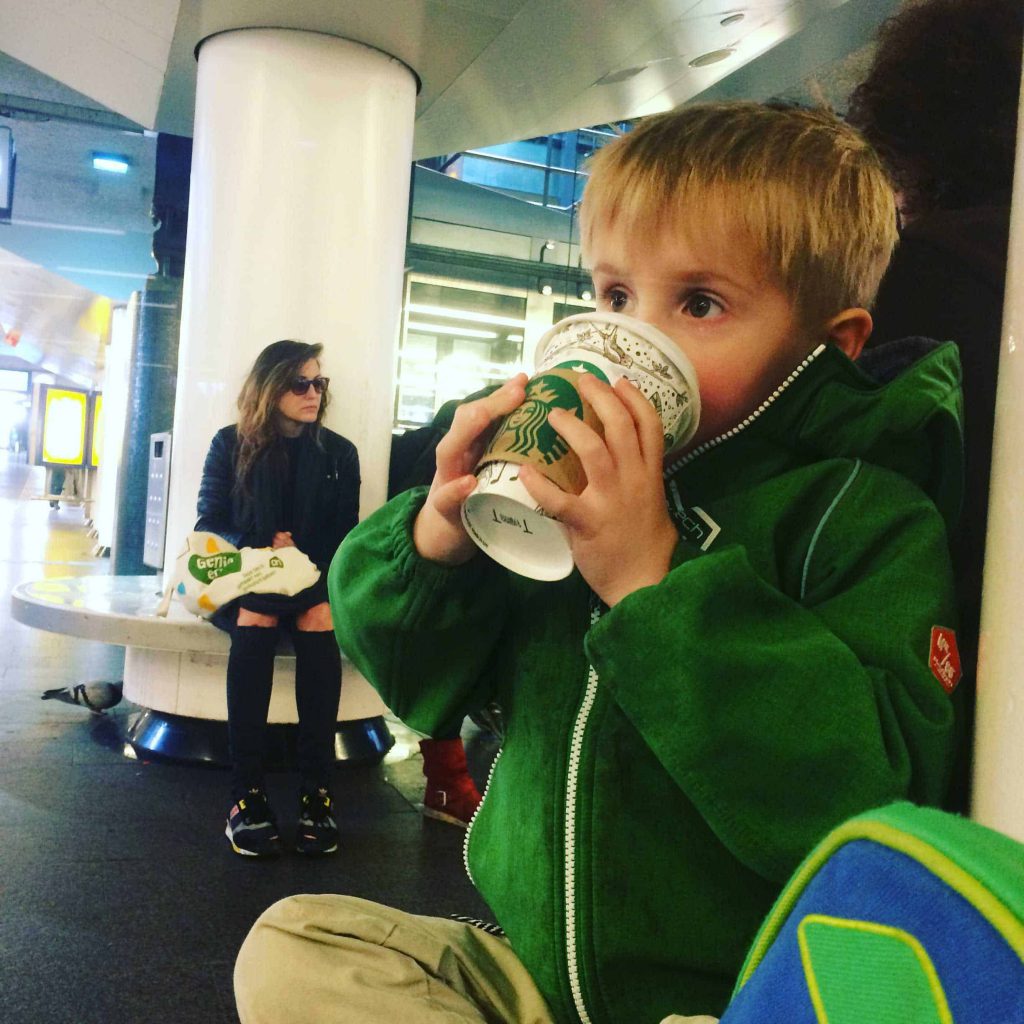 You may also like: