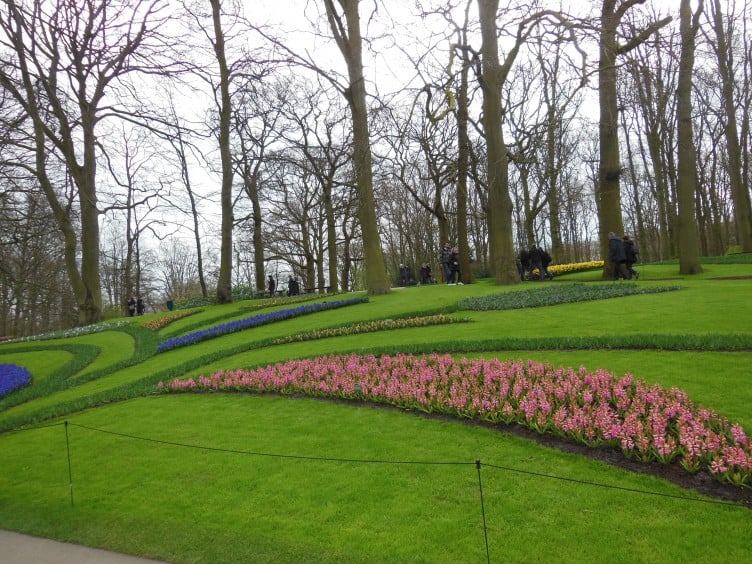 Amazing day trip from Amsterdam. The kids loved the animals, grandma loved the maze, and I loved the flowers; Keukenhof has something for everyone.
Most Beautiful Garden in the World
My mom came to visit for a week so I took the opportunity to take her on a little trip to the Netherlands. We took the train up, mainly because I don't have access to a car while hubby works but also because I love taking the train; just relax, play a few games, stretch your legs.
Getting to Keukenhof
We spent some time in Amsterdam, our hotel was near the centre – 10 min ride on the #4 tram – hitting the Hard Rock cafe and checking out the IAmsterdam sign on the way.  Keukenhof, by car, isn't that far. Since we had 4 full days to spend in the area, we checked the weather network each morning to decide which day would be best to go. Friday was low chance of rain, lots of sun and low wind so Friday was the day.I have to say though, the directions for taking the Keukenhof express were a little misleading.
The Bus starts downtown, not at the centre, and takes 45 min to reach the Airport. From there, walk across the street and towards the giant tulip where security checks the tickets and wait in another line for the express. Another 45 min later, we reached the gardens. Munchkin insisted on taking the flower bus, but there were so many of us that they sent in two other buses. It took some convincing but he got on and flirted with the ladies sitting beside him.
Tulip festival
The flowers were beautiful! The entrance had music and cafes and munchkin didn't want to leave. We stopped for lunch at 1130 before anyone fell asleep. Good idea, because as we sat down, we saw the line get longer and longer at the cash. A few shops and gardens later, we made our way to the windmill and petting zoo. Poor guy was afraid of the baby goats that were running away from the little girl. The maze was around the corner and my mom took him around. I tried to keep up but a stroller doesn't take turns as well as a grandma chancing her 4-year-old grandson.
Over all, it was a great day. Great photos. The weather held up until we reached the hotel and both had beautiful flowers to show for it.
An excellent resource for planning all of Netherlands can we found with the Lonely Planet Netherlands Guide.
Your Thoughts...
Please share your thoughts in the comments or reach out on social media...We would love to hear from you.