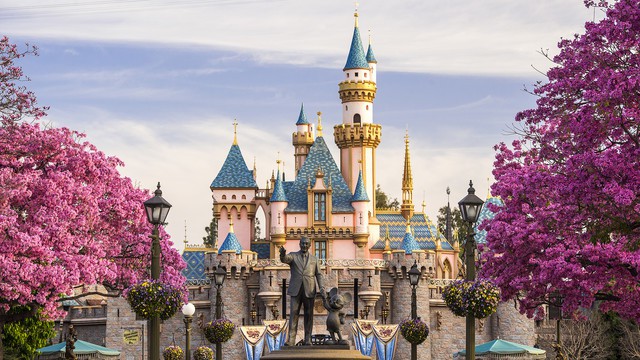 Your complete Disneyland California Guide is based on tried and true tips and tricks from an avid Disney family
Disneyland California Guide Top Tips
– written by Travel with the Greens
Believe everything you hear about Disneyland, as it is all true. The magic of Mickey, the smile you will have from ear to ear once you see the castle and the queues! This Disneyland California Guide will help you make heads or tails of all that information and have yourself a great time.
---
The original Disneyland opened its doors July 17, 1955. This would be the only park under direction from Walt Disney himself. Since its opening, Disneyland has undergone a number of expansions and major renovations, including the addition of New Orleans Square in 1966, Bear Country (now Critter Country) in 1972, Mickey's Toontown in 1993, and a forthcoming Star Wars-themed land. Opened in 2001, Disney California Adventure Park was built on the site of Disneyland's original parking lot. – Wikipedia
---
Disneyland California Tickets
After hours of searching on how to make our trip to Disneyland cheaper I came to the realization that Disneyland tickets aren't discounted. You may see offers on Craigslist to purchase another families tickets as they have a few days left on their passes. THIS IS NOT A SAFE OPTION. Disney check that the name on the ticket matches your ID so you will need to buy from the Disneyland website.
Buying a three day pass is excellent value compared to a single day. It does cost extra to add the option to HOP between parks on a single day. This option is not worthwhile. Spend the whole day in one park. Two full days are needed in Disneyland and one Day in California Adventure Park.
DISNEY APPAREL
Everyone (adults included) wears Disney branded shirts in Disneyland.  The shirts in the park can be expensive.  Instead head to Target at Anaheim and the shirts for the kids were about $12 each.  The range at Anaheim of Disney apparel is larger than in LA itself. Walmart Anaheim also has apparel.
THE UNOFFICIAL GUIDE TO DISNEYLAND
This is the most important and informative book we have read regarding Disneyland. The book has specific plans for different groups of people such as teenagers, young children, grandparents, thrill seekers. The book gives details on how to get the most out of your day(s) at Disneyland. We have used the plans for each visit (I had a laminated copy) and managed to see everything we wanted to and go on EVERY RIDE some multiple times. I borrowed the book from my local library. Spending well over $1000 on passes for our family I needed to know I was going to get the best value and see it all. I have also hear that RideMax is a great site to use for planning your Disneyland day. We didn't spend longer than 20mins in a line!!
PLANNING YOUR DAY
Once you have studied your maps and plans you need to have a great sleep the night before and up ready to go ASAP in the morning. Arriving at Disneyland at least 30mins before the gates open. Opening and closing times vary according to the season. You will want to spend the whole day from opening to closing to get the most out of your Disney experience. We only ever stay for one fireworks session and the days are usual 10 hours long. Downtown Disney has lots of dinner places and shopping to do.
SNACKS
Bags are searched on entry to the Downtown Disney precinct. This is a security check and also a glass check. Food is allowed in Disney and I recommend you take as many drinks and snacks as you can carry. I have heard a rumour that Pepsi is not allowed as Disney has a sponsor with Coke but I am unsure how true this is. We took all our snacks and drinks in with us to keep our energy up and the kids amused while waiting in line.
FAST PASSES AND SWITCH RIDERS
FAST PASSES are an important part of your Disneyland experience.  The following info is about Anaheim as I know Orlando is different.  On your map, there is a symbol to show which rides have the FAST PASS (FP) option.  The FAST PASS allows you to 'hold' a place in the line without physically being there.  You will need your tickets to get you FP.  The FP will have a time that you need to return to the ride.  Disney are strict on returning within this time.  You then enter the ride in the FP lane which will be a lane that skips the huge queues.  You can only hold one set of FP tickets at a time.
SWITCH RIDER passes is a wonderful concept that helps park goers with children that are too young/short/scared to avoid lining up twice. The way it works…
At the beginning of the queue talk to the ride attendant about getting a SWITCH PASS.  This allows one adult to join the queue with however is riding the ride first.  The other adult can wait and watch or sit down with the non-riders.  Once the first adult returns the second adult then can enter the same ride with the SWITCH PASS and up to two other riders.  You will get to use the FAST PASS LANE and your wait time will be minimal. This is a perfect solution, especially for parents waiting with prams and toddlers.  No one misses out.
DOLE WHIP
DOLE Whip could have its own whole post!!  This delicious pineapple ice-cream delight is so yum.  Skip the huge line and go into the TIKI ROOM experience gate. There is never anyone on this site to purchase.  Take your DOLE Whip into the Tiki room and watch the retro bird show sing and dance.  It is a chance to stop and sit and relax and enjoy heaven on earth.
Disneyland is expensive, exhausting BUT so worth every cent.  I have trawled the internet on how to save our hard-earned cash but still experience it all! Many hours of pros and cons have led me to stay in a hotel and also private accommodation.
HOTEL Versus Private ACCOMMODATION
HOTEL
On our first trip to Disneyland, I decided that the Howard Johnson was the best option as it was an easy walk to and from the main entrance of Disneyland. The rooms were clean and had a view from the balcony of the fireworks each night.  We arrived in winter so we didn't use the pool or water park in the hotel. The laundry was a fair walk away from our room but as the children were little and resting in the middle of the day so I washed them. The room had a bar-sized fridge and a large bathroom. No breakfast facilities were in the room, so we ate cereal from paper cups and had snacks on the way out the door.
This was before I was confident with using private accommodation. Two years later we returned to Disneyland and the kids were old and larger and putting them into a one-room hotel room was not an option. Bring on VRBO and AIRBnB.
PRIVATE ACCOMMODATION
I do not think I would use a hotel again after experiencing private accommodation. I only have had extremely positive experiences and have NEVER looked back and possibly never will.
I used VRBO.com to find our Disneyland accommodation and it was perfect.  The car park for Disneyland was across the road from our front door.  We could not have been closer.  We had 3 bedrooms, a kitchen, lounge room, laundry, two bathrooms, and a dining area.  The complex that the townhouse was in had a pool and a spa.  The accommodation was Disney themed which was such a nice touch.  Mickey Mouse paraphernalia is everywhere!
The price is also the biggest winner with private accommodation, so much cheaper than hotels.
Once the kids were asleep we could relax and watch the TV or debrief about the day and get ready for the next day.  No tip-toeing around in one hotel room with the telly on mute using our phones for torches.
Once you have tried it you will never look back.
---
Travel with the Greens is a blog that follows an Aussie family with a passion for the United States. They have traveled extensively through many parts of the USA and try to squeeze in as many experiences as possible.  Follow their adventures and hope you will catch the American travel bug and enjoy it as much as they do.  Follow them on Instagram and Facebook for their travel tips, tricks, and tales.
Your Thoughts...
Please share your thoughts in the comments or reach out on social media...We would love to hear from you.
You May Also Like…