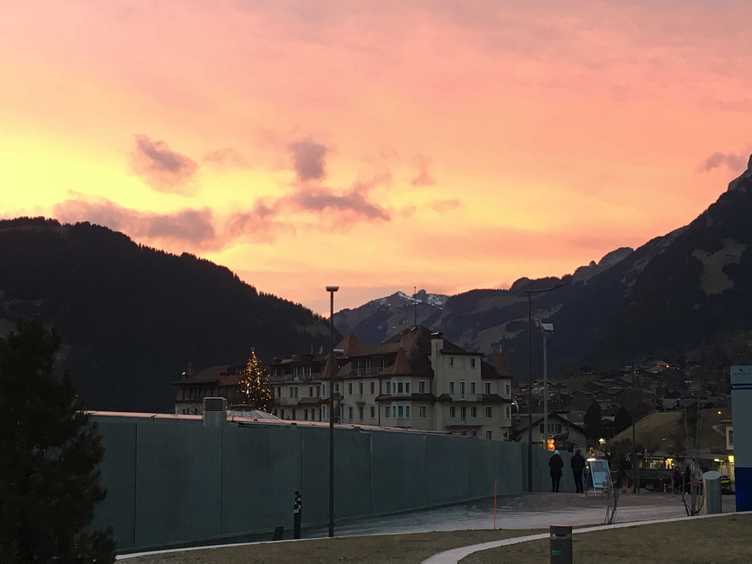 Jungfraujoch – Top of Europe
Now that you have successfully decided to visit Jungfraujoch, what of those underlying questions before you arrive. While I have already discussed what the tour will look like, how do you get to the Top of Europe, or when to buy Jungfraujoch train tickets? There is a lot to getting to Jungfraujoch with less hassle and no underlying concerns. This is your guide to visiting Jungfraujoch – Top of Europe
This post may contain affiliate links.
To which I earn a small commission, at zero cost to you!
Find more info in our
Privacy Policy
.
If you're looking for the others posts in the Ultimate Travel Guide to Switzerland, we'll link to them as they are available!
Part 1: Swiss Museum of Transport
Part 2: SaurierMuseum – Dinosaur Museum in Zurich
Part 3: Guide to Visiting Jungfraujoch – Top of Europe
Part 4: Top Things to See in Vaduz, Liechtenstein
Part 5: a Guided walking tour of Zurich
Part 6: Snow in the Swiss Alps: Little Snow for Christmas
Part 7: Touring Lake Geneva with kids
Part 8: Jungfraujoch with kids
Part 9: Top family friendly Hotels near Jungfrau
Know before you go
Before heading out to Jungfraujoch, it is best to give the kids a little information. We like to give them books, videos, activities, anything that will resonate with them and help grab their attention.
Travel Books for kids
How to get to Jungfraujoch
Grindelwald to Jungfraujoch Train Tickets
When & How
The Jungfraujoch website is really hard to navigate and even worst for information seekers. At the end of the day, buy tickets when you get there or call and have them walk you through it if you need to reserve. If your group is really that big though, calling or using a tour company may give your group some discounts so think about that before buying the wrong items online. Like any weather-dependent activity, buying in advance serves no purpose. If the weather is horrible and you have other days as an option, wait it out and hope for the best. Reserved seating is always an option but that is usually only for 1st class seating and for ultra large groups.
Small groups or families, or those purchasing 2nd class seating, there is always a seat available, or wait 30 minutes to get first in line for the next train. Tickets on poor-weather days are not discounted nor are they refundable. Be sure to check the website often for any special rates they may offer. Jungfraujoch Tourism and Grindelwald Tourism are not the same entity.
There is currently a special Christmas rate that they are offering from Mid-November to early January. Be aware, the offer is for online purchases or coupon-holding guests at the train station, these coupons were printing in various Swiss newspapers. If there is such a promotion available during your stay, I suggest purchasing online in the early morning of the date intended, as the ticket office itself will not honor this price without a coupon.
How long to visit Jungfraujoch
In general, I would give it a few days. You can always visit the neighboring Interlaken, or even Bern / Thun / Montreux if the weather continues to stay poor. Everything is fairly close together, and with the free bus pass, it doesn't take long to get down the hill and access regional trains.
We recommend so long because you can never predict the weather. On Christmas Eve and Boxing day, the weather was perfect, but we decided to visit on Christmas day and it was storming at the top. Not only were we not allowed outside to visit the Monchsjoch Hut, but we couldn't play on the glacier itself and go sledding. That was one disappointed little boy.
Is Jungfraujoch Safe for kids?
Jungfraujoch was absolutely safe for kids. Baby girl slept the whole time, of course, but Munchkin had a blast. There was an elevator for the stroller, and nothing was open enough for the munchkin to hurt himself should get out of sight.
The trains are every 30 minutes so the crowds are spread out a little. The real trick is to run right through them at the beginning where they all huddle around the souvenir shop and cafe. Buy your trinkets at the end of the tour, and have lunch at the cafeteria instead of the cafe. More options and better seating.
In terms of altitude, they recommend children until 1 years old stay lower than 4000 meters so we are covered in that respect. I made sure to check on her breathing and we asked the Munchkin several times how he was feeling. They seemed to be OK with it all.
Where to stay in Jungfrau?
There are several chalets from Interlaken to Jungfrau and they vary in price range. It is possible to stay at Interlaken, take the train through Grindelwald and join the rest of the tour to continue on to the Top of Europe. Or, for a more secluded stay, a resort a little further up the mountain has an amazing view – but with a price tag.
We have already mentioned how much "fun" it is to find family-friendly, budget-friendly accommodations near the city centers can be. If you missed it, you can find that here.
Where to eat in Jungfraujoch
Speaking of food; when ordering lunch from the cafeteria, one serving is good enough for two adults. The kids had an adult portion of Chicken nuggets and fries and it was way too many fries for them to share, but the number of nuggets was perfect. My Beef stroganoff was way too big and ended up sharing with the hubby. They charge 20 CHF per plate for a reason, though I would have preferred paying less and receiving less.
The main lobby has a snack and drink bar. Due to the large number of Japanese tourists that come to Jungfraujoch on an annual basis, there is a significant Japanese presence in the menu. This can also be seen at Grindelwald, where they have a Tourism Office specifically for Japanese tourists.
Is Jungfraujoch stroller friendly?
The trains and inside of the mountain are extremely stroller friendly. There was an elevator directly beside every set of stairs, and they are more than wide enough to accommodate my wide Bob Revolution and family members.
We didn't purchase reserved seats but once we arrived at the second train, The Jungfraubahn, at Kleine Scheidegg, we were escorted to the handicap car where we could roll the stroller on board and leave it open, out of the way of the door.
The first train didn't have a special car and the seats can not be reserved so just like standard public transit, I had to stand with the stroller by the door and move it over whenever the doors opened for passengers.
They do check your tickets, going up and coming back down, so be sure to buy the proper ones and don't let them out of your sight.
General Travel Tips for Jungfraujoch
What to wear on Jungfraujoch?
Even in December, the weather wasn't too cold. I had my good winter coat and proper snow/hiking boots. I brought my snow pants just in case we went for a walk outside, but the weather stayed poor so they weren't needed in the end. Hats and mitts were definitely required for the small time we were outside, and the Ice Palace. We even made sure to place an extra blanket over the baby while we walked around. It isn't very long but it was still that cold.
If you don't have proper gear or don't want to pack them, there is a store on the resort that rents ski coats and pants, along with all ski equipment.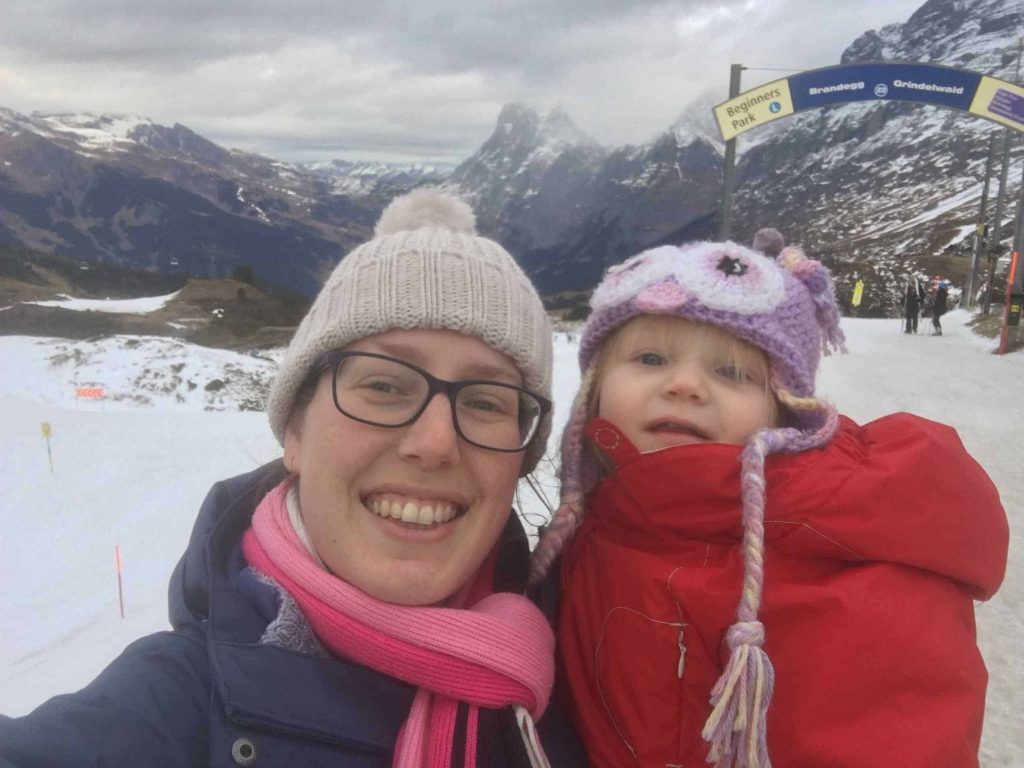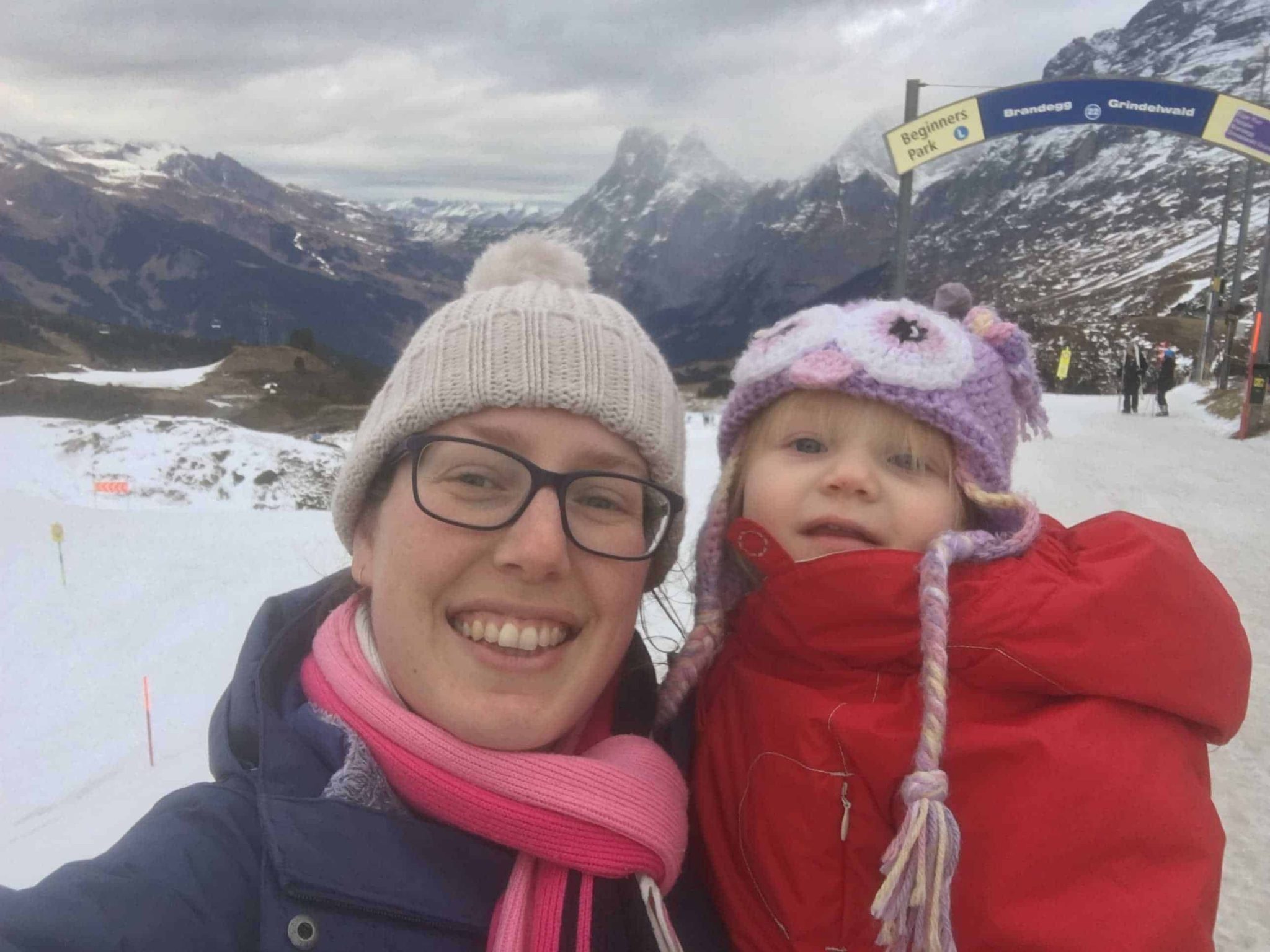 Entertaining the kids on the train
Depending on your point of departure, getting to Jungfraujoch is only 45-30 minutes long train ride. While there isn't much to do on the train itself, and moving around in it isn't exactly an option, there is still plenty of space for the children to do their own activities. Neither train had a table between the chairs, that we could see, but a book, tablet or colouring book can still be used on their lap.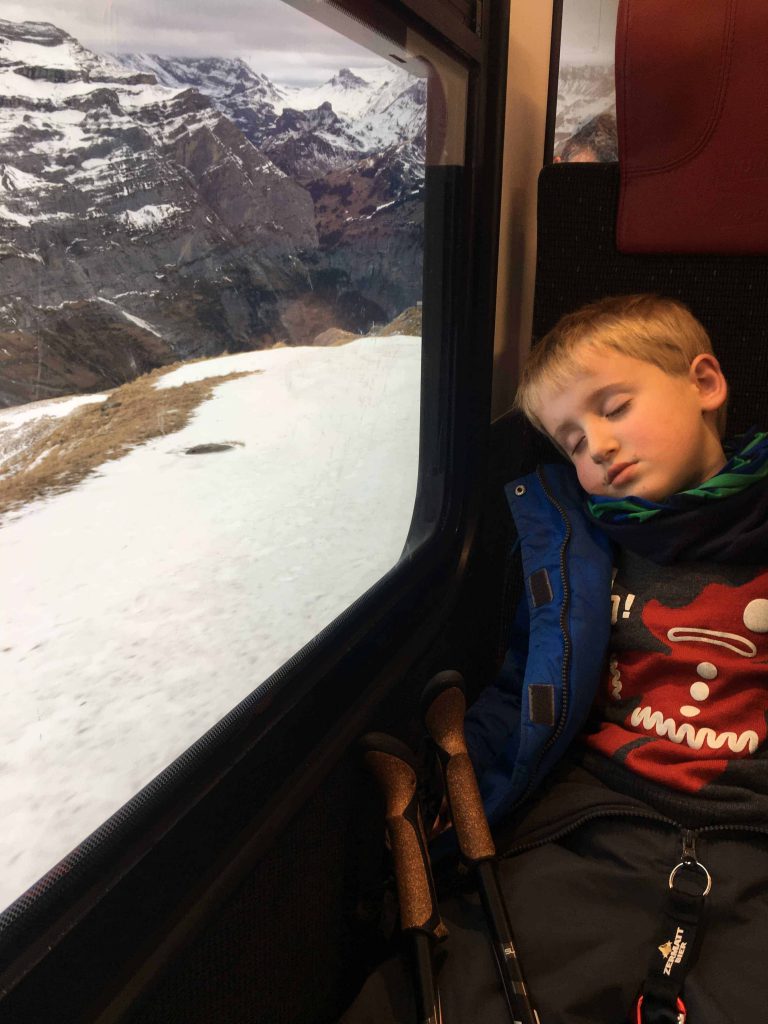 Train schedule
The train leaves every 30 minutes from each station, in every direction, so you are never sitting around, waiting, for very long. There is an announcement 15 minutes prior at Jungfraujoch just in case you were in a rush to get down.
The train from Kleine Scheidegg to Jungfraujoch leaves roughly 10 minutes later.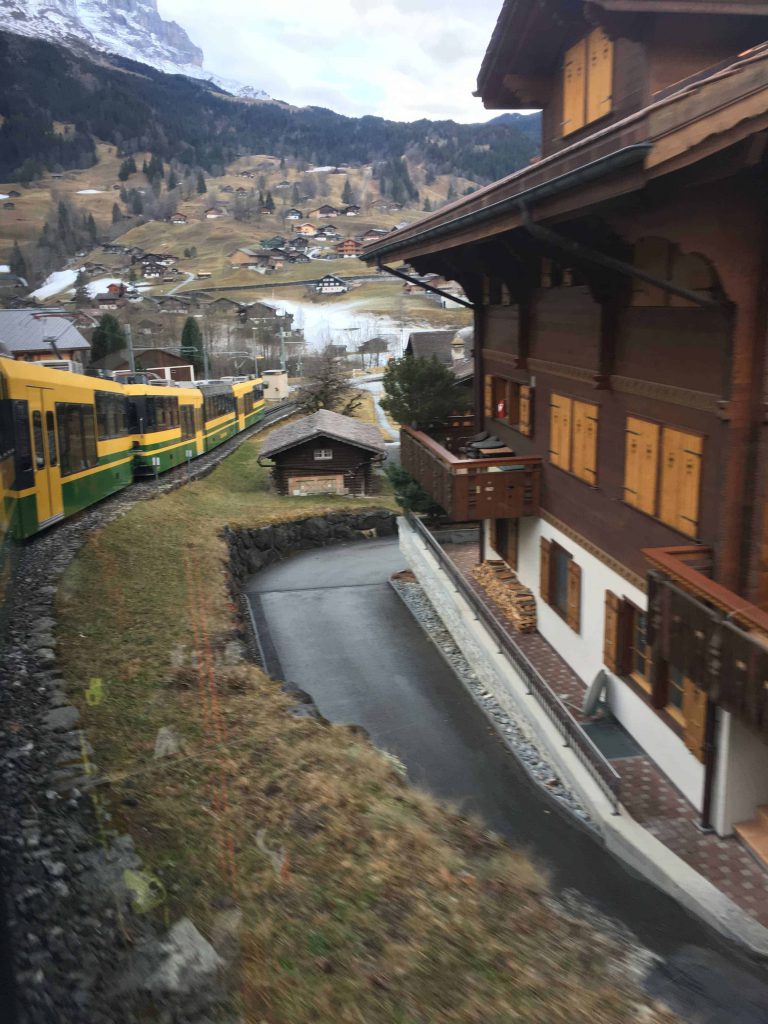 Altitude sickness
As the highest train station in Europe, there are a few things one needs to prepare before climbing the Jungfrau. There are several signs of altitude sickness that one needs to be aware of before making the ascent. You can find more detailed information at Acclimatisation and Altitude Sickness – How To Prepare And What You Need To Know
Common symptoms of mild altitude sickness (sometimes called acute mountain sickness) can be similar to a bad hangover ( the symptoms are usually worse at night) and may include:
dizziness
feeling unsteady
nausea and vomiting
headache
tiredness
loss of appetite
upset stomach
shortness of breath
increased heart rate
difficulty sleeping
generally feeling unwell
At this altitude, it is not a major risk of sickness but it has been reported and should not be taken lightly. It can affect the most physically fit, youngest, professional skier, and not the fat old guy sitting next to you. Everyone is different, every time is different. Being acclimatized to the altitude may help some, but it doesn't work for everyone.
Children are less likely to be affected because their oxygen intact differs than adults, in their little bodies, but do not discount them. They may not be able to verbalize their sickness until it is too late. Once symptoms start and don't fade away after taking a rest, it is strongly advised you descend on the next available train. Also, parents travelling alone with small children should have a way to communicate to the kids that they, themselves, are not feeling well and what to do in case of an emergency. If they are too young for this, I advise having a temporary travel partner or always stay near a group.
Short of having any medical conditions, medications, and allergies printed on your forehead, I also suggest making this information easily available. Be it in your wallet, pocket, or medical alert bracelet; it is always best to be over prepared than under prepared.
Is it worth the money?
The train switches in Kleine Scheidegg and we didn't have a timeframe to be back at Grindelwald so we did take the time to hang out there for a little while. There were restaurants, gift shops, hiking trails and a pub inside a tipi. Skiing is also a big deal at this train stop as well so there is no reason to continue down the mountain in a rush. While Skis are not allowed on the Jungfraubahn, they can be left in Kleine Scheidegg until your return, then spend the rest of the day skiing.
The idea of paying 160 CHF per person for a return ticket did seem like a huge deal at the time, but it was a pretty amazing experience once we reached the top. I'm sure if I had been able to actually explore the glacier and play in the snow, I wouldn't have any reservations about answering this question. So I guess my final answer is, it is worth the money when it is a perfectly clear day. Anything short of that is questionable, only because my goal was to sled with my kids and I didn't.
Your Thoughts...
Please share your thoughts in the comments or reach out on social media...We would love to hear from you.
You May Also Like…