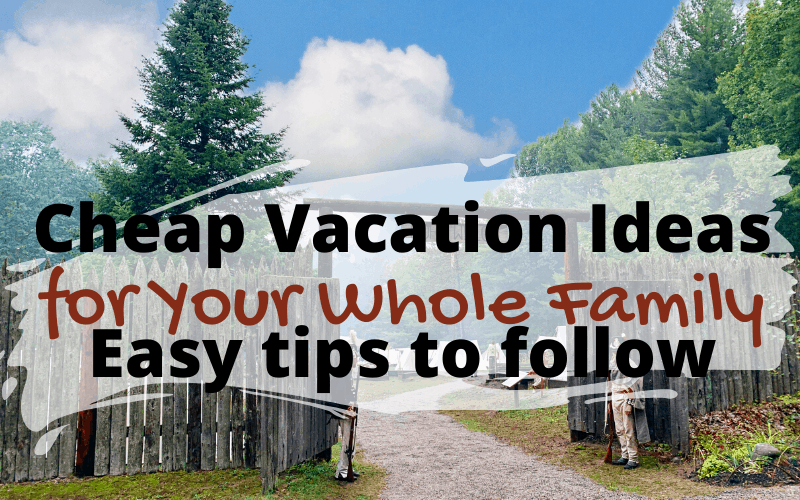 Traveling as a family has never been a cheap activity. Now with the Covid-19 and unemployment pandemic, traveling with your family just got that much more expensive; weighing down on your wallet more than ever before.
Sure, holiday destinations are sure to have amazing discounts in order to convince guests to spend what little savings they have left on them expect of another location, but wouldn't it be nice to just go somewhere cheap.
So instead of creating a list of 50+ destinations that you NEED to visit with your family, we are going a little vaguer and giving you a list of ideas of how to spend your vacation time and money, allowing you to fill in the blanks and decide which destination on your bucket list fills these criteria.
Tour your own city
Since returning to Canada, we know that our vacations will be much more expensive than we are used to. We made the decision to travel more locally, including exploring our own city before it's time to move again.
Ottawa itself has a lot to offer; considering we did the #Ottawa60daysofsummer challenge last year and still didn't finish our bucketlist. It's a staycation without feeling like a cop out.
Avoid traveling to adventures that can be done at home
This one is a little hard for a lot of my travel family, even my own family, to understand.
When we visit the local zoo, I don't like staying at the playground too long because we have a playground behind our house and this one isn't anything special.
When we travel to a new city and only have 2 days to visit, I avoid planning time at the zoo or aquarium unless they have something unique to offer. Even if the entrance is free, time is money and we would be exploring something else that is unique to the city instead of something we have easy access, and probably an annual membership for, in our own town.
Virtual tours
If the only reason for traveling around the world is to visit one location, one museum, one building, it's best to just explore from home.
Self-isolation has brought a lot of tours online and at the moment, they are free of charge. Even if they did start to charge a small fee, it's a hundred times cheaper than visiting yourself so why not.
Go camping
Depending on where you live, camping can be anywhere from the National Parks a few hours away, to your giant backyard. Find a decent camp ground near you and try it out.
If you don't our own camping equipment, Ruckify online rents out everyday tools for a small fee; these are things people have lying around their house and have no immediate use for them. Reduse, reuse, recycle right? Why buy my own set when I have no intention of using it again, when a stranger has a perfectly good set that they are using right now?
Go to the less popular beach
If you aren't fortunate enough to live near a beach (we have 4, in case you were thinking of more reasons to visit Ottawa), find a beach that isn't on everyones bucketlist.
Not only will this beach not be crowded, but there is a good chance the local economy won't try to gouge you for every penny you are worth. Hotels and restaurants will be reasonably priced.
Free things to do in…
Every travel blog under the sun writes about the amazing free things to do in any city they are covering. A free-activities list is the one thing that brings all types of travelers together – even posh travelers won't turn down a great adventure if it's free.
There have been many times we have ventured to a new city, bought the City card for public transit and that was it. If the entrance fee wasn't covered by the City card or free, we weren't going there.
Stay with friends or family
We have friends around the world, and my parents live outside of Toronto. If we were ever at a point where we didn't know where to vacation, rest assured we would be welcome at anyone's home and they would be more than happy to play local tour guide to our loud family.
Moving around alot and having friends in all corners of the world make it great to explore smaller cities that one wouldn't normally think of. Day trips and weekend excursions just because that much more feasible.
Conversely, we have a spare room ready and waiting for friends and family to take us up on our offer to host them for a few days while they explore Ottawa and all the amazing things our Nations Capital has to offer.
Travel during the off-season
Depending on the childrens age and academic standing, taking them out for a week or so during the school year isn't as horrible as many make it sound.
There is a lot to be learned from a family holiday that just can't be taught in the classroom; visiting a location that they have studied is also a great way to bring the academics along on holiday.
Go away on a weekend trip
And if all else fails, simply go away for a weekend. You may remember a time when we were reporting holidays once a month, sometimes twice a month. Not only was that the beauty of instagram, but weekend trips are amazing.
We found somewhere that was a little too far for a day trip but didn't require much time to explore. We often left late Friday or early Saturday and would be back after the kids' bedtime on Sunday night. A cooler and mini-fridge at the hotel, plus free breakfast meant we didn't have to spend too much on food, our souvenir budget was at a minimum, and self-driving plus local transit is the epitome of cheap transportation options.
You May Also Like…