Rotterdam as a Family
Finding somewhere to visit during Easter break isn't always an easy task, there is a lot to consider; will anything be open is the major question that needed answering. A quick google search of what and where is open during Easter break, and Rotterdam was on the shortlist. Next was to find a short list of things to see in Rotterdam with kids in tow. That wasn't too hard either – the city has so much to offer families, that a long weekend didn't do it justice.
Interesting Fact; Rotterdam was founded back in 1270 when a dam was constructed in the Rotte river by people settling around it for safety. It is the largest port in Europe and the second largest city in the Netherlands, after Amsterdam.
[toc]
Getting to Rotterdam
Starting from Dusseldorf, take the Intercity (IC) or Intercity Express (ICE) trains to Utrecht and transfer to the Regional (RE) train to Rotterdam Central Station. We had about 10 minutes to make the transfer and it was fairly simple. Take the elevator upstairs to the main level, cross the hall to your next platform and take another elevator down.
Once in Rotterdam, you fall under the Dutch ticket-entry system vs the German honour system. In order to leave the train platform, we needed to scan our printed DBahn ticket QR code for the doors to allow us into the public space. Transversely, when it was time to put our luggage in storage for the day while we explored or to actually take the train to leave, we had to scan that day's train ticket in order to have access to the "Big Train" section of the station.
There are several modes of transportation available in Europe and they all have a specific name; Trains are the "big trains" that take you to another city/country, trams are the above ground trains that move within the city limits, a Ubahn or Metro line is the underground local transit, and buses are just buses. It is important to make these distinctions when asking for assistance and reading the signage; a tram/bus ticket will not allow you access to the train section of the Central Station.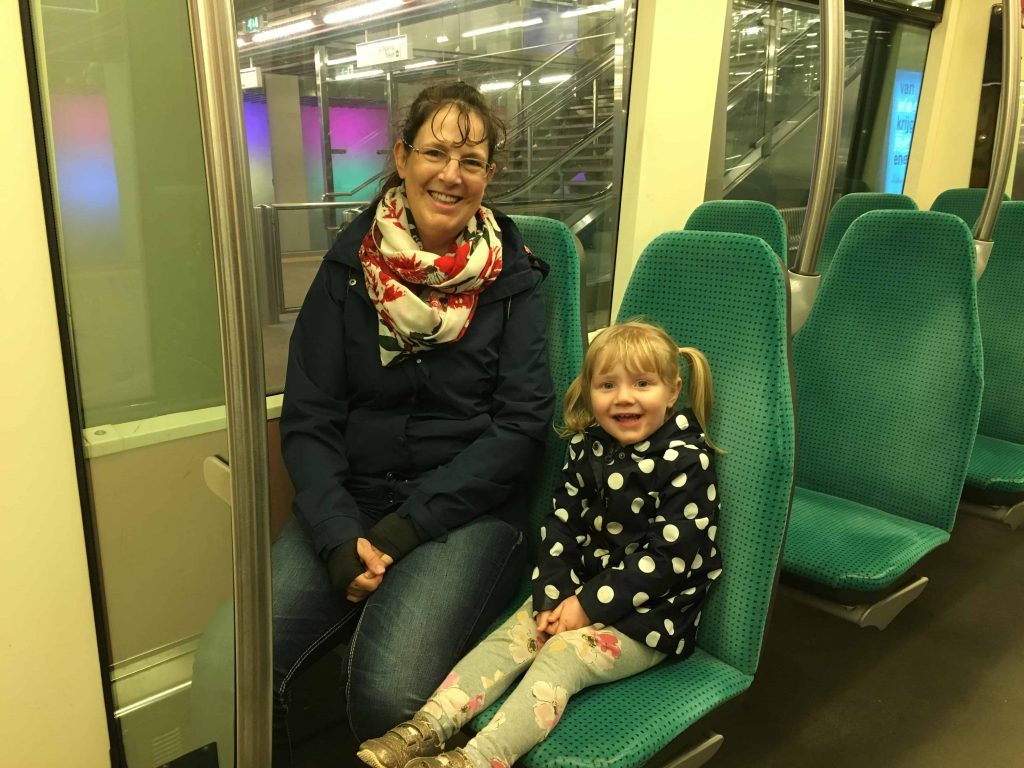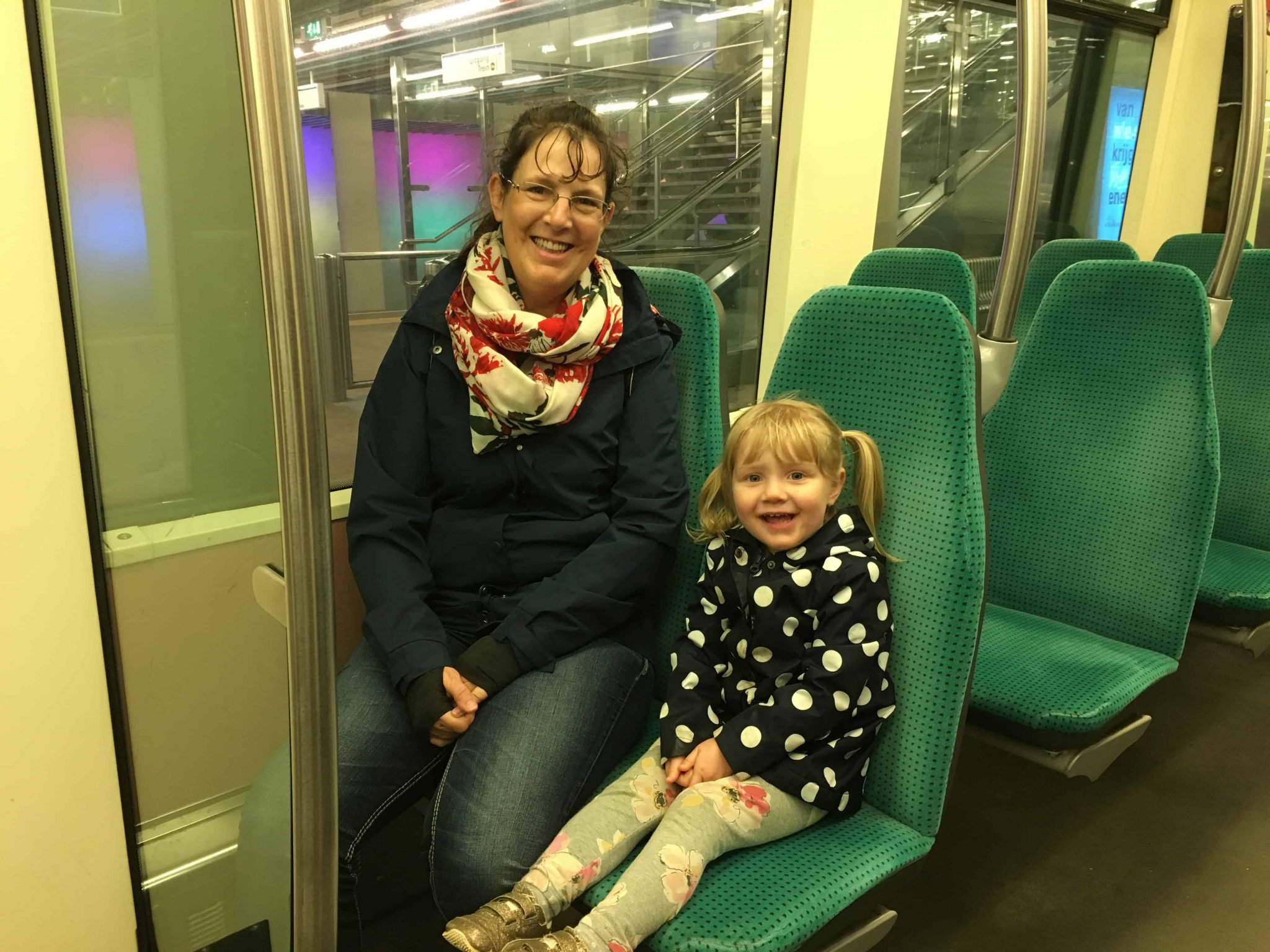 Getting around Rotterdam
We have mentioned a few times how much we love using the City Cards when exploring cities for longer than 24 hours, like Hamburg and Dusseldorf. Rotterdam is no exception. The City Card was our local transit access card, and it all came with a great coupon book. Instead of presenting the card at the various locations for a discount, simply present the coupon, which doesn't appear to have an expiration date. The Welcome Card is available at the Tourism Office at the Train Stations and provides 50 various discounts vouchers and free use of the transit system.
Travel Tip; There are very few souvenir shops in town, outside of the attractions specific shops. There is a small place attached to the Tourism Office, inside the station, in the public space.
If you aren't familiar with the Dutch transit system, it's super easy. Board the train, tram or bus from any door (unlike Germany where you only board a bus from the front door), and touch your ticket to this pink circle pictured below.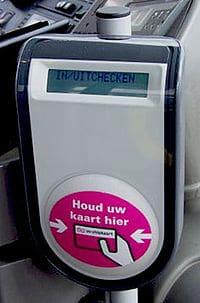 There are different types of transit tickets sold; some are per day (24hr period), some are for multiple days (calendar days, so try not to activate them too late in the day if it can be helped) and others are for certain hours used. When getting out of the bus/tram, the automatic overhead speaker will remind you – in English and in Dutch – not to forget to check out. This means scanning your card again as you head out the doors. This will stop your timer so you get the most out of your ticket. Some people will check out as soon as their stop is called, don't do this. If you are caught, I'm sure there will be consequences, and most buses/trams have an enforcement officer on board to help passengers purchase tickets or find a seat.
On that note, strollers are to enter trams at the very last door, at the back of the tram, and backdoor on buses. We were kindly asked to leave the tram and enter from the appropriate door, as there is more space.
Bus schedules in Rotterdam are also fairly easy to figure out using Google Maps. Plug in where you want to go, turn on your location services so Google knows where you are currently and it will populate a number of options for you. Having been here a few times, I was fairly confident that the options given to me were the best in terms of proximity to the destination. Buses are on one side of the main Central Station and Trams are on the other.
From outside the Central Station, and inside if you are already there, you can access the Metro Lines A-E underground. There are elevators and escalators to reach the platforms, then find your track and scan your ticket to open the doors.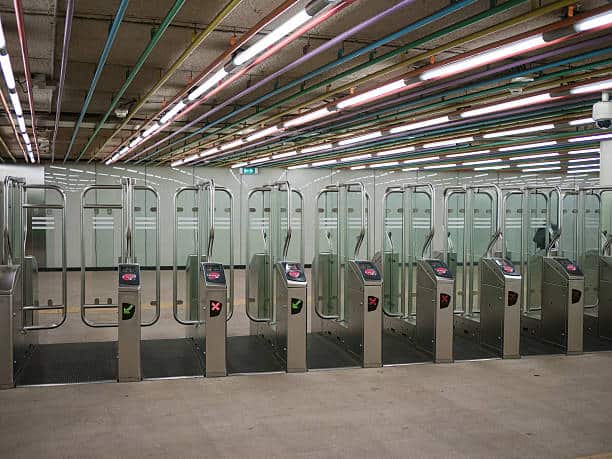 Where to Stay in Rotterdam
Our first stay in Rotterdam was in the wonderful Walsum hotel/apartments. It was amazing and crazy at the same time. We had only spent the night in the Netherlands once before and it was a ground floor Best Western in Amsterdam. This time we were on the third floor; it had a separate bedroom, kitchen, living room and dining room. Free wifi. Breakfast was a great buffet spread and it is included in the price – you just need to survive the walk down the stairs and two doors down to the main lobby. The tram is across the street too so this was a great location for the kids – close to transit but far from busy streets.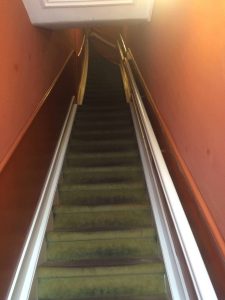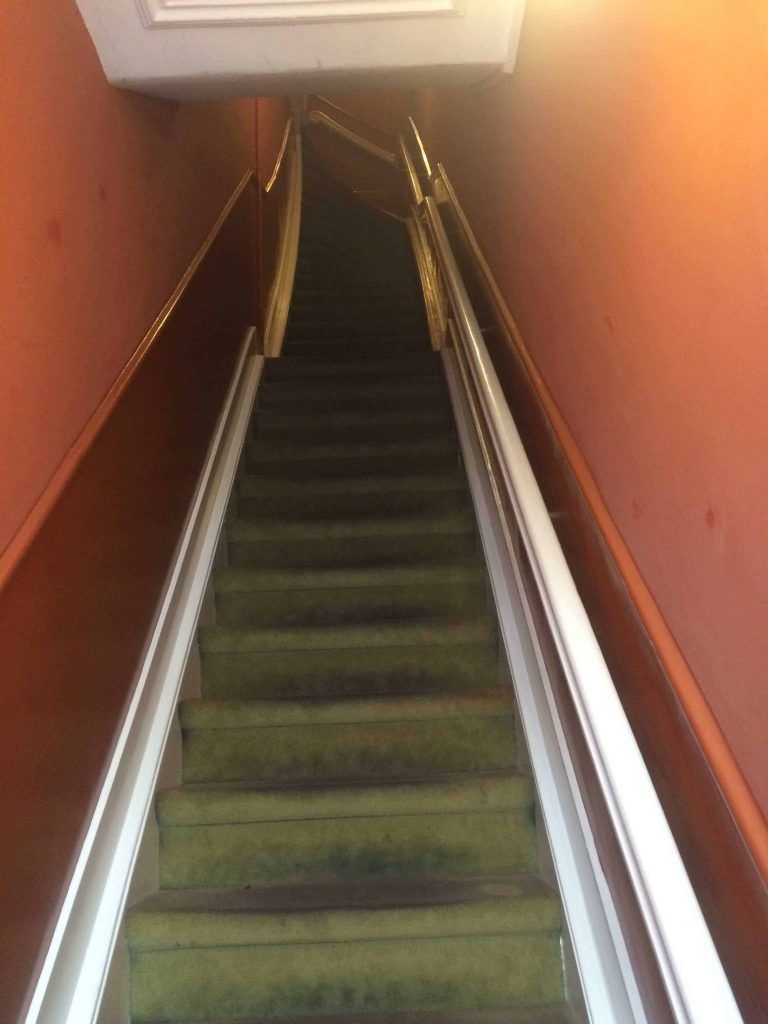 [fusion_button link="https://www.booking.com/hotel/nl/walsum.en-us.html?aid=1165205;sid=23bed7bdb2c43980086a939f00577e04;all_sr_blocks=1008308_95127921_0_1_0;checkin=2017-07-26;checkout=2017-07-27;dest_id=-2152403;dest_type=city;dist=0;highlighted_blocks=1008308_95127921_0_1_0;hpos=1;room1=A%2CA;sb_price_type=total;srfid=0bddfb8b8cac7c36381b3c030d5d0ae0825fc143X1;srpvid=0dc7857641f60219;type=total;ucfs=1&#hotelTmpl" title="" target="_blank" link_attributes="" alignment="center" modal="" hide_on_mobile="small-visibility,medium-visibility,large-visibility" class="" id="" color="default" button_gradient_top_color="" button_gradient_bottom_color="" button_gradient_top_color_hover="" button_gradient_bottom_color_hover="" accent_color="" accent_hover_color="" type="" bevel_color="" border_width="" size="" stretch="default" shape="" icon="" icon_position="left" icon_divider="no" animation_type="" animation_direction="left" animation_speed="0.3″ animation_offset=""]Click here for current prices and availability [/fusion_button]
On our second trip to the Rotterdam, I took a friend to the Keukenhof gardens and wanted to show her the Rotterdam zoo, so we stayed at the Stayokay Rotterdam. It's technically a hostel, so it was nice and inexpensive, but the private rooms were large enough to accommodate us. I just really wanted to spend the night in the Rotterdam Cubes Houses. A bit of warning though, parking is actually at a Parking Garage down the street ( a busy street) and once in the complex, we had to walk up the ramp and got a little turned around finding the entrance to the lobby – since it isn't on the ground floor. The server at the restaurant by the harbour didn't mind helping us out, he sounded like this wasn't the first time a guest had gotten lost.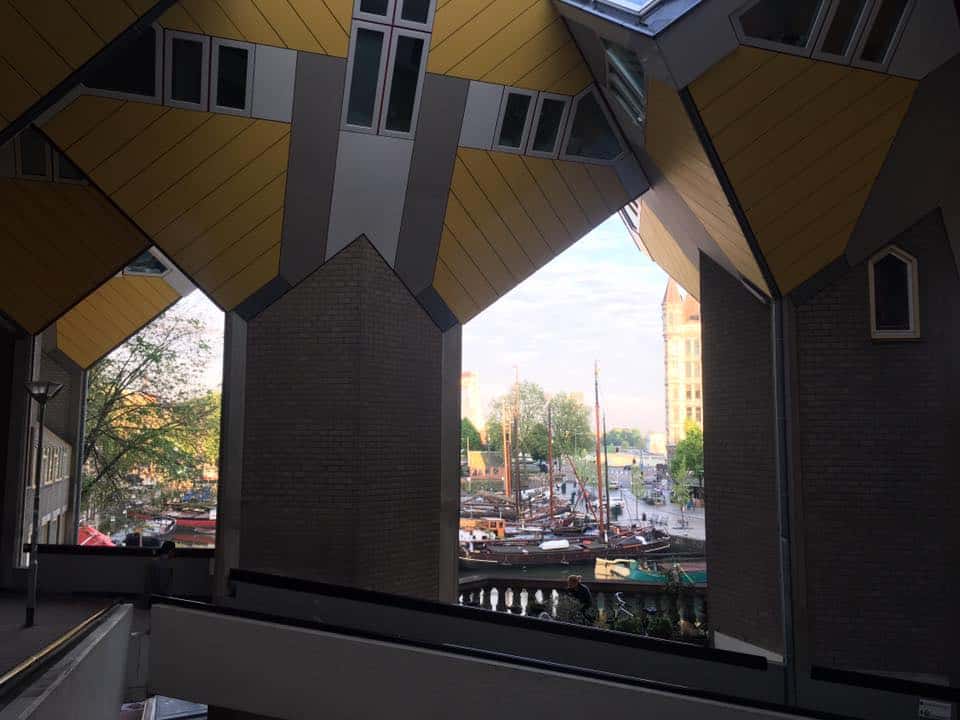 [fusion_button link="https://www.booking.com/hotel/nl/stayokay-rotterdam.en-us.html?aid=1165205;sid=23bed7bdb2c43980086a939f00577e04;checkin=2017-07-26;checkout=2017-07-27;dest_id=-2152403;dest_type=city;dist=0;group_adults=2;hpos=3;room1=A%2CA;sb_price_type=total;soh=1;soldout=0%2C0;srfid=2beca14a2ec80089a67816589a54ca58af4749ddX3;srpvid=9fe285de3fe2023e;type=total;ucfs=1&#hotelTmpl" title="" target="_blank" link_attributes="" alignment="center" modal="" hide_on_mobile="small-visibility,medium-visibility,large-visibility" class="" id="" color="default" button_gradient_top_color="" button_gradient_bottom_color="" button_gradient_top_color_hover="" button_gradient_bottom_color_hover="" accent_color="" accent_hover_color="" type="" bevel_color="" border_width="" size="" stretch="default" shape="" icon="" icon_position="left" icon_divider="no" animation_type="" animation_direction="left" animation_speed="0.3″ animation_offset=""]Click here for current prices and availability[/fusion_button]
The third time I was in Rotterdam, I wanted to take my mom to see the Rotterdam Zoo ( I really can't get enough of that Zoo) and Market Hall while hubby was away for work. We didn't have a car so we took the ICE and RE train from home to Rotterdam and wanted something not too far from the centre or the train station. This time, we stayed at the Grand Hotel Central. It is a central location, just 1 km from the train station, and you know how much I love staying near the station (check out Hotel Expectations for a traveling family for more on that discussion), and smack in the middle of the shopping district. While I wouldn't go as far as recommending this hotel, it served its purpose and that's all that counts.
Why wouldn't I recommend it? Honestly, it was a little cheap, and I've stayed in a few interesting places. The elevator was out of order and the restaurant was being renovated, so they gave us free breakfast (since it wasn't included in the room rate). The spread wasn't anything special and the hot dishes were only being brought out of the kitchen as we were heading out. The room also didn't have any functioning outlets, save the one up high near the bathroom door – though there were lamps and alarm clocks on the end tables, just nowhere to plug them into. Anyways, like I said, it was a room, with doors and a roof, and my children were safe. This one just happened to be the least expensive hotel when I made last minute reservations.
Where to Eat in Rotterdam
Le Perron Rotterdam had amazing burgers! We weren't too happy with the level of service we received from the waiter – I actually had to go instead and ask if anyone was working the outside tables – and they were not too quick to take our money, but the food was amazing. The kids even had their own little burger bites and fries in a paper cone.
Jamie's Italian Rotterdam is a restaurant I try to visit every time I am near one. We fell in love when we first found one in Cardiff, then again in London. We finally had the chance to visit on our last trip. I had seen the signage on our second trip, as it is not far from the burger place mentioned above, but it had a 2-hour waiting list. This time, we entered from inside the Market hall and they offered to let us sit in the market (there are only 2 sets of tables out there) since the waiting time was even longer than before.
The prices aren't too high, the food isn't too high culture – just enough to make the kids feel special and welcome at the same time. Grab a few of his signature swag while you're there – we bought dish towels 3 years ago and they haven't worn out yet. Everyone once in a while, Jamie likes to give his guests surprises – this time was Kids eat free! Awesome!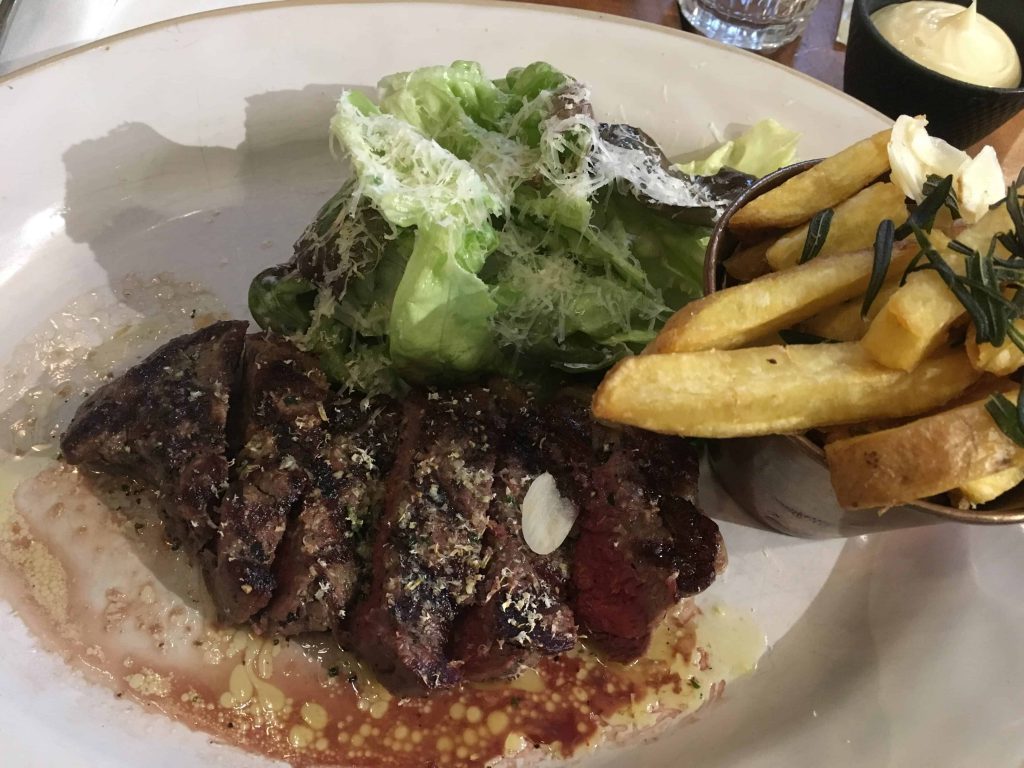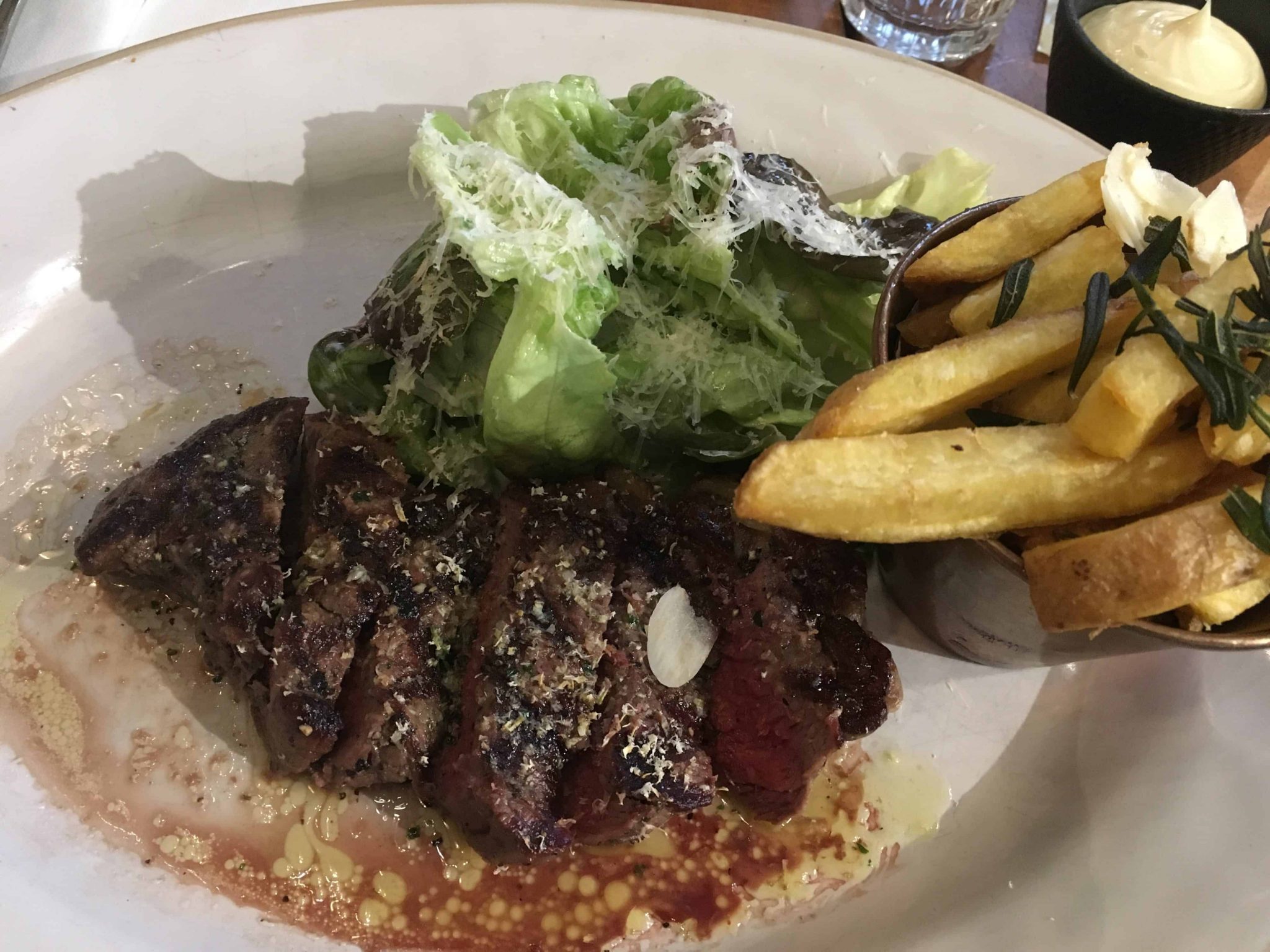 Grand Café Wester Paviljoen is the restaurant that hubby found on our first trip. There is a little kids corner on the right-hand side of the entrance – though we didn't see this until we needed a toilet break. I would have preferred being seated a little closer to the games area than the adults' section, especially with these little guys. The waitress brought us a few toys though while we waited for our order – this should have been my first clue.
When a 'coffee shop' isn't a coffee shop
Funny story, we went for a walk shortly after checking into our hotel and wanted to take the kids to a nice little café for snack time and we walked past the "Nemo coffee shop"- with a giant Finding Nemo sign and everything. As we are turning the corner to the entrance, we see guards at the door checking ID and a few signs in Dutch and English. After getting the kids excited about a Finding Nemo theme restaurant and promises of croissants and pastries, it turns out to be a marijuana smoking shop! My kids were livid; they wanted to have a snack and they love Finding Nemo. It's not their fault mummy doesn't know anything about Dutch culture. Hubby saved the day and we found a restaurant (Grand Cafe) that had Easter eggs at the door and stuffed them with chocolate before our food arrived.
2 Days in Rotterdam | Kid Friendly Itinerary
Day 1
Come morning, head straight for the Rotterdam zoo, or the Diergaardeblijdorp. We showed up just before opening and felt completely alone until lunch time. We moved from exhibit to exhibit a little faster than I would have liked but the toddler just couldn't keep still, he was so excited. The America's section was amazing; the Amazon had a butterfly enclosure. Munchkin was telling us all about butterflies, and the proboscis, nectar, and wings, so proud.
My highlight was the Oceanium. It was similar to Sealife, only better; Penguins and Polar bears, tunnel under the fish tank and feeding animals throughout the day. By the time we finished this section of the zoo, we started to head back to the front entrance, finish Asia and grab lunch.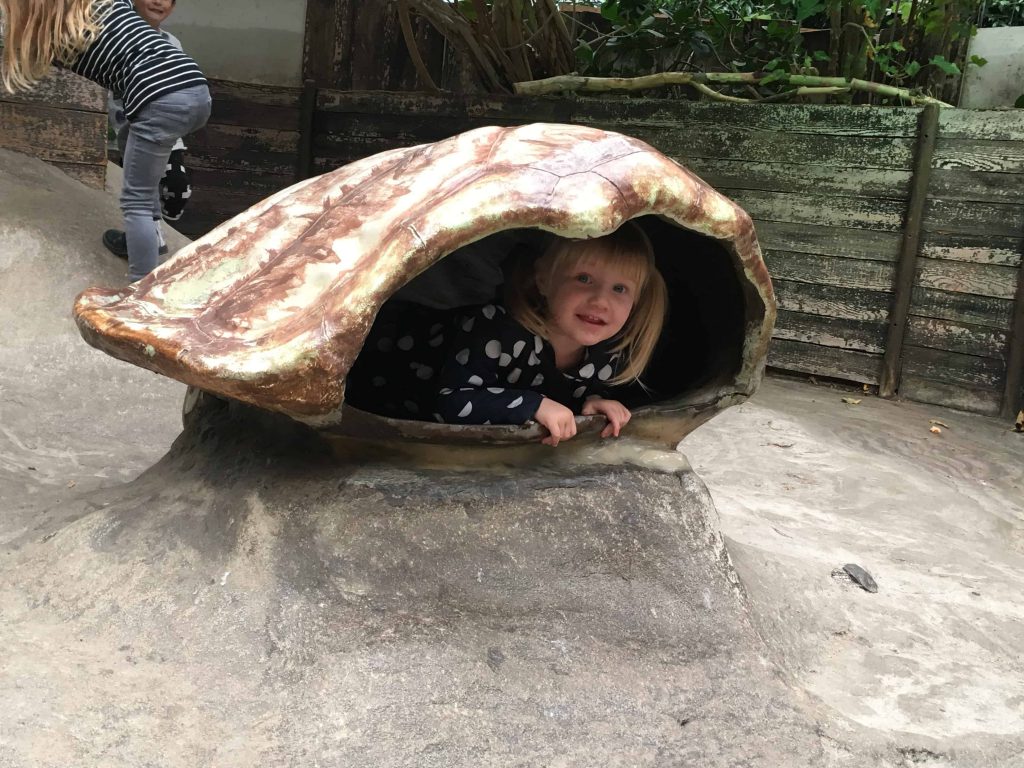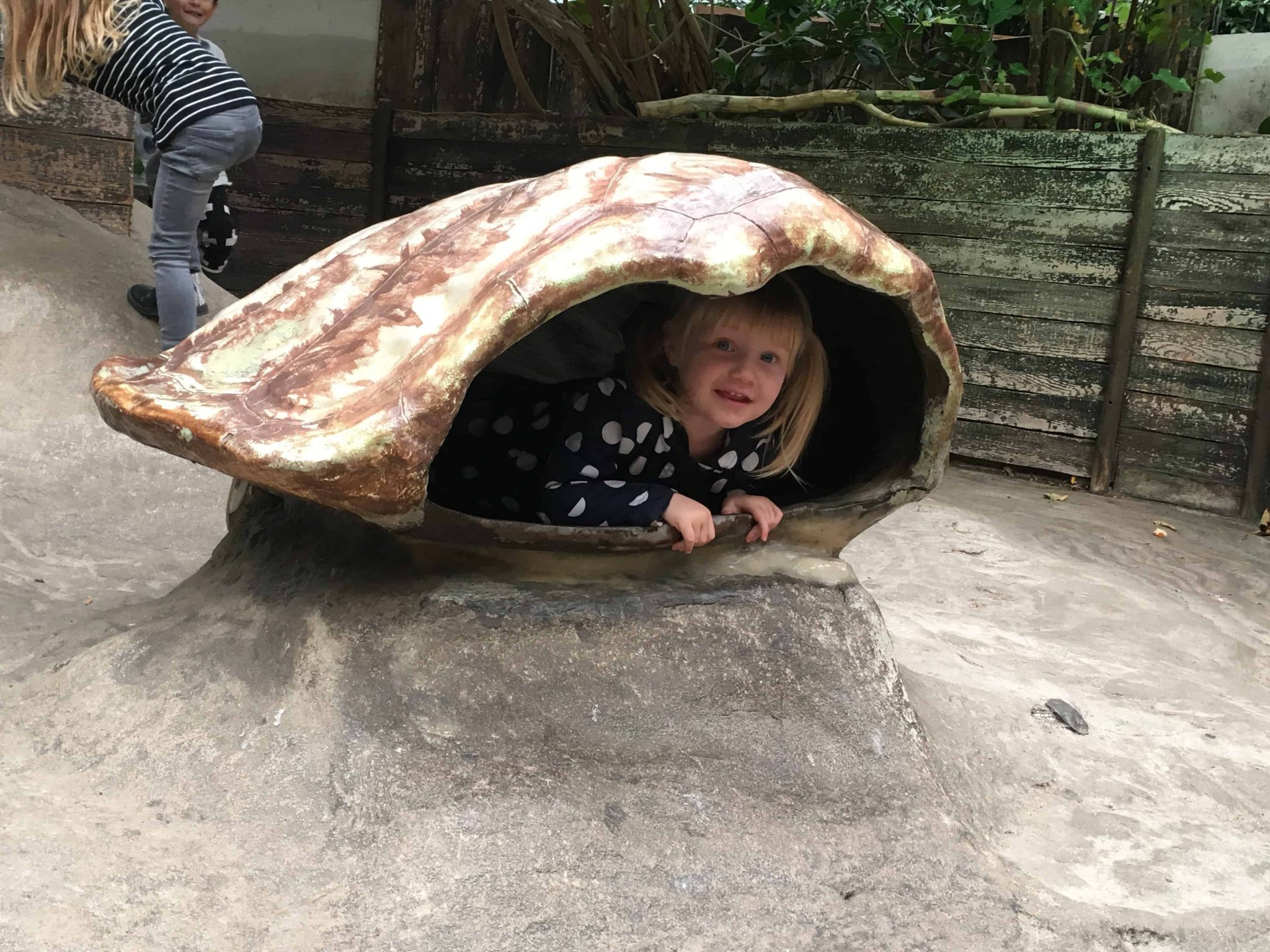 The baby was awake, the toddler was falling asleep, so I busted out the Rose and Rebellion Carrier and the kids switched seats (on a side note – Rose and Rebellion is offering readers a super secret 10% discount for mentioning my name). Not 5 minutes later and he was passed out. It was now baby's turn to enjoy some animals without sharing us with her brother – I have to say, I love when the days align this way, makes them more enjoyable at this age.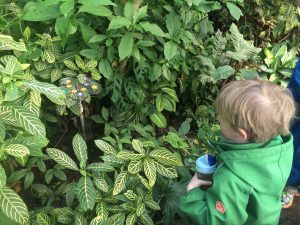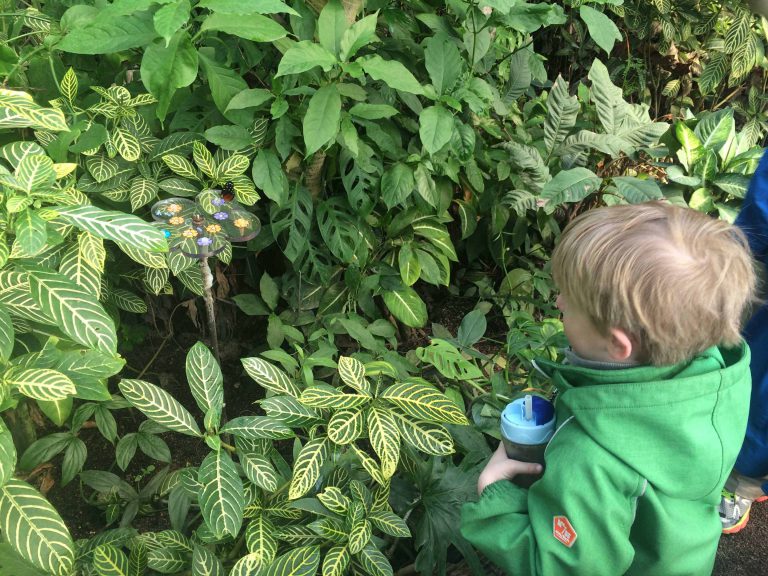 Walk roughly 10 minutes from the zoo and you will come across Mini world Rotterdam.
I had assumed it would be like Mini Europe in Brussels or Madurodam in Das Hague. It was a model train show. The entire city of Rotterdam was recreated in model train form, and the lights went down every so often to see the city light up at night. Munchkin had a great time! The cafeteria was small but empty so we took another break; baby took a second nap, Munchkin played in the small play area while hubby and I enjoyed a hot beverage and a snack.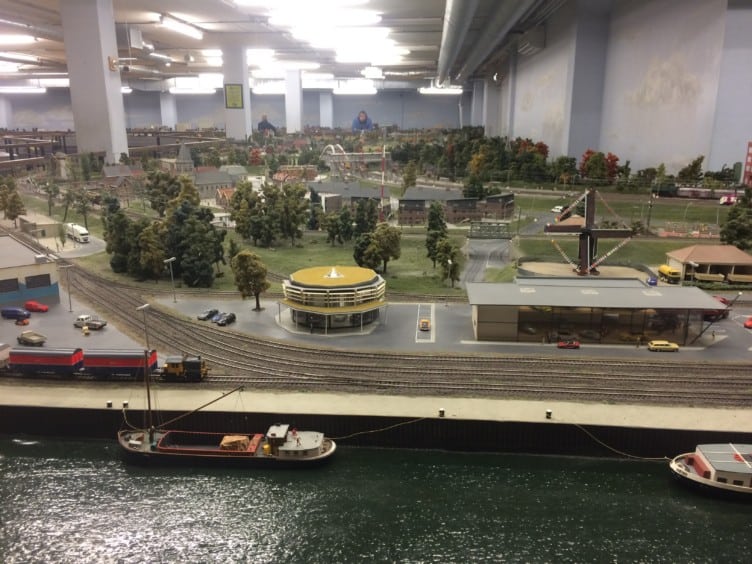 Day 2
Easter Sunday. Munchkin had been learning about the Easter bunny at school, and we were talking it up with him at home. This was going to be the first year he actually understood what was going on; last year he hunted for eggs but he had no idea why they were there, just figured; free chocolate, don't ask questions. This year he was asking us, how will the Easter bunny know where we are. He knows everything, don't worry. I planned ahead and packed mini chocolate eggs to put inside the larger plastic eggs, should his sister find one before he did. We had as much fun hiding the eggs as he did finding them.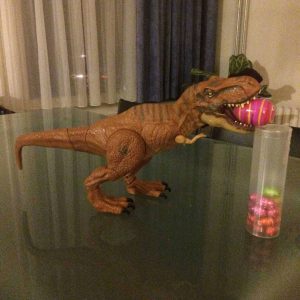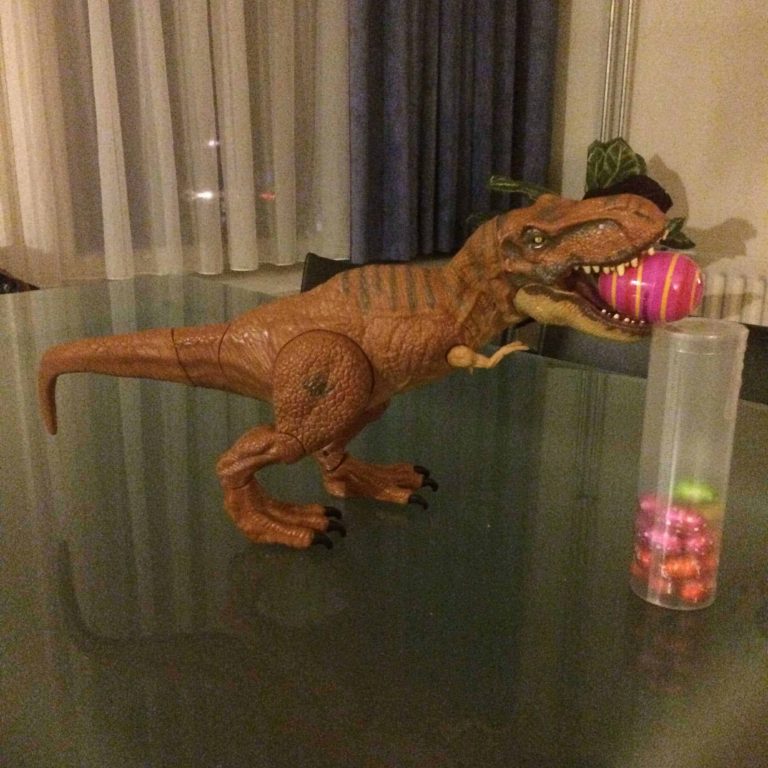 That morning was the Pancake boat – Depannenkoekenboot or Pannenkiejenboor Rotterdam, which is what Rotterdam is famous for. I was excited about unlimited pancakes and already knew that they were crepes by Canadian standards, not fluffy pancakes but I didn't care, it was amazing. It had a ball pit under the stairs. Munchkin lost his mind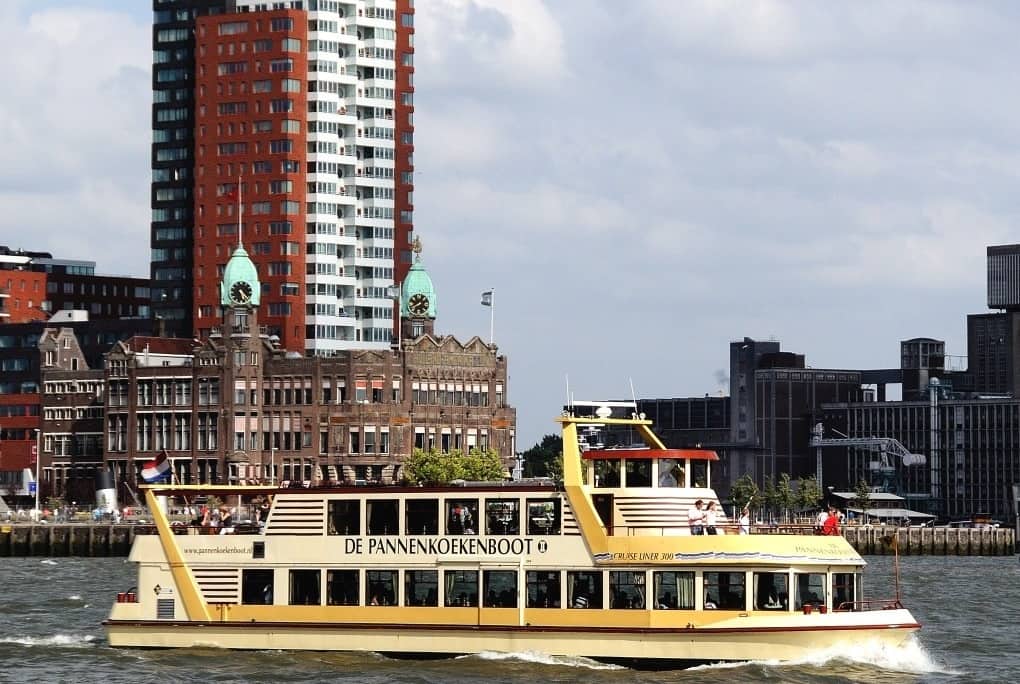 We saw an amphibious vehicle giving tours; it was much too expensive for us but it did look amazing. We even got to see it land in the water before we walked away.
Is the Euromast family friendly?
Euromast was across the street from the boat launch but it is hardly stroller friendly. We had purchased tickets in advanced and asked if we could take it up, knowing the baby would be asleep. Much like the Eiffel tower, we were able to make it to the main landing and look around by using the elevator, but there was a set of stairs to reach the next elevator and she had just fallen asleep. Furthermore, this next elevator was just seating around a centre console that went all the way to the top; she wouldn't have been welcome even if we had folded the stroller. We were not the only ones disappointed; many disabled or elderly persons came up the elevator and could not complete the tour.
To make it worst, the elevator did not have buttons to bring it back to this level. We needed to go back two flights of stairs, to the restaurant, and ask someone for the keys. She refused and said to just walk downstairs to take it properly. Umm… I don't think the wheelchair gentleman next to me thinks that's a great idea. We waited a few more minutes and someone eventually came out of the elevator and we jumped in after them. It was weird and a little sour but the boys had a great time while I blogged from the entrance with a sleeping baby.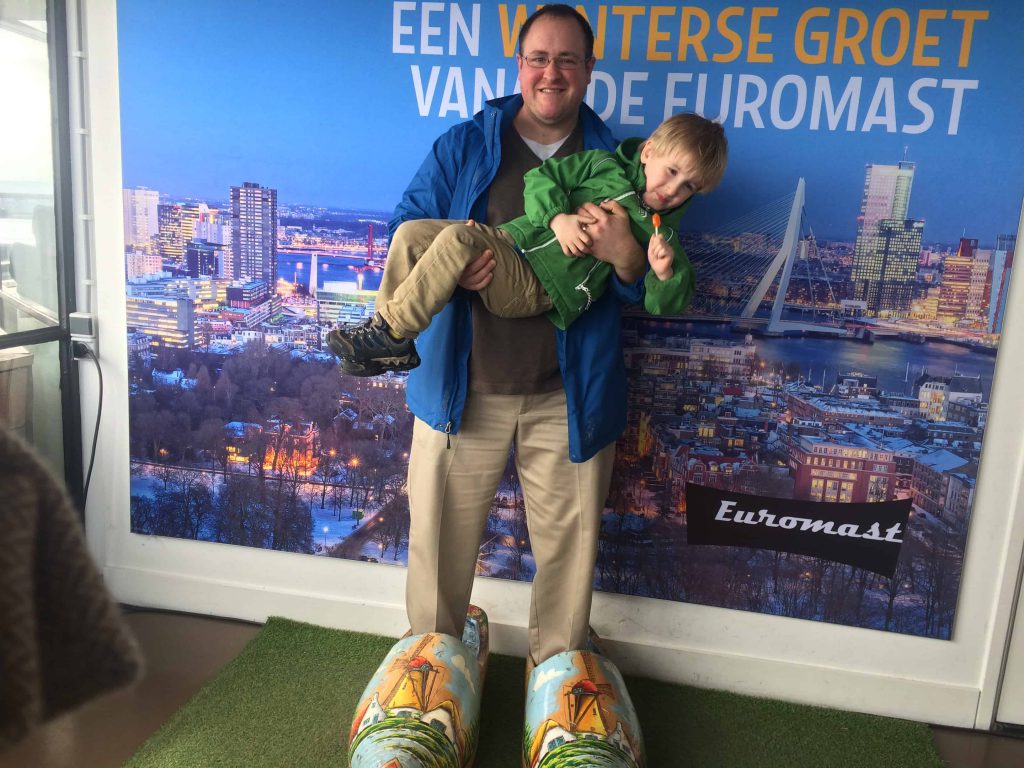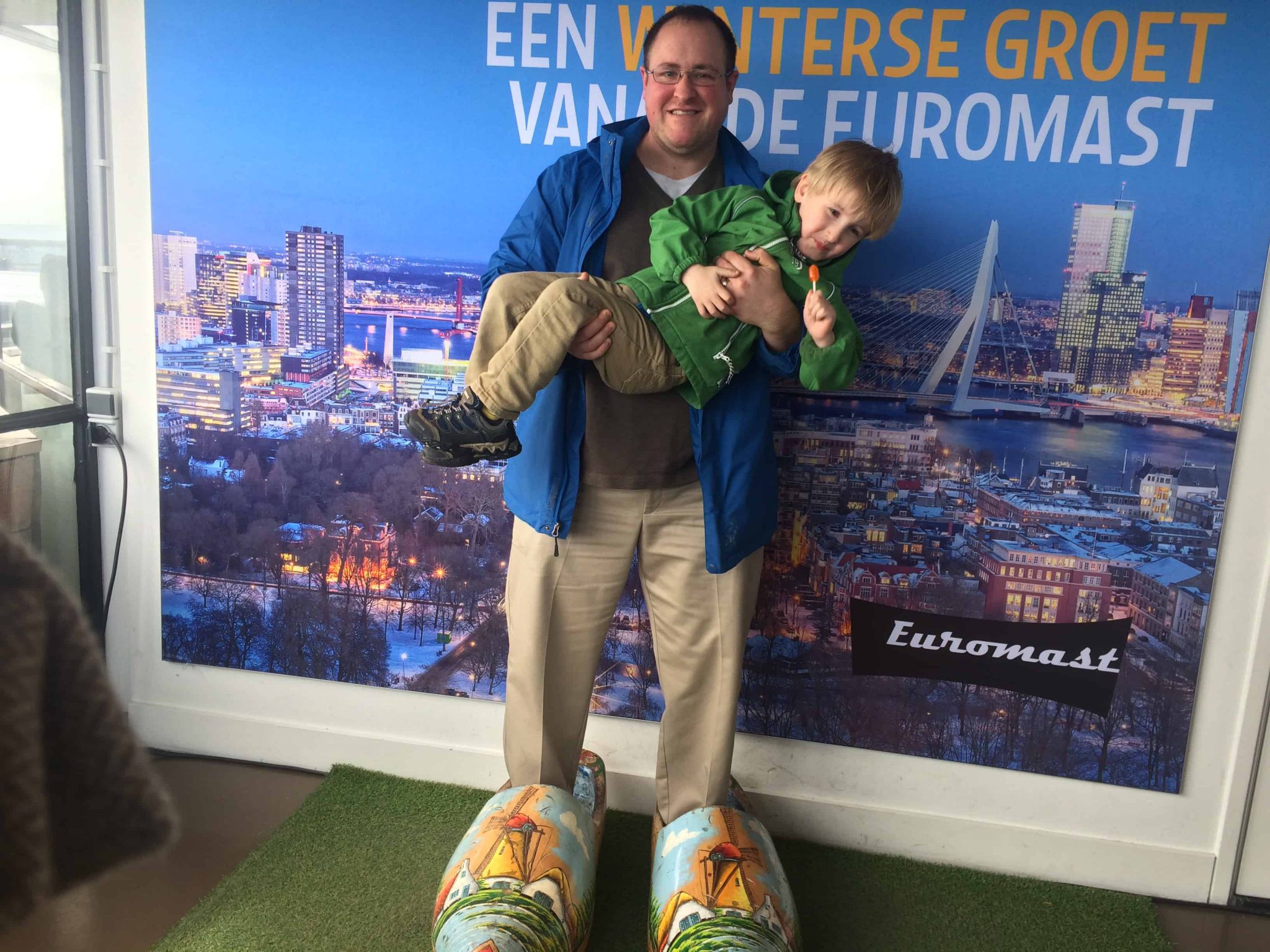 It was only slightly after lunch and we had just stuffed ourselves full of pancakes/crepes, so we took a nice long walk. We were lucky and the weather cooperated, it was just a bit windy but we had brought the stroller cover and everyone had their scarves.
I wanted to visit Delfshaven; I have a thing for windmills and old boats. It was a pleasant walk, and we burned many calories in the process.
The town of Delfshaven grew around the port of the city of Delft. Delft itself was not located on a major river, so in 1389 a harbour was created about 10 km (6 mi) due south of the city, to be able to receive seafaring vessels and avoid tolls being levied by the neighbouring and competing city of Rotterdam. This settlement was named Delfshaven ("Port of Delft").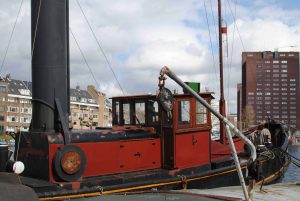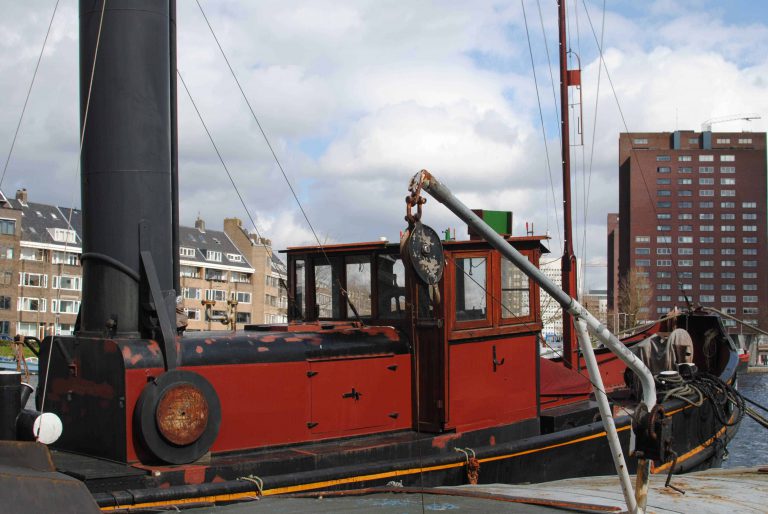 Alternative Itinerary
This part was technically not accomplished until our third visit. We started at Delfshaven again, taking the tram from the hotel to the Lighthouse, technically called the Former Henkes Distillery, and walked around the canals. From here, take a nice quiet walk along docks and find your way to the Natural History Museum. If you haven't done the Euromast yet, it is along the way.
If the museum isn't open yet (11 am), visit the Kunsthalcafé. It's a great cafe that is part of the Kunsthal Art Museum. We ran into many parents taking their young kids upstairs while they waited. The food was fairly quick, and the cafe surprisingly empty for 10:30 am on a Saturday. We were ready to head back out in no time and walking across the gravel walkway to the Natural History Museum.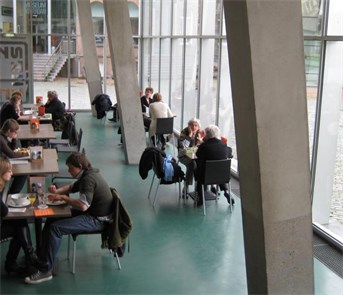 The Natural History Museum is fairly small and really only needs 1-1.5 hours to complete. Park the stroller at the lockers/cloakroom/elevator/bathroom area and walk around. There are audio guides available, but the children's activity page is only in Dutch. The kids loved seeing all the skeletons, and recreations, trying to figure out which animal it was. They also liked using the audio guides and finding the various scanning stations within each room. Occasionally they would repeat something that they had learned.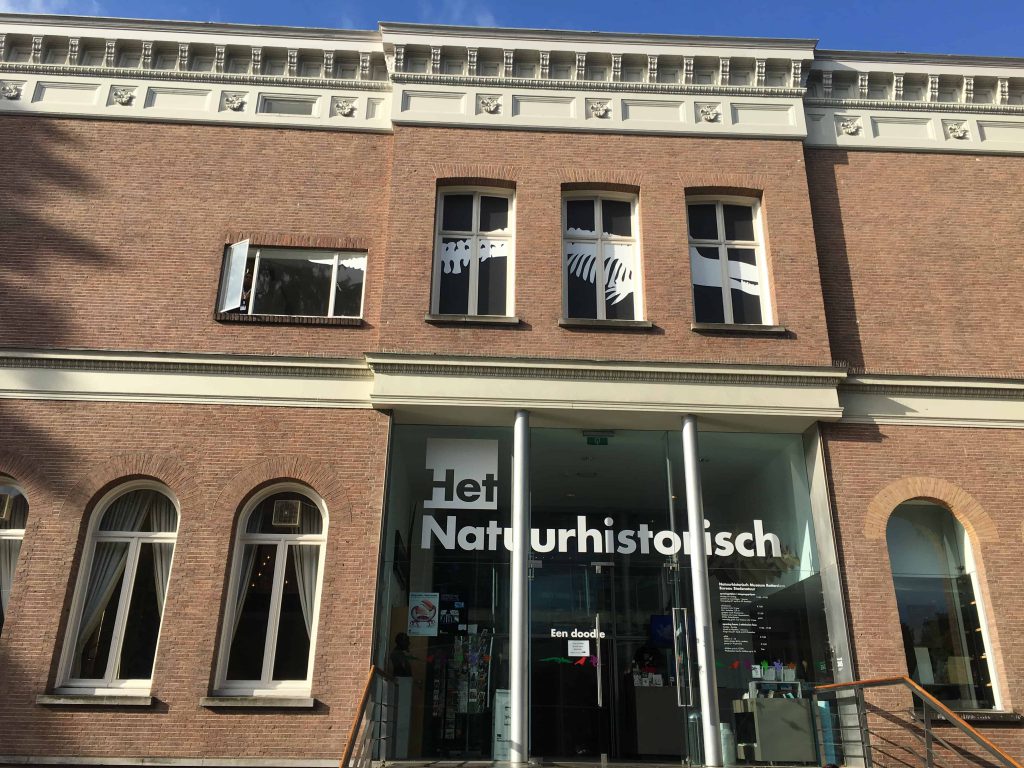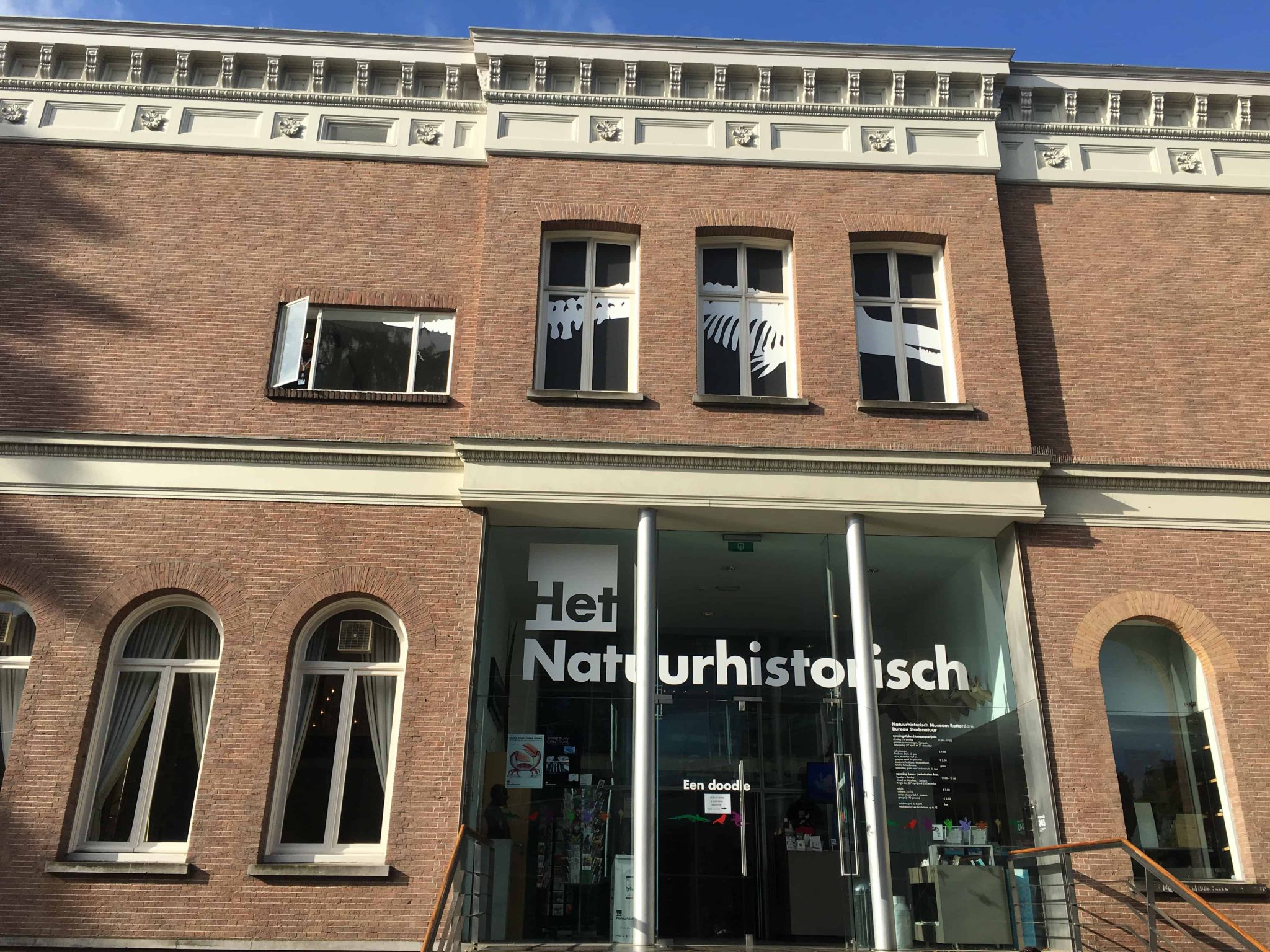 By this time is it shortly after noon and the children are due for some lunch. Walking towards the direction of the Kube Houses and therefore Jamie's Italian, take the 1.8 km walk and pass the Maritime Museum. You can either explore the outside area, looking at the boats, canals, dock equipment and move along towards food, or pass it entirely in search of somewhere to eat, backtracking 500m and returning after lunch. Either way, entrance is not required to this museum to get a great idea of what they have to offer and making this stop enjoyable for the kids.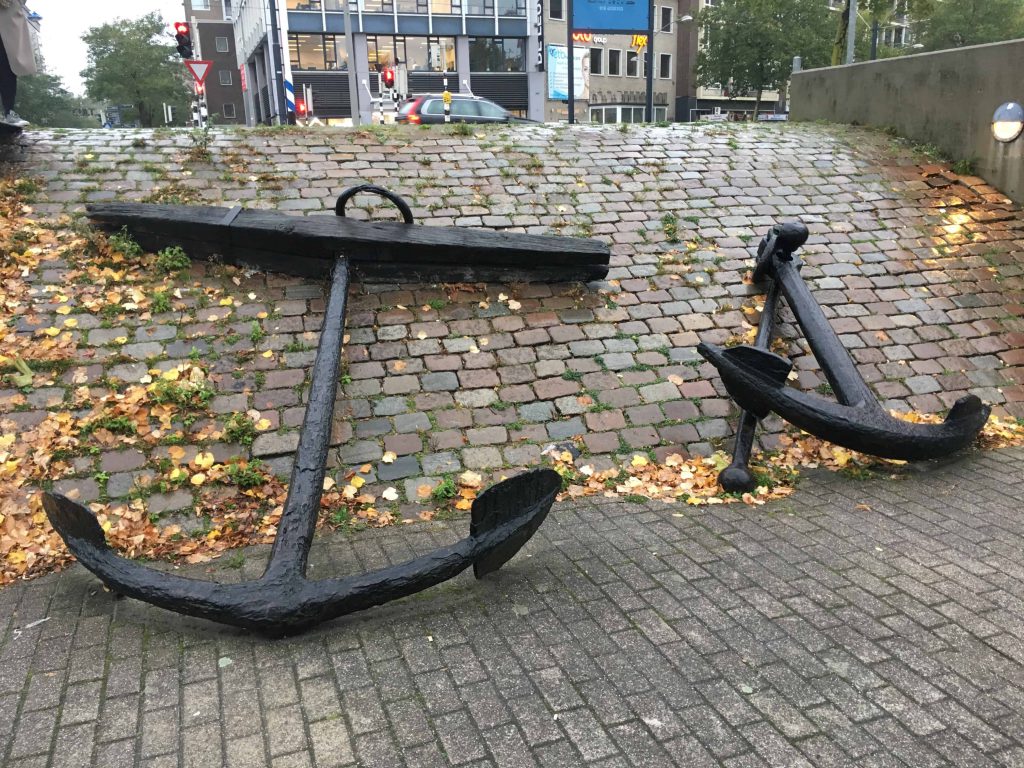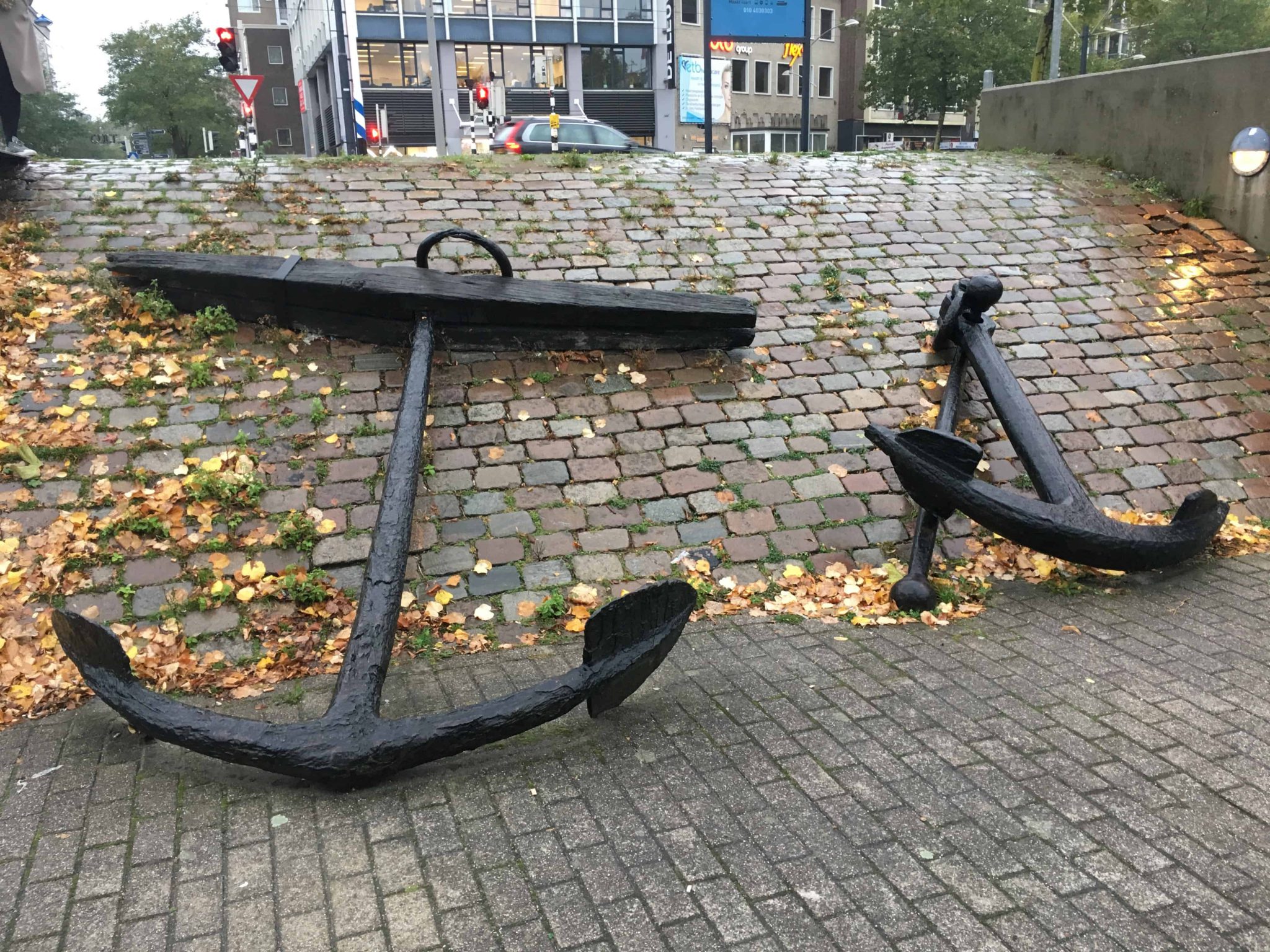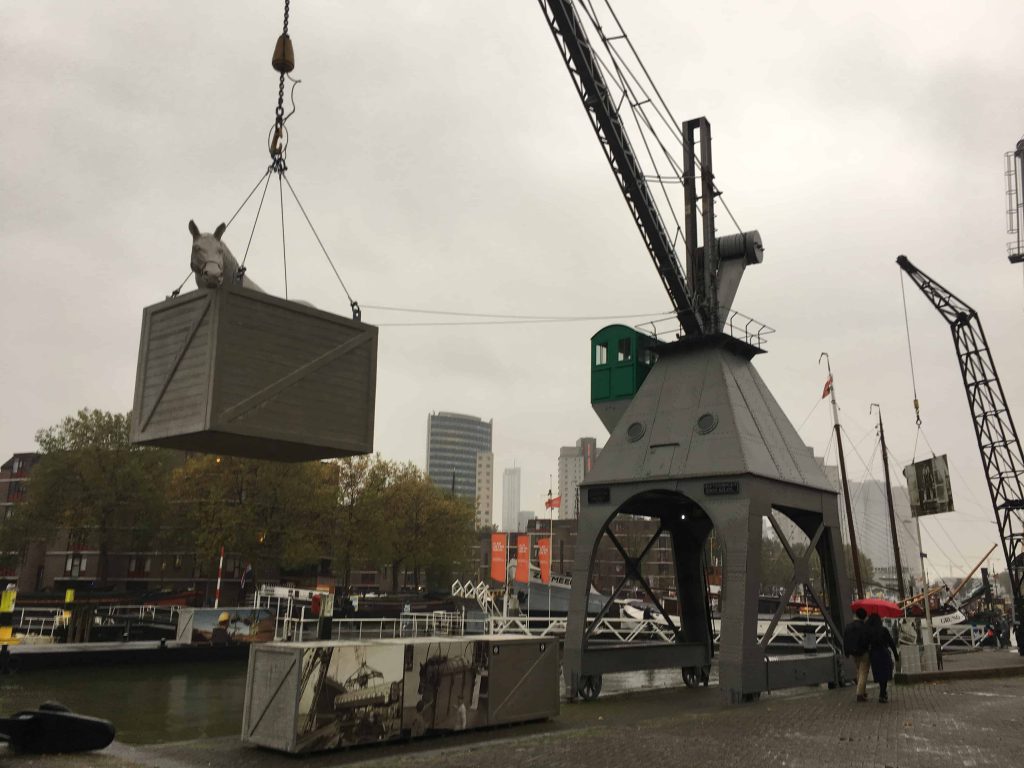 While in the area, check out the Market Hall, Kube Houses and the interesting statue in the centre of the plaza. Be mindful of the time, the Kube Houses have one available to walk around, but they close at 5 pm sharp. We arrived at 5:15 pm and the lights were already off, the staff had left the building.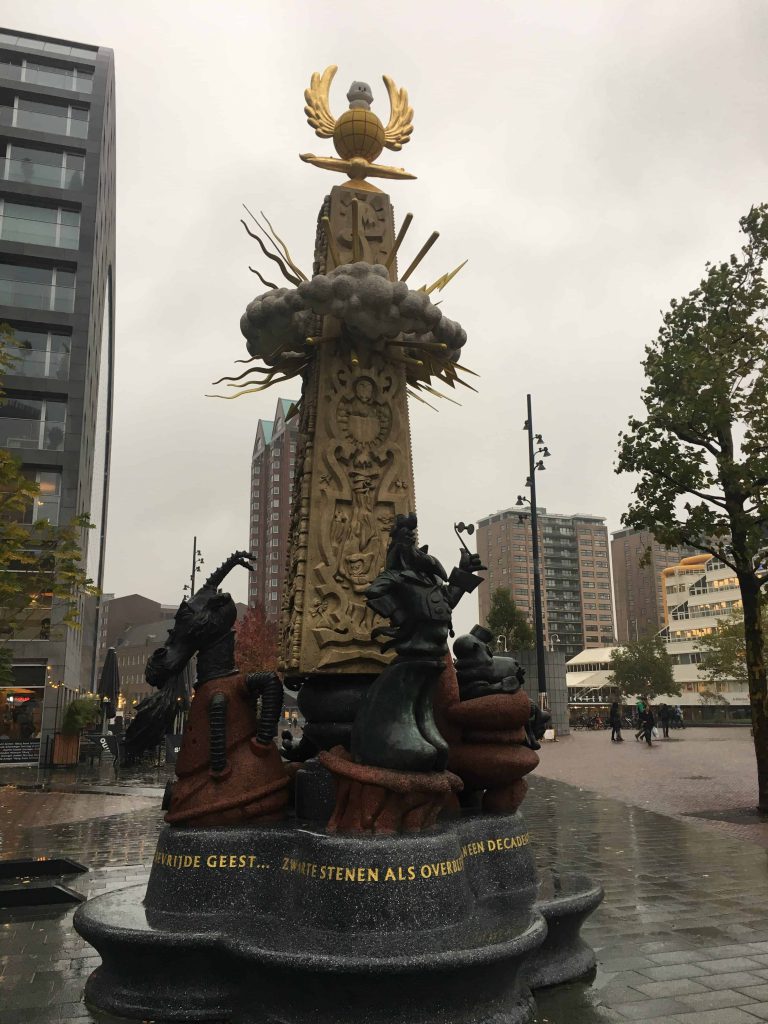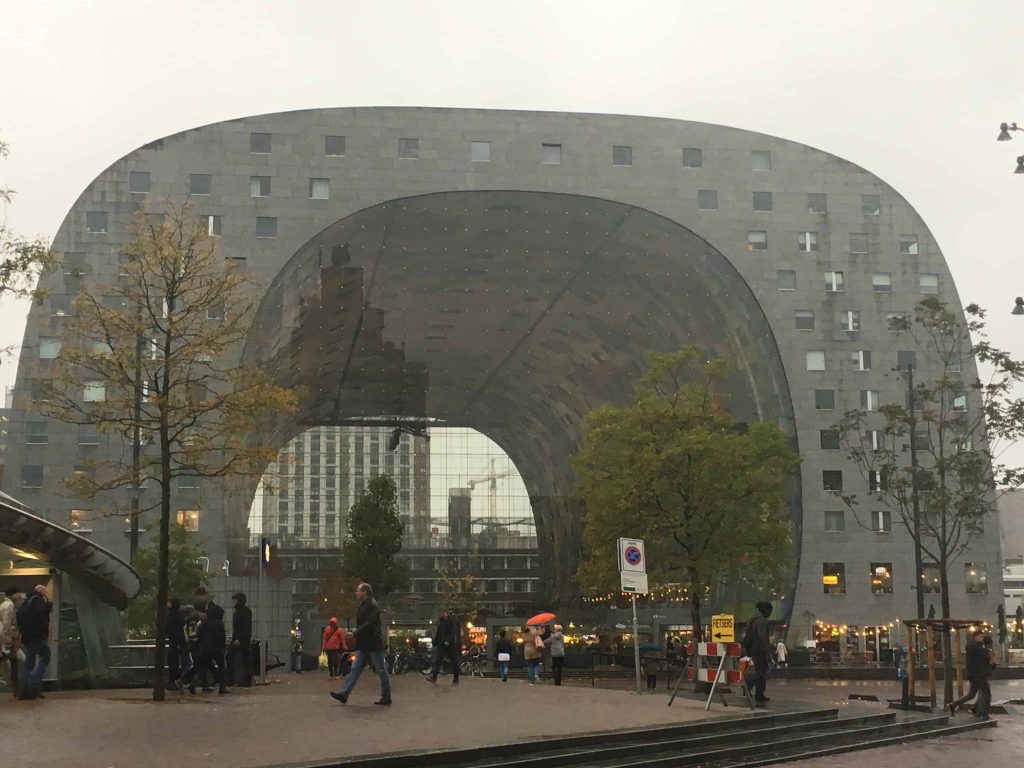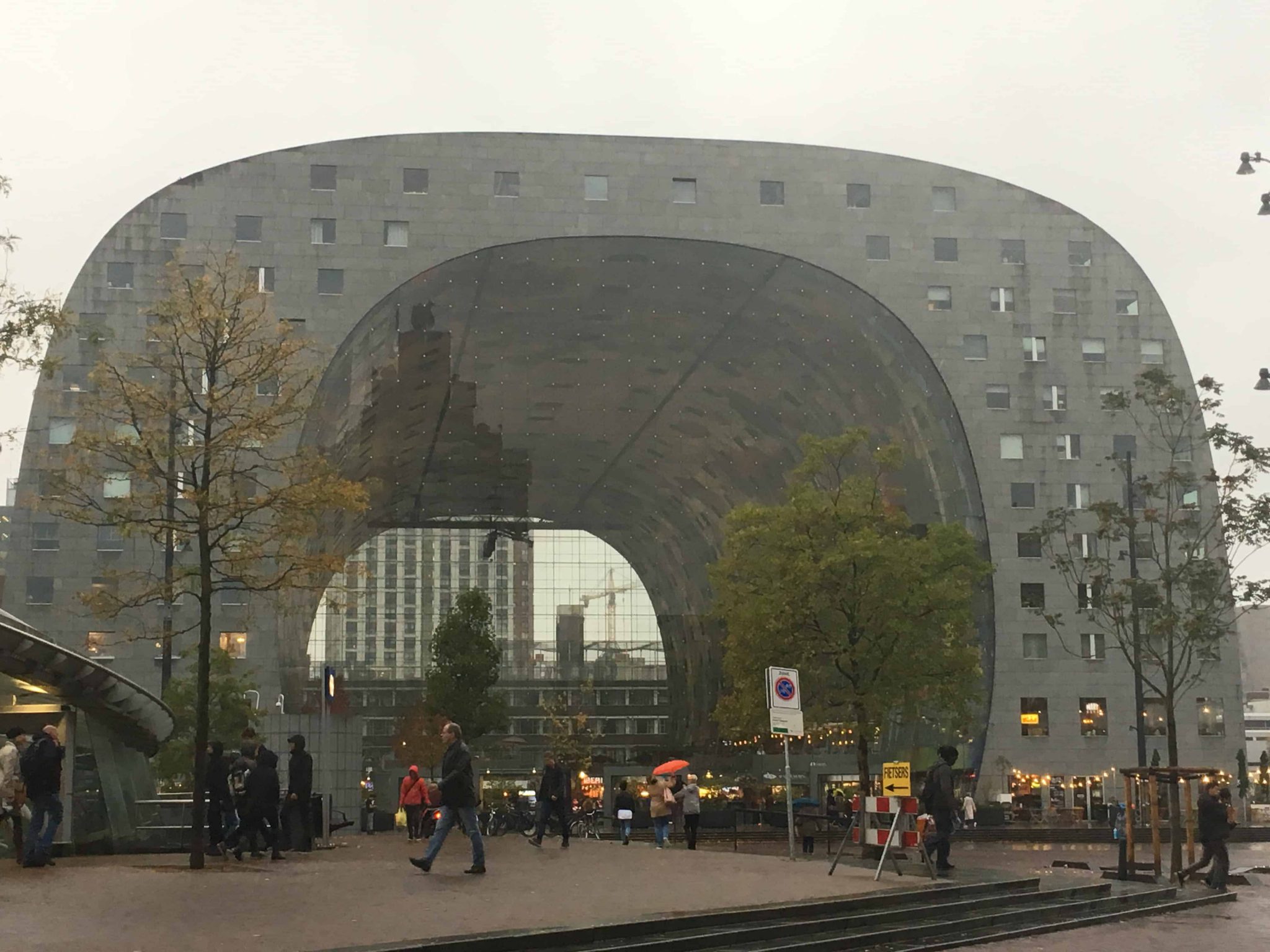 Even more to see in Rotterdam
Across the Erasmusbrug (the amazing bridge in most pictures of Rotterdam), is still even more great things to see in Rotterdam.
Starting at the bridge itself, there are a few things to see before walking across, including a great view of the bridge itself or the launching dock of the Spido B.V., a canal boat tour included in the Welcome Card Discount Booklet.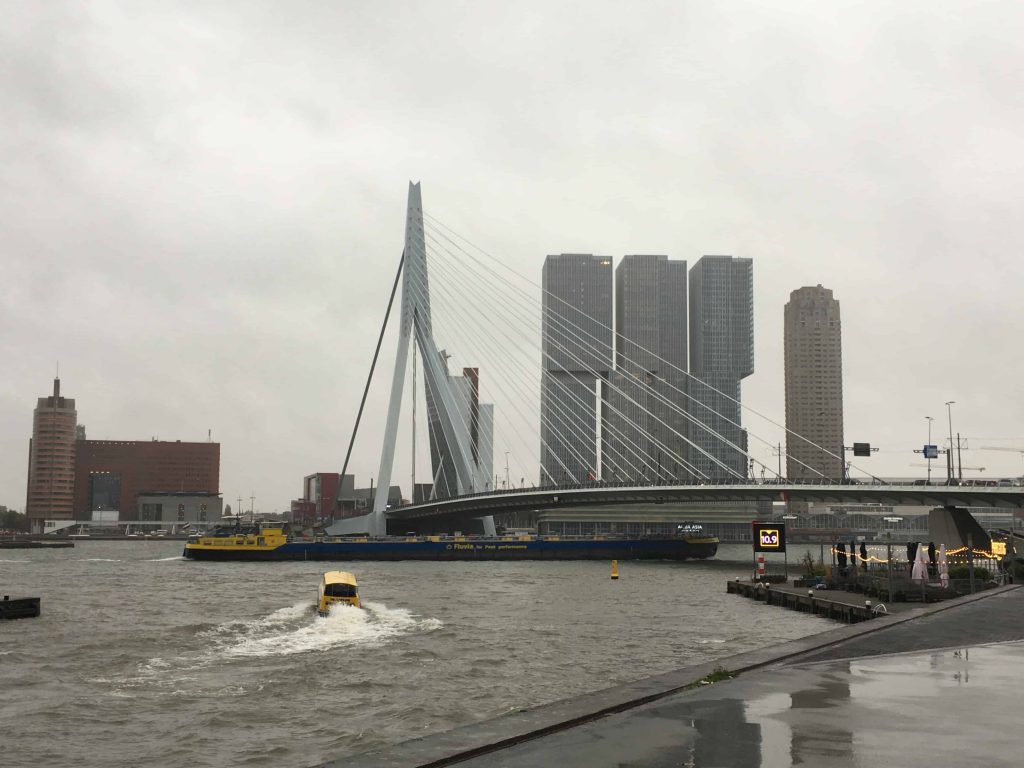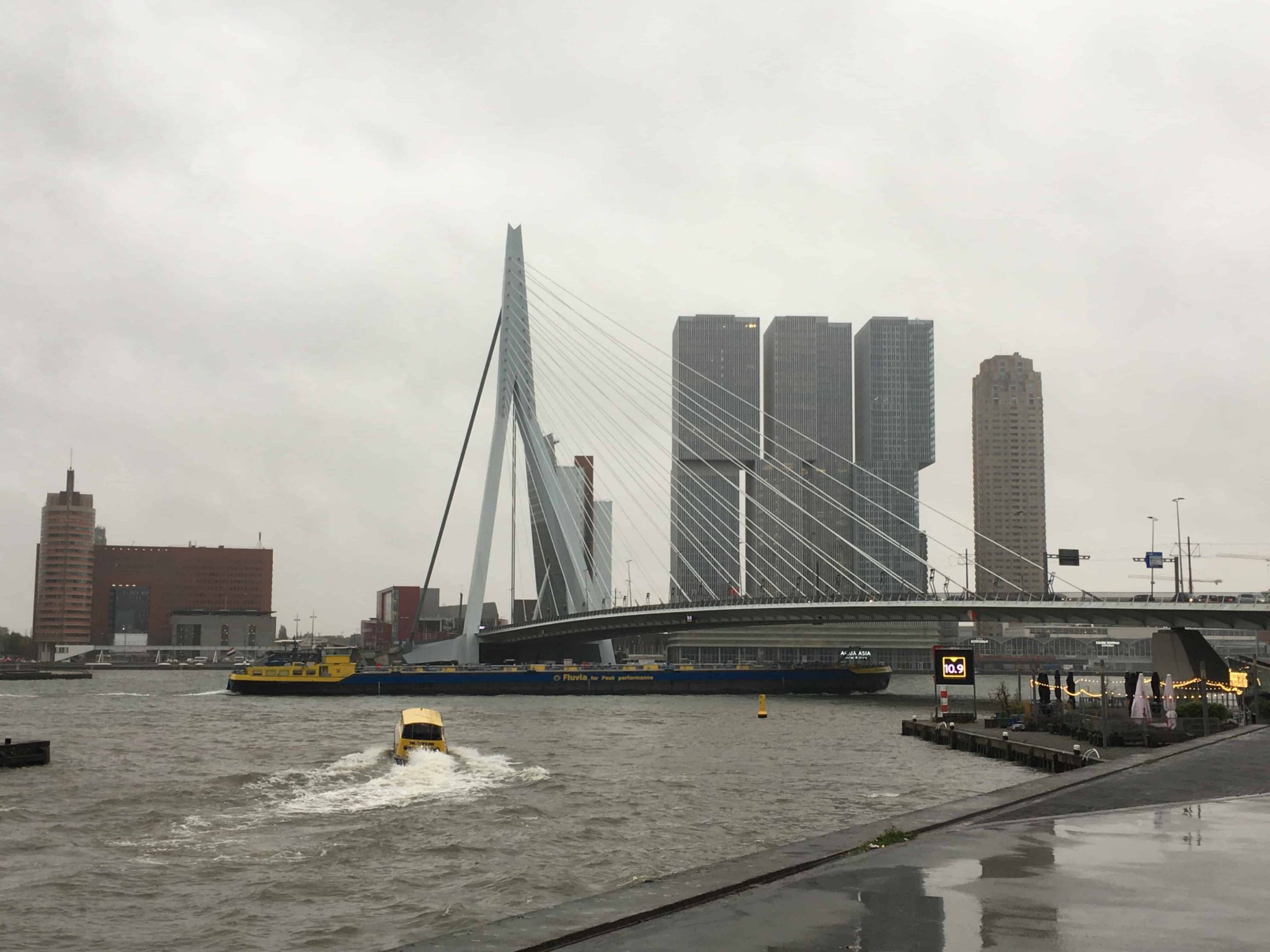 Cross the bridge and find your way to the famous New York Hotel.
Hotel New York is located in the former headquarters of the Holland America Line on the Kop van Zuid in Rotterdam. Where thousands of landmakers left full hopes for a better life to North America.
Don't forget to check out the floating Forest on your way to the SS Rotterdam, a hotel in a retired cruise ship. Find out more about that by clicking here.
Day trips from Rotterdam
A great day trip option from Rotterdam is Efteling Park and Kinderdijk. Think of Disneyland without the inflated prices, or Zaanse Schans without going all the way to Amsterdam.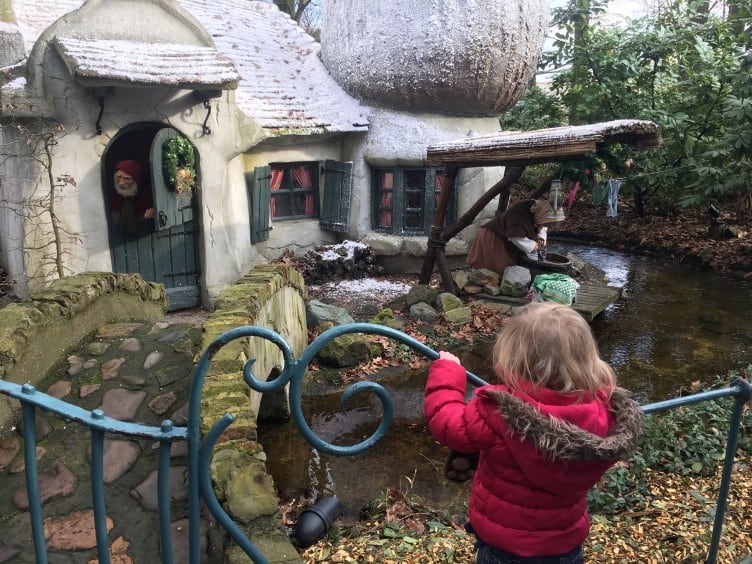 An excellent resource for planning all of Netherlands can we found with the Lonely Planet Netherlands Guide.
Your Thoughts...

Please share your thoughts in the comments or reach out on social media...We would love to hear from you.
You May Also Like;
10 Amazing Day Trips From Amsterdam
Efteling Park | Kaatsheuvel, Netherlands
Top 10 things to do in Brussels, Belgium with Kids
12 of Europe's Best Museums for kids