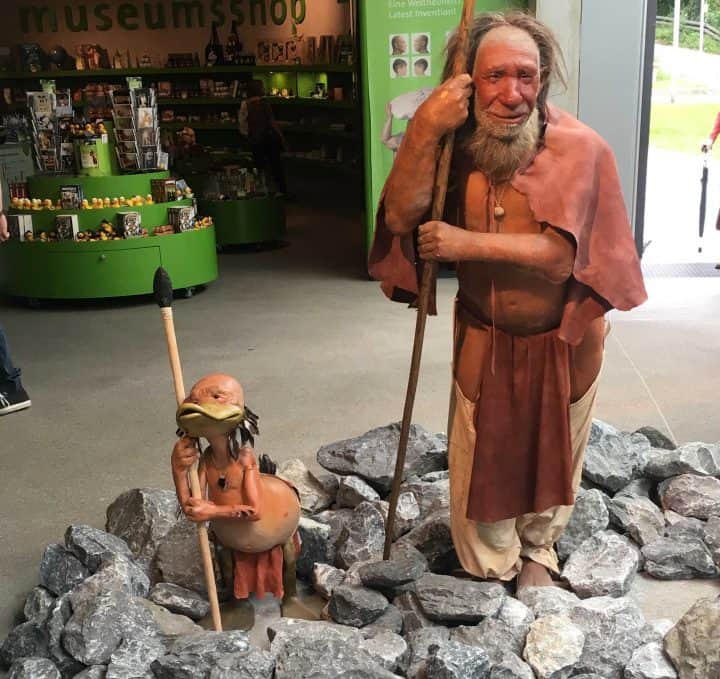 Neanderthal Museum in Mettman, Germany. Big adventure sometimes comes in small packages. Including Special Duckomenta exhibit.
Neanderthal Museum
When we first moved here 2 years ago, I took to Google Maps and saved ⭐ a few places we could visit on the weekends. Things nearby right, explore your own backyard. When I saw the name 'Neanderthal' appear on my screen, I nearly lost my mind. I was living 20 minutes from the very site they unearthed the first Neanderthal skeleton. Bare in mind, that site is completely destroyed by now, but there must be something there to commemorate this world-altering discovery. THEY DID! The Neanderthal Museum in Mettmann, Germany.
As seen on; 70 day trips from Dusseldorf
Arrival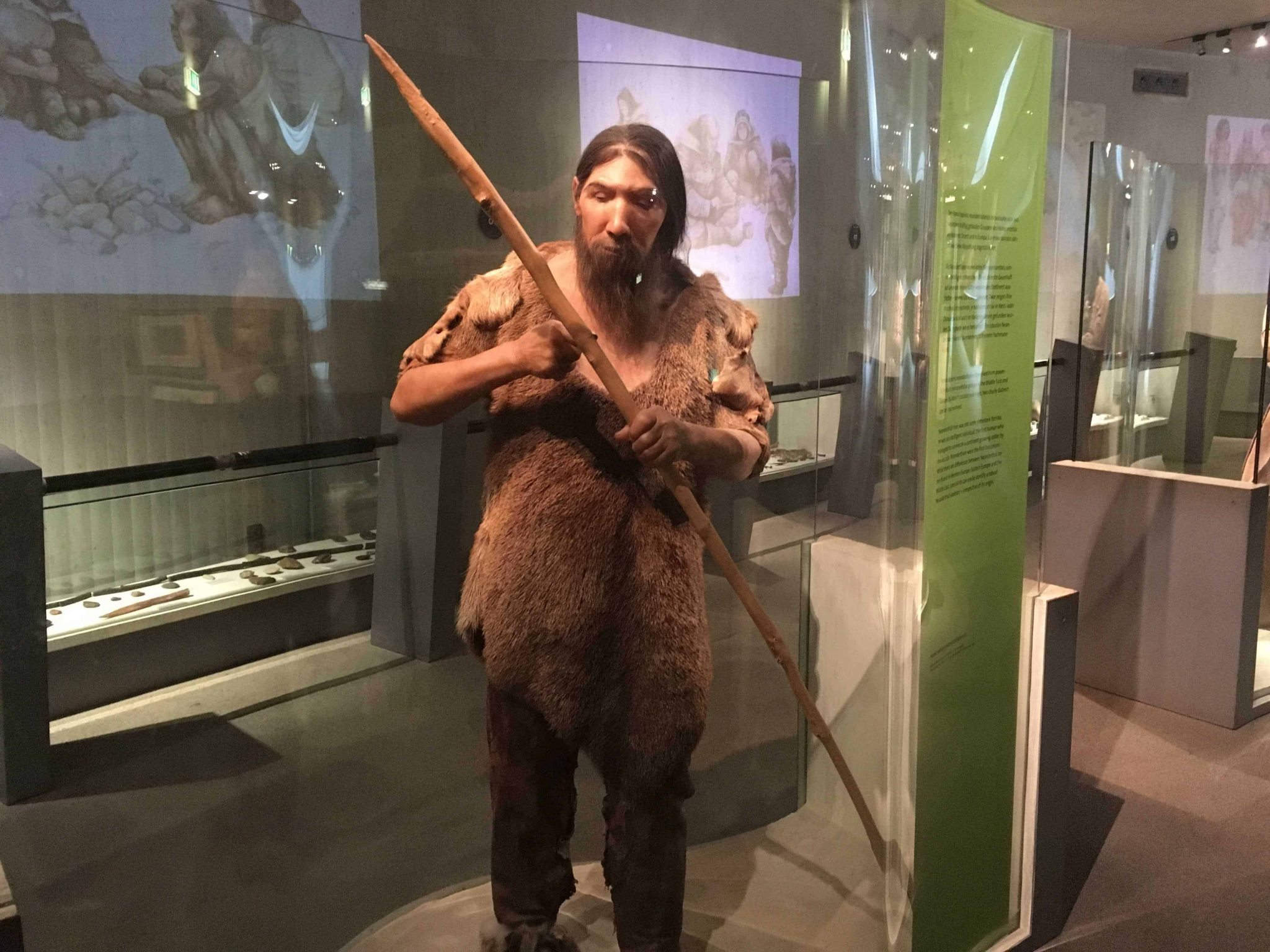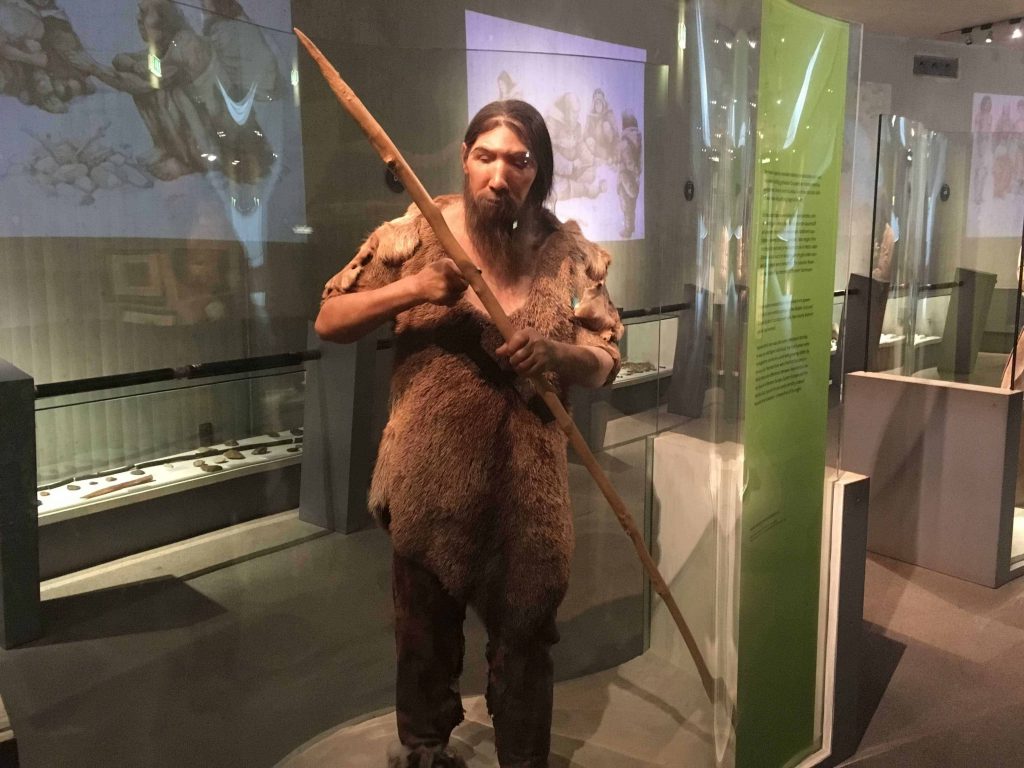 We were provided headphones at no extra cost and sent on our own to run around the museum. It was still early so we pretty much had it to ourselves. Everything was broadcast in English and German. There were no listening pack that I had to press buttons and fiddle with; just headphones with a jack – stick it in and listen.
The only downside, kids were running around looking for a jack and I caught him trying to plug his headphones into a power socket. A conversation I didn't realize I needed to have.
Also see; Best Museums in Europe for Kids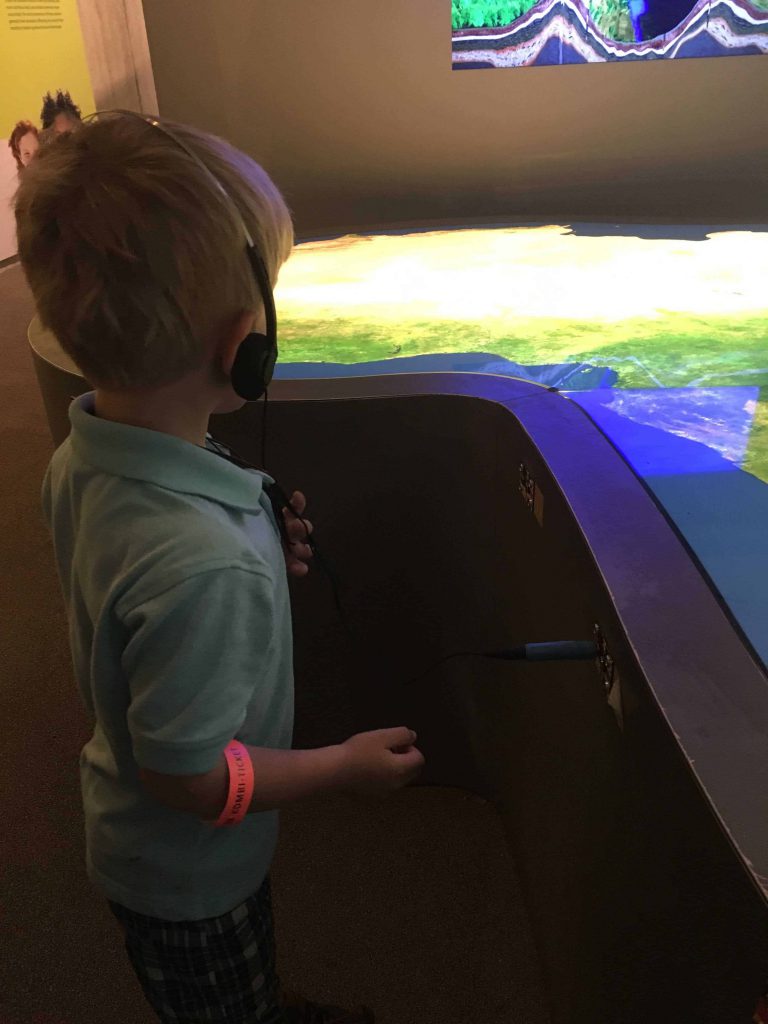 The statues were amazingly lifelike and the soundbites that came with them were terrific. One was describing the Neanderthal's strength in comparison to Homo Sapiens; is started as a weightlifting competition and the announcer was narrating the scene, it was a great hook. It then went on to describe why they were stronger and how we know this but it was so entertaining and attention-grabbing.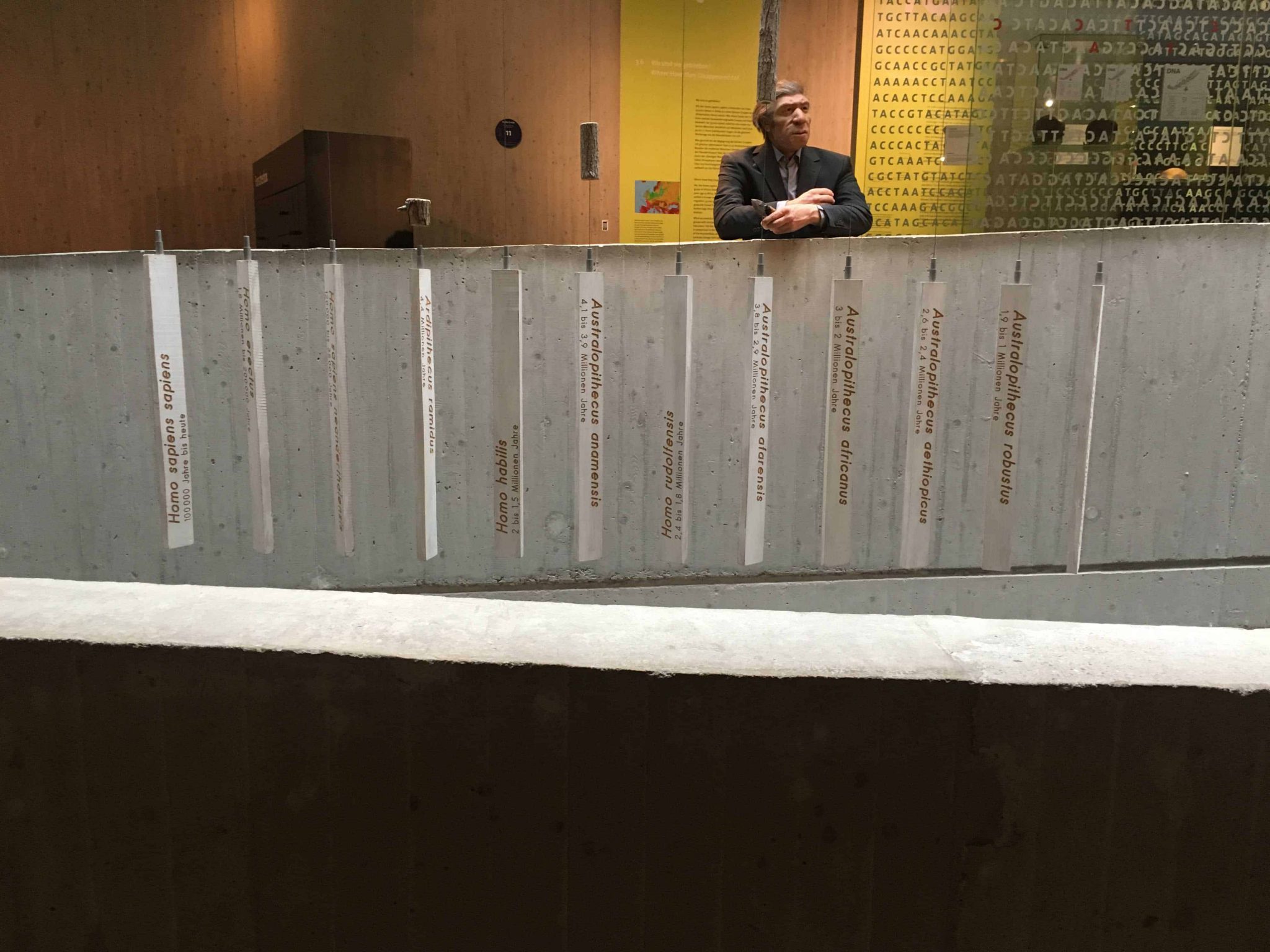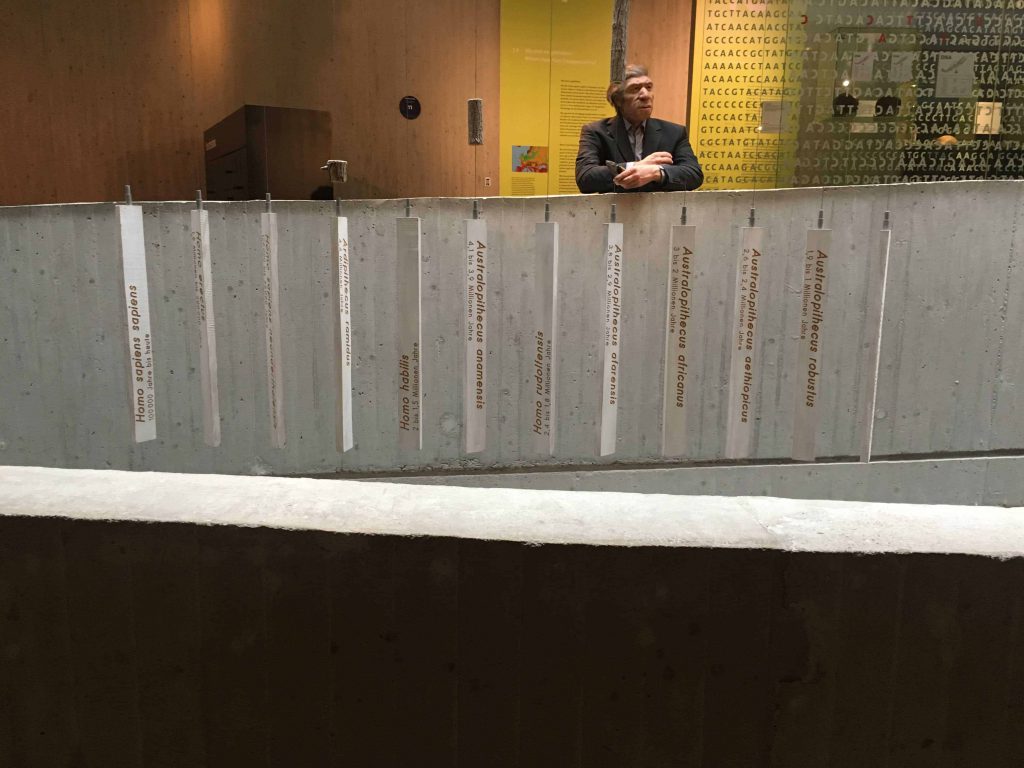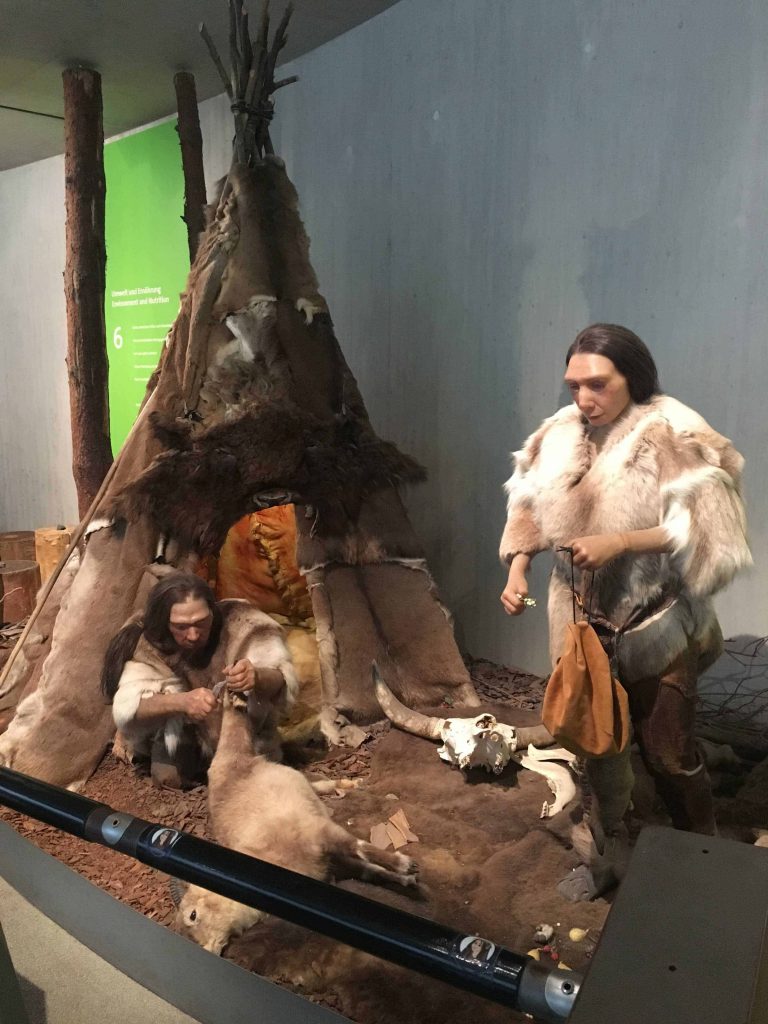 This little girl is surrounded by signs of various people around the world, at different ages, giving a brief description of what their life is like; widowed senior, a child, a mother etc. If I read the cards properly, this girl and my son are the same age. He found it rather interesting, just to see the difference between him and her at a level he understands.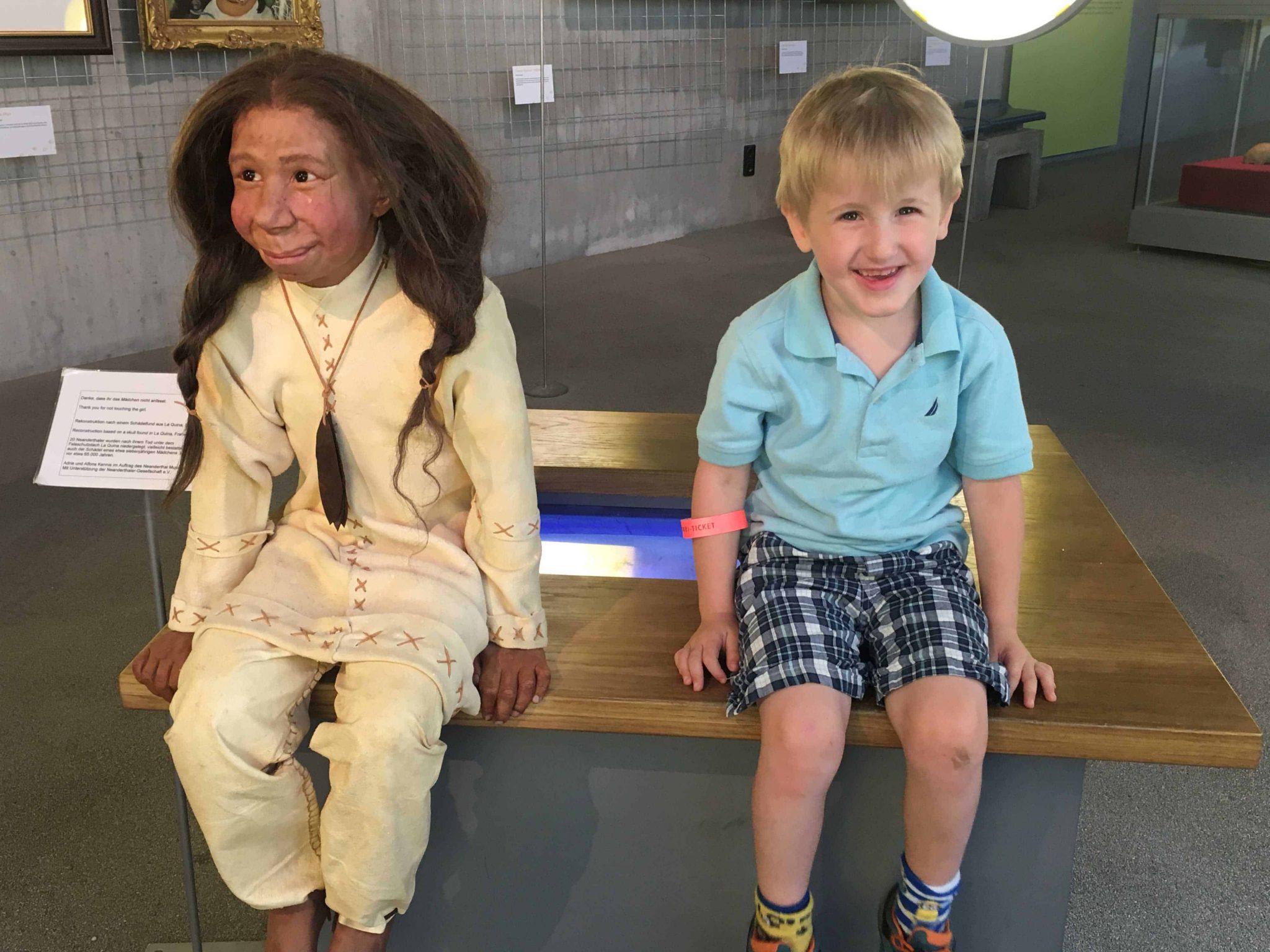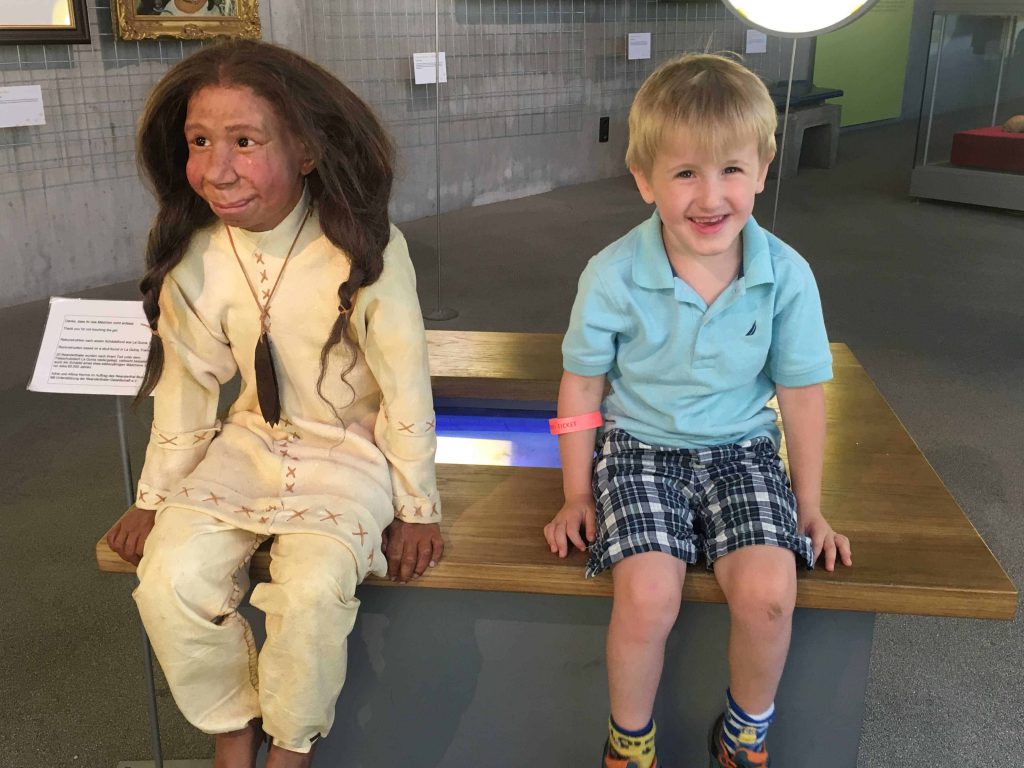 Break time
At the very end of touring the Neanderthal Museum, there is a small cafeteria, washroom, and archaeological dig site. It was great. Baby got to stretch her legs, munchkin got to play in the sand, mommy got a tea. They were practicing digging up fossils; until he realized she was covering them back up after he turned around. Oh, kids. But it was great fun, and because we were so early, we didn't have to share the pit with anyone else. Although, there was an abundance of brushes and a lot of room behind them so I wonder if there was a second set of remains somewhere in the pit that we just didn't find.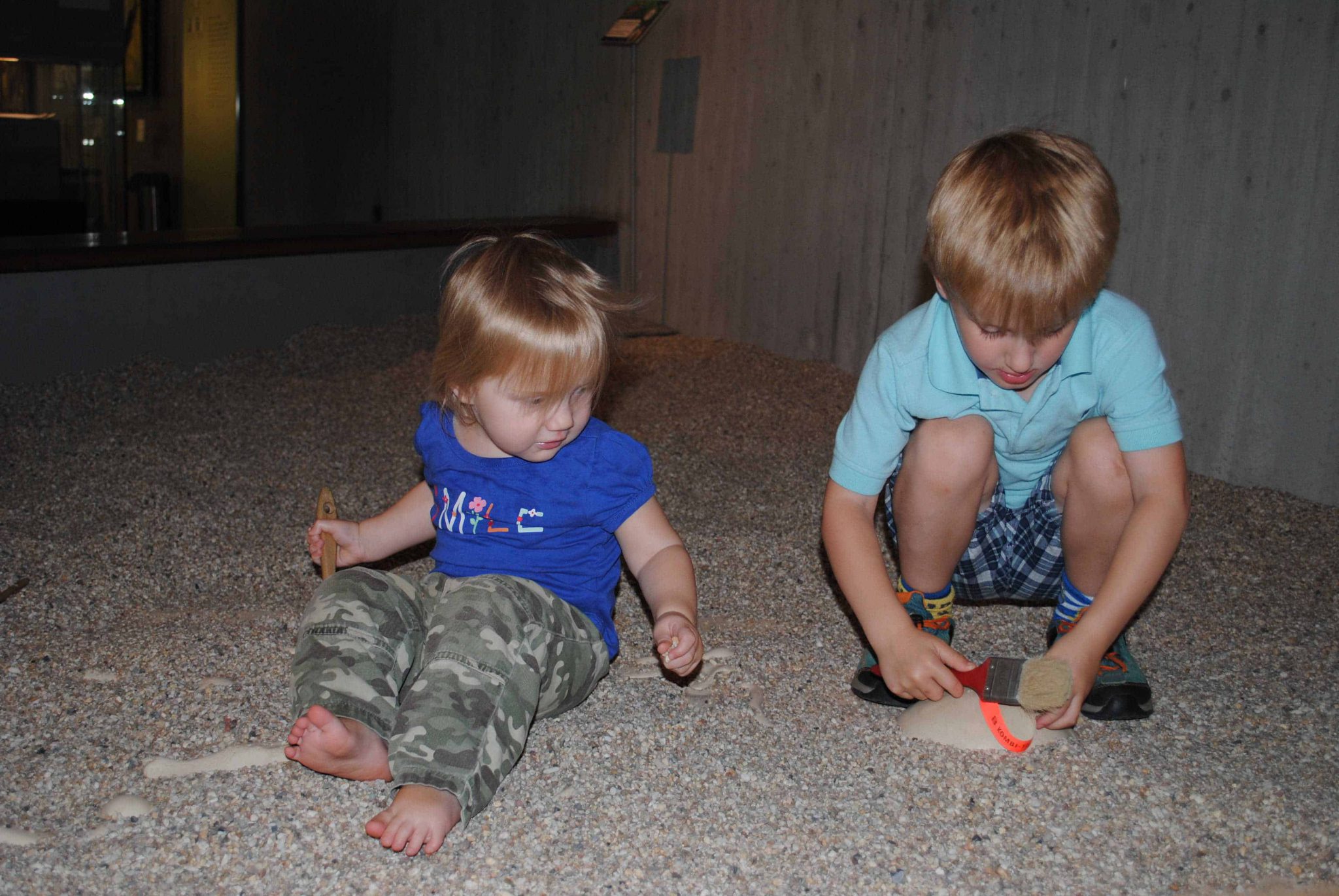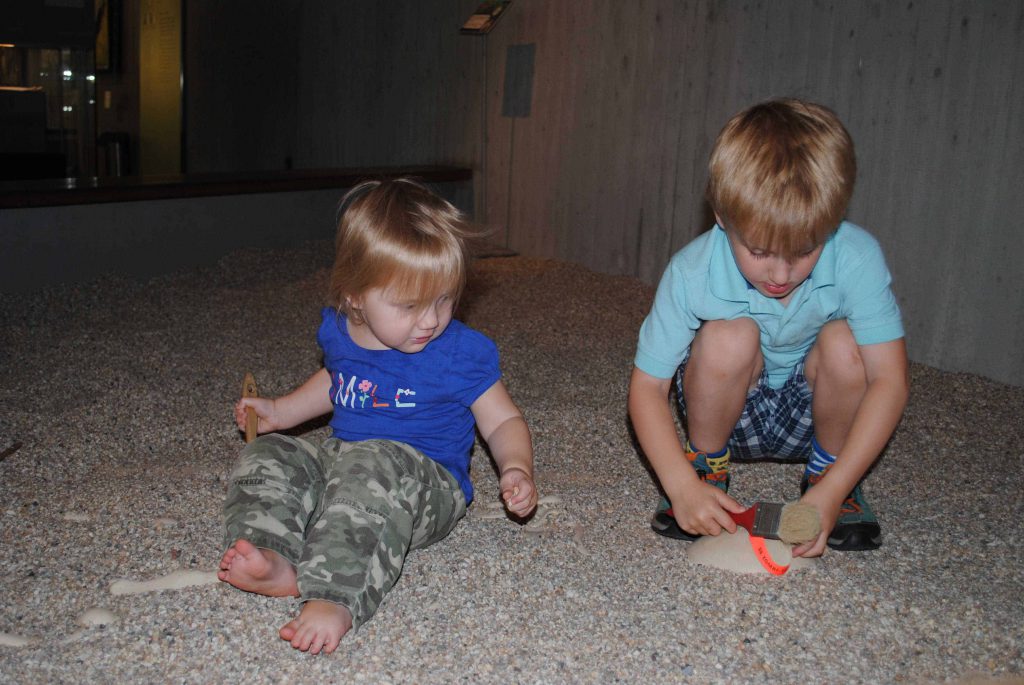 This was by far the most entertaining part of any museum I have ever visited. I recognized most of the pieces – in their original forms of course, but to see them transformed into ducks was hilarious. My son has recently been watching the animated series DuckTales, so this was right up his alley. "Mommy, you didn't tell me there was a duck museum here!"
As we turn the corner, there is a mini-studio where guests can put on a variety of duck masks and become a painting. This was amazing. He wanted to try on each mask, on each of the three levels of frames, so clearly he enjoyed it too.
There is an auditorium playing a 40-minute film. I don't speak German and my kids would never sit through 40 minutes of anything so we played for a few minutes before leaving for the gift shop. Who knew a few crayons and a magnetic wall would grab their attention for so long; only because they weren't at home, right.
Gift Shop
The Neanderthal Museum had plenty of souvenirs at the gift shop; many of which I was tempted to buy for myself. We have a budding rubber ducky collection and we were not disappointed…. well, he was, he wanted all 4 options and mommy didn't bring that much money. I will be bringing my dad, major history buff, and my hubby, history nerd (? is that a thing?) with me next time they are in town so maybe someone will get him the rest of his ducks then.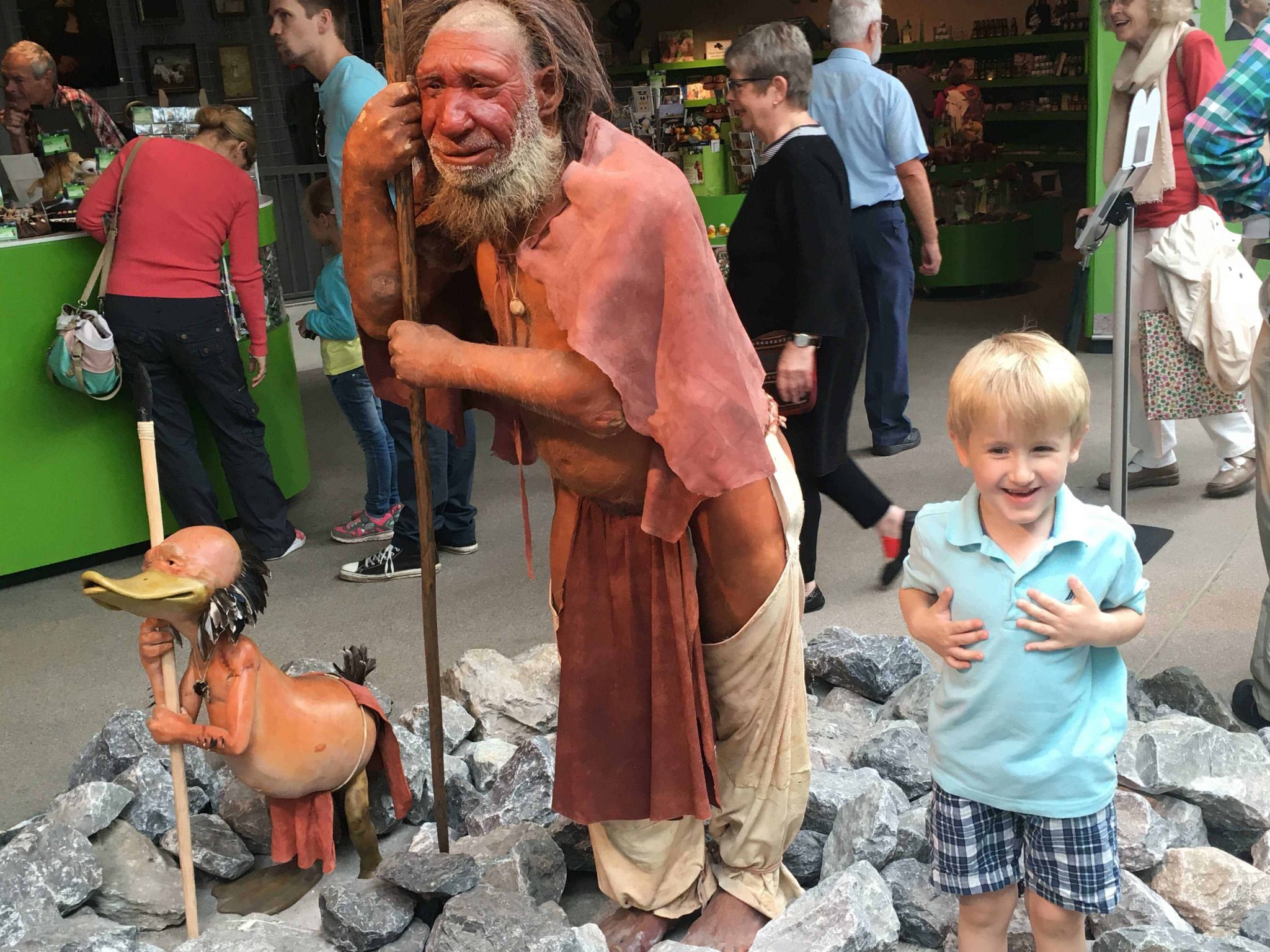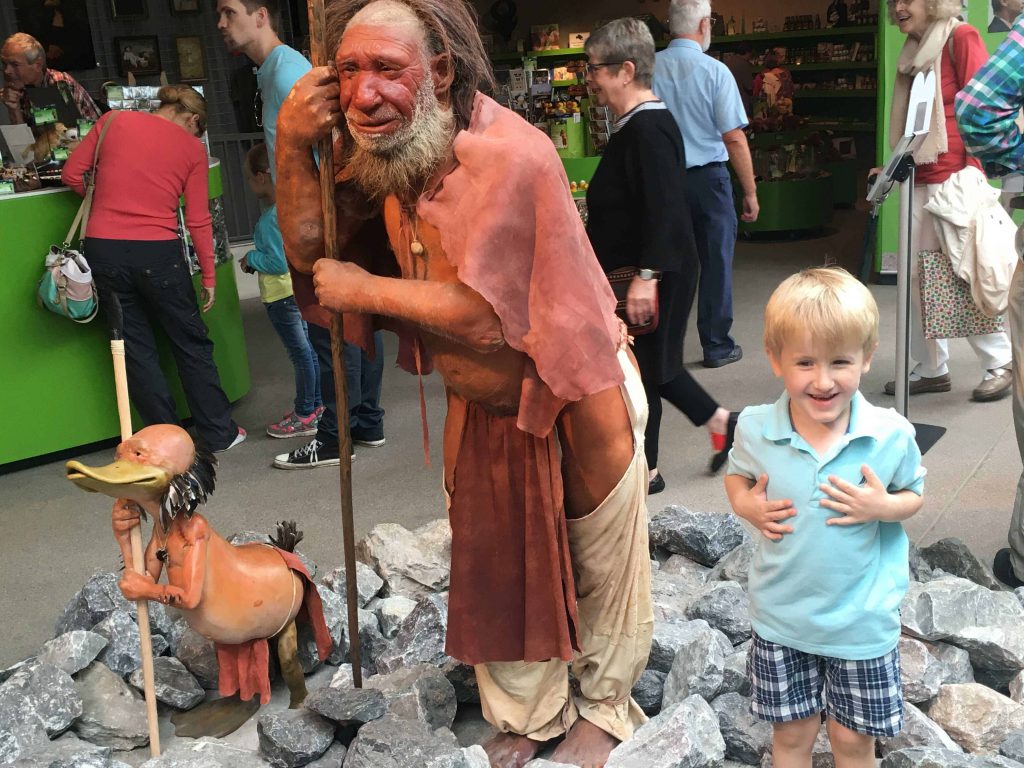 Also as you can see, it is roughly 1130 and the line is starting to build. There were 3 cashiers and still a handful of people waiting to purchase tickets, then another queue down the hall to receive headphones. Very glad we arrived at opening.

---
Wildpark
On a side note, we visited the wild park, mainly because I accidentally turned right at the statues instead of just looking around and seeing the museum was directly on my left… and he saw the sign for wild park. We were not dressed for hiking in the woods; I was wearing strappy sandals and none of use had bug spray. It is a 90-minute route but that's at normal human pace; a 4-year-old has a whole other definition of slow. A little disappointed in today's wild park though; we saw 1 Oxen, way too many flies, and zero toilets. Poor buddy had to go so we turned around and walked 1.2 km back to the museum to use their facilities. I'm sure if we had kept going we would have seen more animals; next time.
Also, perhaps it was because I can't read a word of German, but the signs were really confusing and I often felt turned around. Hiking alone in the woods with your two young children is not a good time to be turned around. There was a registration desk but it is closed on weekends; I texted a friend and told her where I was in case we lost cell service. Fellow hikers were few and far between, pro and con, and there were slim chances of them speaking English – my fault, no one else's, I know. You can never be too safe.

---
Final thoughts
The Neanderthal Museum was a delight. I had arrived expecting a larger museum (mainly based on the subject matter). Regardless of its size, they had excellent audio guides and presentations throughout. It had statues and scenes to paint a perfect picture of Neanderthal life as we know it. It showed evolution in several media formats and had several hands-on sections that both children and adults could enjoy.
There was a lift at the very end and it took us to the beginning of the Duckomenta exhibit, then back to the entrance. I didn't have to wander through the crowds and backtrack to find my way out. As someone that has been tied down to a stroller for 4 years and potentially looking at 2 more with it, these little things make a big difference at the end of the day.
What I was most pleased with was the language. Each staff I ran into was able to speak with me. All signs and information boards were in both English and German. This was excellent as some establishments in Germany use a substandard translation when creating signage in English (ie. Direct google translate), this was quality first-language English. I felt included.
I felt the Neanderthal Museum understood the needs of their guests; a large English speaking expat community in the city next door and made their facility accessible to them. Bottom line, my mom just asked me if I liked it. I said, "Munchkins had a great time and didn't want to leave". "Then you liked it. Perfect!"
---
**Though I received complimentary tickets, all thoughts and opinions are my own. Please read my disclosure for more information***
Your Thoughts...
Please share your thoughts in the comments or reach out on social media...We would love to hear from you.
You May Also Like…